Study lists nations with highest 'modern slavery'
WALK FREE REPORT: The G20 in 2021 imported US$468bn of goods at risk of being produced with forced labor, up from US$354bn in the previous report, the group said
North Korea, Eritrea and Mauritania have the highest prevalence of modern slavery in the world, said the Global Slavery Index, which was published yesterday, with a "worsening" situation globally since its previous survey five years earlier.
The report said that an estimated 50 million people were "living in situations of modern slavery" in 2021, an increase of 10 million from 2016, when the issue was last measured.
The figure includes about 28 million people in forced labor and 22 million in a forced marriage.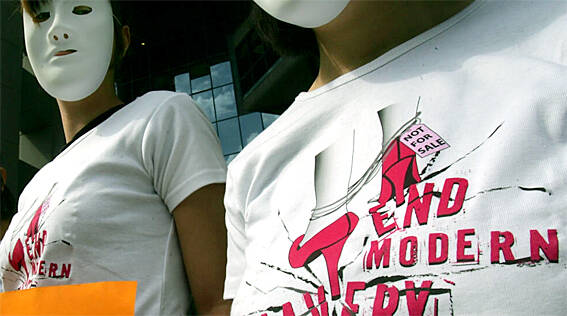 The 2023 Global Slavery Index says modern slavery has got worse since its last survey.
Photo: AFP
The situation is worsening "against a backdrop of increasing and more complex armed conflicts, widespread environmental degradation" and the effect of the COVID-19 pandemic, among other factors, the investigation said.
Compiled by human rights charity Walk Free, the report defines modern slavery as encompassing "forced labor, forced or servile marriage, debt bondage, forced commercial sexual exploitation, human trafficking, slavery-like practices, and the sale and exploitation of children."
Slavery's core principle entails "the systematic removal of a person's freedom" — from the right to accept or refuse labor to the liberty to determine if, when and whom to marry.
By this benchmark, North Korea has the highest prevalence of modern slavery (104.6 per 1,000 population), the report said.
It is followed by Eritrea (90.3 per 1,000) and Mauritania (32), which in 1981 became the last country in the world to make hereditary slavery illegal.
The 10 countries with the highest prevalence of modern slavery have some common characteristics, including "limited protections for civil liberties and human rights," the authors wrote.
Many of the countries are in "volatile" regions experiencing conflict or political instability, or home to a large populaton of "vulnerable people" such as refugees or migrant workers, they said.
Also in the top 10 globally were Saudi Arabia, the United Arab Emirates and Kuwait, where migrant workers' labor rights are restricted by the kafala sponsorship system.
Other countries in the top 10 are Turkey, "which hosts million of refugees from Syria," Tajikistan, Russia and Afghanistan, the report said.
While forced labor is more common in low-income countries it is "deeply" connected to demand from higher-income countries, it said, adding that two-thirds of all forced labor cases are linked to global supply chains.
G20 countries — made up of the EU and the world's 19 top economies — in 2021 imported US$468 billion of goods that are at risk of being produced with forced labor, up from US$354 billion in the previous report, it said.
Electronics remain the highest-value at-risk product, followed by garments, palm oil and solar panels, it said.
"Modern slavery permeates every aspect of our society. It is woven through our clothes, lights up our electronics and seasons our food," Walk Free director Grace Forrest said.
"At its core, modern slavery is a manifestation of extreme inequality. It is a mirror held to power, reflecting who in any given society has it and who does not," Forrest added.
Comments will be moderated. Keep comments relevant to the article. Remarks containing abusive and obscene language, personal attacks of any kind or promotion will be removed and the user banned. Final decision will be at the discretion of the Taipei Times.