Russia says cross-border attack ended
UKRAINIANS OR LOCALS? 'The remnants of the nationalists were driven back to the territory of Ukraine, where they ... were completely eliminated,' a Russian official said
Russia's military on Tuesday said that it had quashed what appeared to be one of the most serious cross-border attacks from Ukraine since the war began, claiming to have killed more than 70 attackers in a battle that lasted about 24 hours.
Moscow blamed the raid that began on Monday on Ukrainian military saboteurs. Kyiv portrayed it as an uprising against the Kremlin by Russian partisans.
It was impossible to reconcile the two versions, to say with certainty who was behind the attack or to ascertain its aims.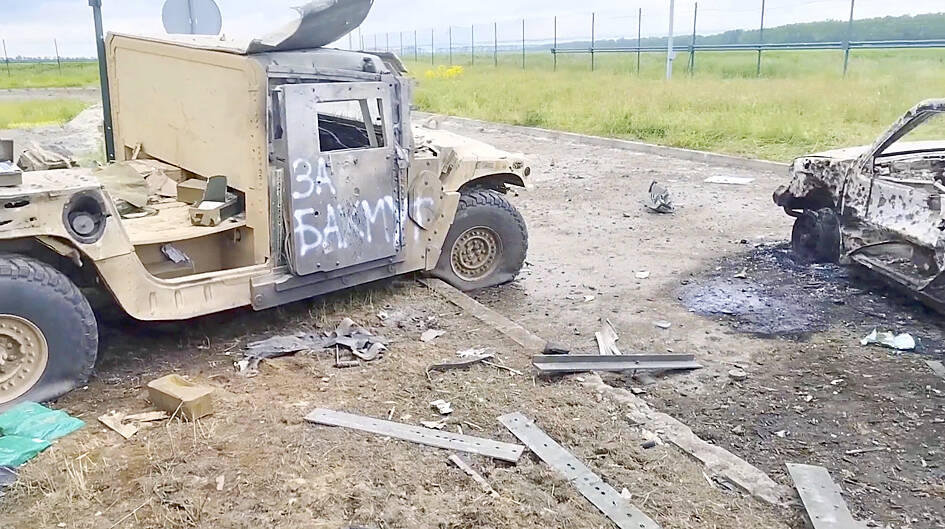 An image taken from video shows a destroyed armored vehicle in Belgorod's Graivoron in Russia on Tuesday.
Photo: EPA-EFE / RUSSIAN MINISTRY OF DEFENSE PRESS SERVICE
The battle took place in southwest Russia's Belgorod region, about 80km north of Kharkiv in eastern Ukraine.
The region is a Russian military hub holding fuel and ammunition depots, and it was included in Russian President Vladimir Putin's order last year to increase the state of readiness for attacks and improve defenses.
Kremlin spokesman Dmitry Peskov refused to say how many attackers were involved in the assault or comment on why efforts to put down the attackers took so long.
The Belgorod region, like the neighboring Bryansk region and other border areas, has witnessed sporadic spillover from the war, which Russia started by invading Ukraine in February last year.
Far from the 1,500km front line in southern and eastern Ukraine, Russian border towns and villages regularly come under shelling and drone attacks, but this week's attack is the second in the past few months that also appears to have involved an incursion by ground forces.
Another difference from earlier cross-border attacks is that Russia's effort to repel it continued into a second day for the first time.
Russian Ministry of Defense spokesman Igor Konashenkov said that local troops, airstrikes and artillery routed the attackers.
"The remnants of the nationalists were driven back to the territory of Ukraine, where they continued to be hit by fire until they were completely eliminated," Konashenkov said.
He did not mention any Russian casualties.
Russian forces destroyed four armored combat vehicles and five pickup trucks the attackers used, he said.
Local officials said that the invaders also used drones and artillery.
Belgorod Governor Vyacheslav Gladkov said that the raid targeted the rural area around Graivoron, a town that is about 5km from the border.
Twelve civilians were wounded in the attack and a woman died during an evacuation, he said.
The Russian news portal RBK, quoting unidentified sources in the Belgorod Ministry of the Interior and territorial police, said Graivoron came under heavy shelling that lasted about five hours early on Monday.
After that, tanks fired at the Graivoron border checkpoint while the adjacent village of Kozinka came under mortar and rocket fire, RBK reported.
Gladkov later reported that a Koznika villager had been killed.
The attacking force was made up of 10 armored vehicles and an unspecified number of troops, RBK said.
Earlier on Tuesday, the regional governor urged residents who had evacuated not to return home until they received official instructions to do so.
He said a "counterterrorism operation" was completed by early Tuesday evening.
Gladkov said in a video that federal authorities' claims for the past year that "everything is under control" do not ring true in light of this attack and prior assaults.
He appealed again to the Kremlin to strengthen defenses.
Comments will be moderated. Keep comments relevant to the article. Remarks containing abusive and obscene language, personal attacks of any kind or promotion will be removed and the user banned. Final decision will be at the discretion of the Taipei Times.