US and Micronesia sign new security agreement
COMPLICATED: Although a US official said talks with the Marshall Islands were 'advancing,' the country said it wants more of owed compensation for nuclear tests
The US yesterday said it had reached a deal with Micronesia to extend decades-old political and security ties, forestalling Chinese efforts to build influence in the region.
US Department of State officials said three documents were signed in Pohnpei, signaling the extension of a 20-year-old arrangement that gives the Pacific island nation security and budget guarantees.
In return, Washington gains influence and the right to locate military facilities across a swathe of the central Pacific.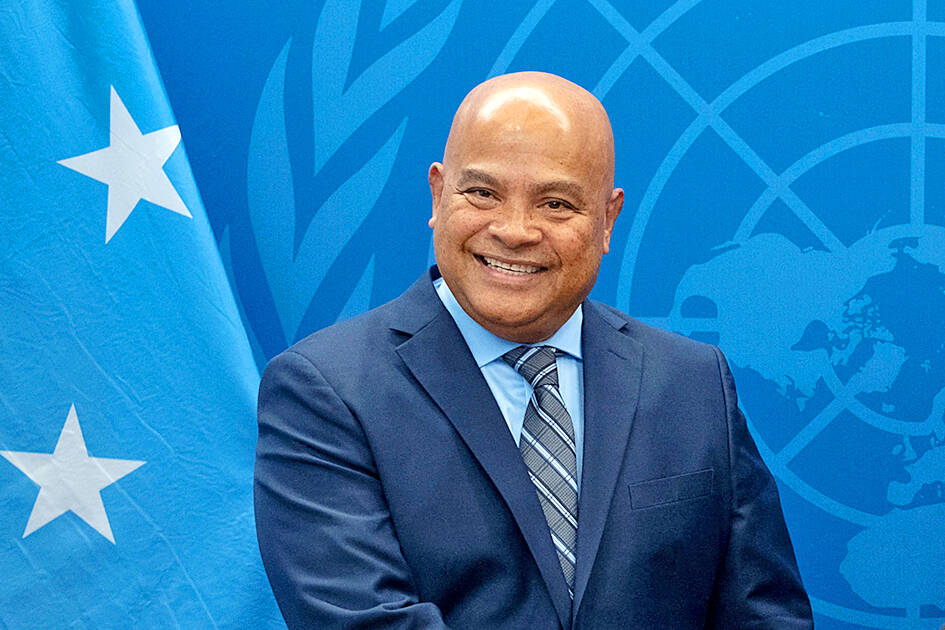 Then-Micronesian president David Panuelo poses for a photograph at the UN headquarters in New York on Sept. 18 last year.
Photo: AFP
The signing of the agreements would be a blow to China, which has made a concerted effort to increase its influence in Micronesia, prompting unease among some local politicians.
Then-Micronesian president David Panuelo in March said that China was engaging in bribery, harassment and espionage as it tried to boost influence.
Beijing, he told parliament, had "demonstrated a keen capability to undermine our sovereignty, rejects our values, and uses our elected and senior officials for their own purposes."
Among the dramatic allegations, Panuelo said that members of his Cabinet had transmitted recordings of bilateral meetings directly to China, and officials were bribed.
"We are bribed to be complicit, and bribed to be silent. That's a heavy word, but it's an accurate description regardless," he said.
US talks on the so-called "compact" with Micronesia have been taking place for years, alongside similar agreements with neighboring Palau and the Marshall Islands. All three expire by the end of the year.
Deals have now been reached with Micronesia and Palau, but talks with the Marshall Islands have been beset by disagreements about the legacy of testing nuclear weapons on the Pacific archipelago more than 70 years ago.
The US detonated 67 nuclear bombs in the Marshall Islands between 1946 and 1958, and the health and environmental effects are still felt today.
Marshall Islands negotiators first want the US to pay more of the compensation awarded by the international Nuclear Claims Tribunal, totaling just more than US$3 billion, of which about US$270 million has been paid so far.
US Department of State Australia, New Zealand and Pacific Affairs Office Director Taylor Ruggles yesterday said that talks with the Marshall Islands were "advancing."
"Clearly the renewal of the compacts is important for the administration," said Ruggles, adding that the agreements still have to be "funded and approved" by the US Congress.
He described Micronesia, Palau and the Marshall Islands as "some of our closest partners in the Pacific."
The US has major ballistic missile, space surveillance, radar and air force facilities in the region.
Comments will be moderated. Keep comments relevant to the article. Remarks containing abusive and obscene language, personal attacks of any kind or promotion will be removed and the user banned. Final decision will be at the discretion of the Taipei Times.