Russian troops battling 'sabotage' group
'RUSSIA WILL BE FREE': Members of the anti-Kremlin Freedom of Russia Legion claimed responsibility for the incursion into Belgorod in a video released on Telegram
Moscow on Monday said that its troops were battling a Ukrainian "sabotage" group that infiltrated the southern Russian region of Belgorod, as locals fled the latest bout of fighting in the troubled territory.
In a first since the start of Moscow's invasion of Ukraine in February last year, Russian authorities introduced an "anti-terror regime" in Belgorod.
Since the start of the war, the region bordering Ukraine has been repeatedly shelled in attacks that have killed dozens of people, and the region's main city was struck last month by a Russian fighter jet that dropped ammunition over Belgorod by accident.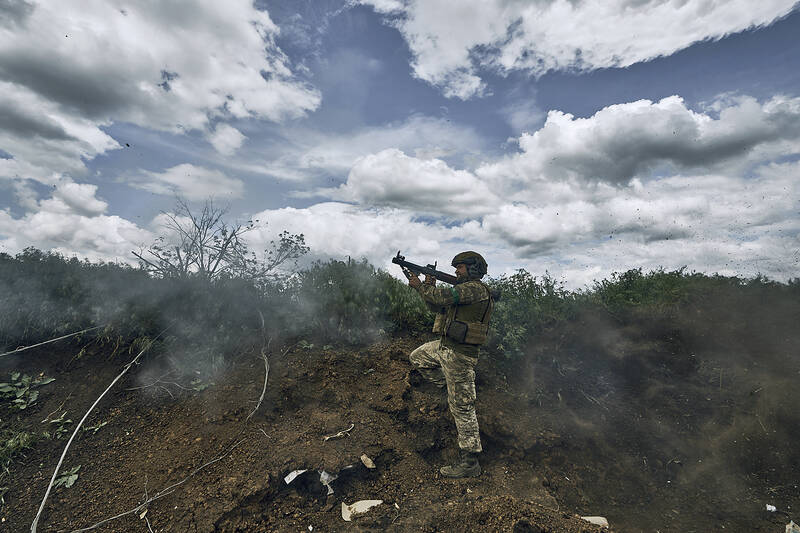 A Ukrainian soldier fires toward Russian positions at the front line near Bakhmut, Ukraine, on Monday.
Photo: AP
In the latest incursion, members of a "sabotage" group crossed over from Ukraine, Russian authorities said, adding that Russian President Vladimir Putin had been notified.
Belgorod Governor Vyacheslav Gladkov said eight people had been injured, adding that authorities were helping people leave the scene of the fighting.
The announcement came as Russian forces pummeled the eastern Ukrainian city of Dnipro with missiles and drones overnight.
"The situation here continues to be extremely tense," Gladkov said, adding that authorities were going door to door to notify local residents. "Most of the population left the territory. I hope that our military will complete their task in the nearest future."
The "anti-terror regime" introduced in the southern region gives special powers to security services, and entails the enforcement of a number of restrictions and measures including beefed-up security and communications surveillance. A similar regime was in place in Chechnya between 1999 and 2009, when Russian authorities battled insurgents during Moscow's second military campaign in the mountainous region.
Members of the anti-Kremlin Freedom of Russia Legion claimed responsibility for the incursion into Belgorod.
In a video released by a Telegram channel claiming to represent the group, a camouflaged spokesman, surrounded by armed men in fatigues, said: "Russia will be free" — a slogan frequently used by Russian opposition activists.
"We want our children to grow up in peace and be free," the spokesman added, with the channel claiming that two settlements had been attacked.
Kyiv denied involvement.
"Ukraine is watching the events in Russia's Belgorod region with interest and is studying the situation, but has nothing to do with it," Ukrainian presidential adviser Mikhaylo Podolyak said.
Podolyak said that Russian "guerrilla groups" could be responsible.
"The only driving political force in a totalitarian country of tightened screws is always an armed guerrilla movement," he said.
Ukraine's army earlier on Monday said that Russian forces pummeled Dnipro with 16 missiles and 20 attack drones overnight.
In the southern Kherson region, a 45-year-old man died when a shell fragment hit him in the heart, officials said.
Two people also died in Russian attacks on the region of Donetsk over the past day, officials said.
Following the attacks on Dnipro, Ukrainian authorities said that the Zaporizhzhia nuclear power plant went offline for several hours.
Ukraine's nuclear agency said it was the seventh time the plant entered "blackout mode" since Moscow's troops took control in March last year.
Kyiv later said that despite the morning attack, Ukraine's energy system was operating in a "stable fashion" and that there was enough electricity to "cover the needs of consumers."
Comments will be moderated. Keep comments relevant to the article. Remarks containing abusive and obscene language, personal attacks of any kind or promotion will be removed and the user banned. Final decision will be at the discretion of the Taipei Times.