PNG will not be base for war, prime minister says
CLARIFICATION: The defense agreement with the US, which has sparked student protests, would improve domestic security and bring investment to PNG, he said
Papua New Guinea (PNG) will not be used as a base for "war to be launched," and a defense agreement with the US prohibits "offensive military operations," its prime minister said yesterday.
US Secretary of State Antony Blinken on Monday said that a defense cooperation deal signed with Papua New Guinea earlier that day would expand the Pacific island nation's capabilities and make it easier for the US military to train with its forces.
The deal sparked student protests amid concern it could embroil the country in strategic competition between the US and China.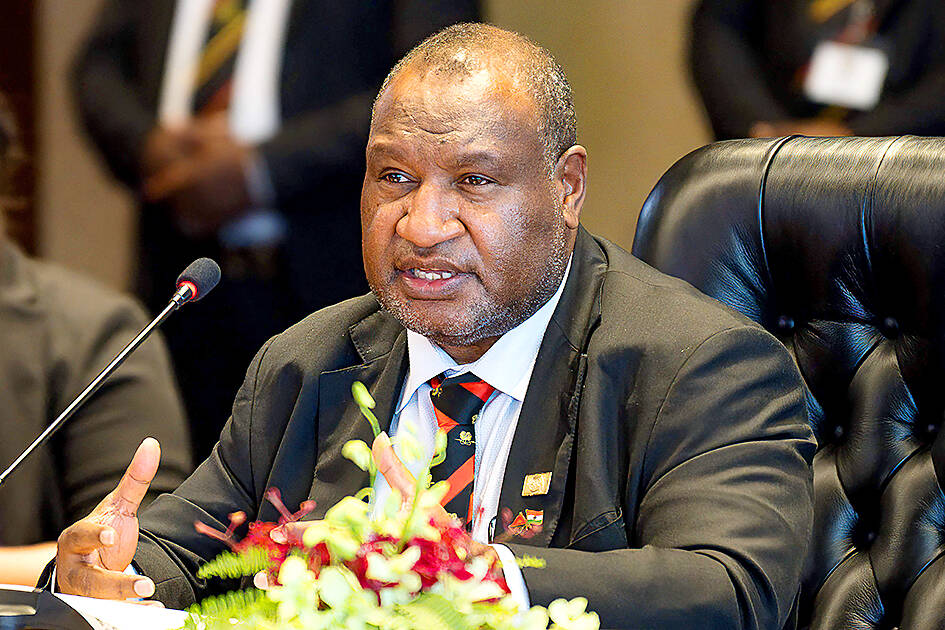 Papua New Guinean Prime Minister James Marape speaks during the Forum for India-Pacific Islands Cooperation in Port Moresby on Monday.
Photo: AFP / Government of Papua New Guinea
Papua New Guinean Prime Minister James Marape said the agreement was not a treaty and did not need to be ratified by parliament, adding that he would release it in full for public scrutiny tomorrow.
"It's not a military base to be set up here for war to be launched," he told radio station 100FM.
"There's a specific clause that says that this partnership is not a partnership for PNG to be used as a place for launching offensive military operations from Papua New Guinea," he said.
The US and its allies are seeking to deter Pacific island nations from building security ties with China, a rising concern amid tension over Taiwan, and after Beijing signed a security pact with the Solomon Islands last year.
China has been a major infrastructure investor in Papua New Guinea, which sits near important sea lanes and international submarine cables linking the US and ally Australia, that were crucial in World War II.
Marape said that the PNG military is the weakest in the region amid high tensions.
The boost provided by the US would also improve domestic security and encourage more foreign investors to set up in the country of 9 million that is rich in natural resources but largely undeveloped.
"There will be substantial infrastructure investment" flowing from the deal, in airports, ports, roads, communications and electricity to benefit the public, he said, while not giving details.
Subsidiary agreements that would determine how the US military and civilian contractors come into the country are being worked out, he said.
Australia has welcomed the defense cooperation agreement between its closest neighbor and the US.
Comments will be moderated. Keep comments relevant to the article. Remarks containing abusive and obscene language, personal attacks of any kind or promotion will be removed and the user banned. Final decision will be at the discretion of the Taipei Times.