Russia's Bakhmut victory is anything but: experts
BUYING TIME: Russia is estimated to have suffered over 100,000 casualties in its push to capture the strategically insignificant town, giving Ukraine time to ready its troops
Whether Bakhmut has fallen or not, Moscow is being pulled deeper into an ever more costly fight for the frontline city as Kyiv readies a major offensive, experts said.
Russia's claim to have conquered the destroyed city, which Ukraine rejected on Sunday, does not mean significant new terrain from which to launch attacks nor harden defenses.
However, Moscow has made the eastern city's capture a key aim and has fought the war's longest battle, as well as one of its deadliest, to try to win what it would like to bill as a significant success.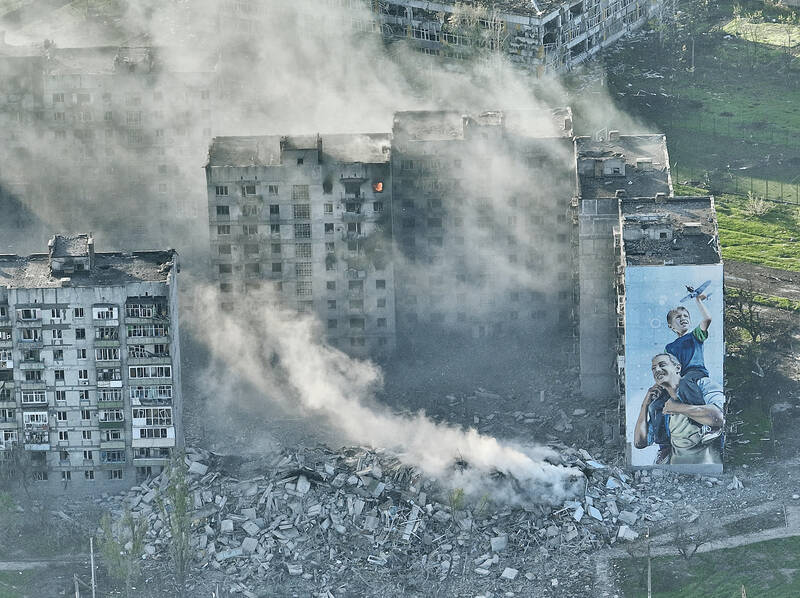 Smoke rises from damaged buildings in Bakhmut, Ukraine, on April 26.
Photo: AP
US President Joe Biden, speaking from the G7 summit in Japan, said Russian casualties in Bakhmut alone numbered over 100,000 dead and injured.
Rattled by the possibility of not winning Bakhmut after Ukraine this month retook kilometers of ground to the north and south of the city, Russia brought in significant numbers of additional troops.
"The redeployment represents a notable commitment," the British Ministry of Defence said on Saturday, adding that the reinforcements could number in the thousands.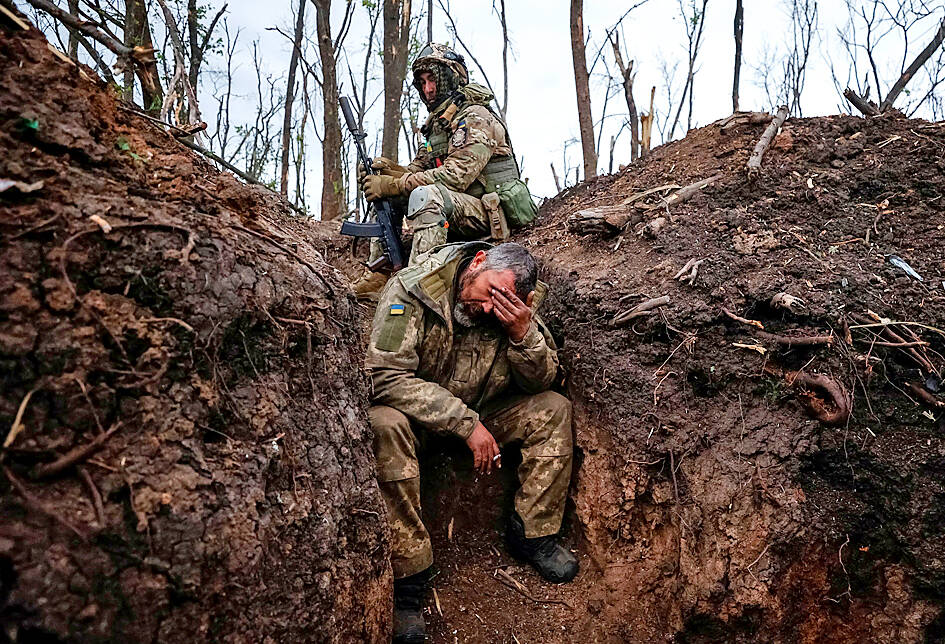 Ukrainian soldiers rest in a trench following a firefight on the outskirts of Bakhmut, Ukraine, on May 11.
Photo: Reuters
Warning: Smoking can damage your health.
The US-based Institute for the Study of War reported that Ukraine's attacks on Bakhmut's flanks "forced Russian troops to allocate scarce military resources ... as Ukrainian command likely intended."
Ukraine has tamped down speculation that the advances are its long-awaited offensive, but drawing growing numbers of Russian troops into the deadly fight in Bakhmut carries significant advantages for Kyiv's fightback.
"What they [Ukrainians] needed to do was to, one, weaken the Russians as much as possible before they do that counteroffensive, and secondly, buy time to get that force ready," said Phillips O'Brien, professor of strategic studies at St. Andrews University in Scotland.
"They calculated — I believe it was the right choice — that in fighting for Bakhmut, they could do both," he told US media outlet NPR in an interview aired on Saturday.
The timing and focus of Ukraine's offensive have been the subject of months of speculation, while Kyiv has said almost nothing except that it needs more weapons from its backers.
At the same time, Russia has been reinforcing hundreds of kilometers of front line with tank barriers, trenches and troops.
Given that the battles would come after a significant influx of Western armaments, success or failure could undermine future support or increase pressure on Kyiv to negotiate.
It is hard to know the degree to which the troops reinforcing Bakhmut have left gaps in Russia's defenses, but O'Brien said the Ukrainians could be waiting to attack "where they think the Russians are weakest."
The speculation regarding timing has cycled through several issues, including the particularly wet spring that left parts of the nation sopping.
Viscous Ukrainian mud is not an ideal surface for fast-moving tanks or troops, but the weather has been mostly dry for weeks.
It is also difficult to imagine the nation launching a major offensive while Ukrainian President Volodymyr Zelenskiy is out of the country.
He has been on a rapid succession of major foreign trips in recent weeks, pushing his case for more and bigger weapons.
He won a pledge of more missiles from Britain and a multibillion-euro package from Germany, as Europe intensifies its backing.
Zelenskiy also made a high-impact trip to Hiroshima, Japan, to press his case in-person to G7 leaders, whose support is essential to Kyiv.
In Kyiv on Sunday, soldiers received the news about Bakhmut with shrugs and skepticism.
They have heard claims before of the city's capture and they have other things on their minds.
"Everyone is trying to figure out when the offensive will start already. We know we have the equipment already and the machinery," said staff sergeant Volodymyr, who spoke on the condition that his family name not be used.
Comments will be moderated. Keep comments relevant to the article. Remarks containing abusive and obscene language, personal attacks of any kind or promotion will be removed and the user banned. Final decision will be at the discretion of the Taipei Times.