Greece braced for new election
A day after national elections failed to produce a single-party government, Greece yesterday was bracing for a new ballot which vote-winning Greek Prime Minister Kyriakos Mitsotakis' party was poised to seek in order to govern alone.
Mitsotakis' conservative New Democracy party scored a thumping win in Sunday's vote, with a clear 20-point lead over its nearest rival, Syriza led by leftist Alexis Tsipras.
Voters handed the conservatives their best result since 2007, crediting the party with bringing economic stability back to a nation once known as an EU laggard, but the win fell short of an outright majority, leaving Mitsotakis with the option of either seeking a coalition or calling a new vote.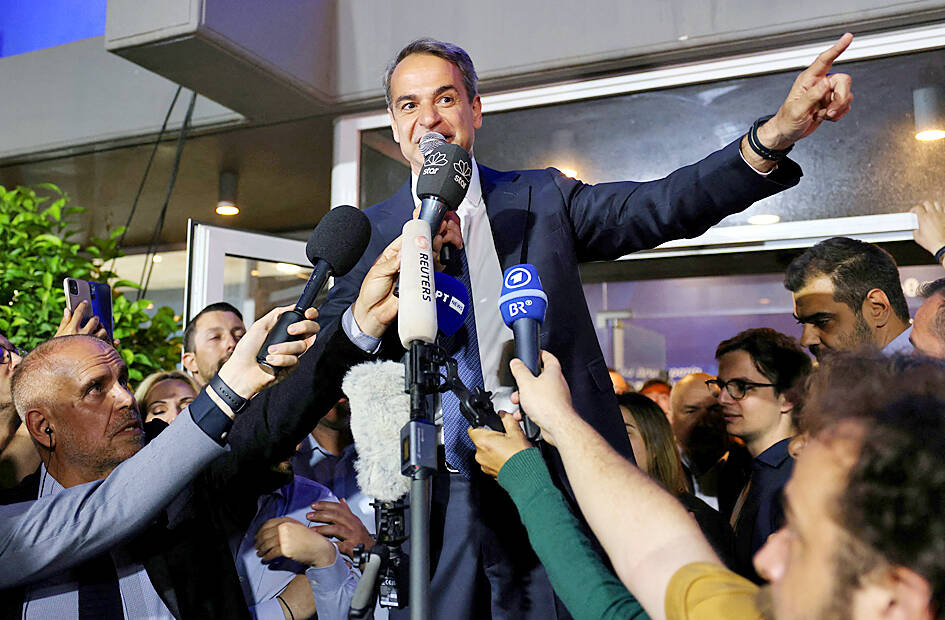 Greek Prime Minister Kyriakos Mitsotakis, top, speaks outside New Democracy party headquarters in Athens on Sunday.
Photo: Reuters
Left-wing daily Efsyn yesterday was headlined "Shock and awe," a feeling shared by both New Democracy and Syriza voters, while pro-government Proto Thema said that the double-digit divide was the widest seen in the nation since 1974.
Mitsotakis himself said the "great victory surpassed our own expectations."
With the count almost complete, New Democracy won 146 seats in the 300-deputy parliament — five short of a majority.
The 55-year-old Harvard graduate on Sunday made it clear his preferred option was for a new ballot.
"Together we will fight as of tomorrow, so that in the next elections, what citizens have already decided — a self-reliant New Democracy — will be mathematically confirmed at the ballot," Mitsotakis said.
"We will move forward, boldly and steadily, to complete today's important first step, and be the final winners," he said.
Tsipras also set the stage for a new vote, now expected as early as June 25, saying "the electoral cycle is not over yet."
The next battle would be "critical and final," he said.
Greek Minister of the Interior Calliope Spanou was expected to formally announce the results at midday yesterday. Greek President Katerina Sakellaropoulou would then summon Mitsotakis and formally hand him a mandate to seek alliances in forming a coalition government — which the conservative leader has already indicated he would decline.
Similar mandates to Syriza and third-placed socialist party Pasok-Kinal are also doomed to failure, given Sunday's result.
Under the constitution, Sakellaropoulou is then obliged to ask the five parties who made it to parliament to cooperate in forming a government.
Failing that, a senior judge would be named interim prime minister and call for new elections.
In the past four years, former McKinsey consultant Mitsotakis, 55, had steered the nation through the COVID-19 pandemic, which devastated Greece's vital tourism industry.
On his watch, the erstwhile EU economic headache has enjoyed a post-pandemic revival, booking growth of 5.9 percent last year.
With unemployment and inflation falling, and growth this year projected at twice that of the EU average, Greece's outlook was a far cry from the throes of a crippling debt crisis a decade ago.
Mitsotakis' term had been blighted by a wiretapping scandal, as well as a train crash in February that claimed 57 lives.
The government initially blamed the accident — Greece's worst-ever rail disaster — on human error, even though the nation's notoriously poor rail network has suffered from years of underinvestment.
Nevertheless, neither the accident nor the wiretapping scandal appeared to have dented support for New Democracy — which scored a far bigger win than that predicted by opinion polls ahead of the vote.
Under a new electoral law that comes into play in the next election, the winner can obtain a bonus of up to 50 seats. Based on Sunday's showing and that calculation, New Democracy is virtually assured of a victory, but the left will likely seek to turn the tide by campaigning on cost-of-living problems.
Comments will be moderated. Keep comments relevant to the article. Remarks containing abusive and obscene language, personal attacks of any kind or promotion will be removed and the user banned. Final decision will be at the discretion of the Taipei Times.