Japanese PM eyes snap elections
TIMING: With his approval rating surging during the G7 summit, Fumio Kishida might call early polls ahead of the LDP's leadership race to ensure his re-election
Japanese Prime Minister Fumio Kishida is increasingly certain to call a snap election, perhaps within weeks, as domestic support surges after a G7 summit that drew a surprise visit by Ukrainian President Volodymyr Zelenskiy.
While an election for parliament's more powerful lower house is not due until 2025, Kishida is keen to beef up his strength in the ruling Liberal Democratic Party (LDP) ahead of a leadership race next fall, to ensure his re-election and retain his post. His party's parliamentary majority virtually guarantees its president would be prime minister.
Although Kishida on Sunday said he was not thinking of dissolving parliament now, experts feel he might not be able to resist as favorable conditions stack up.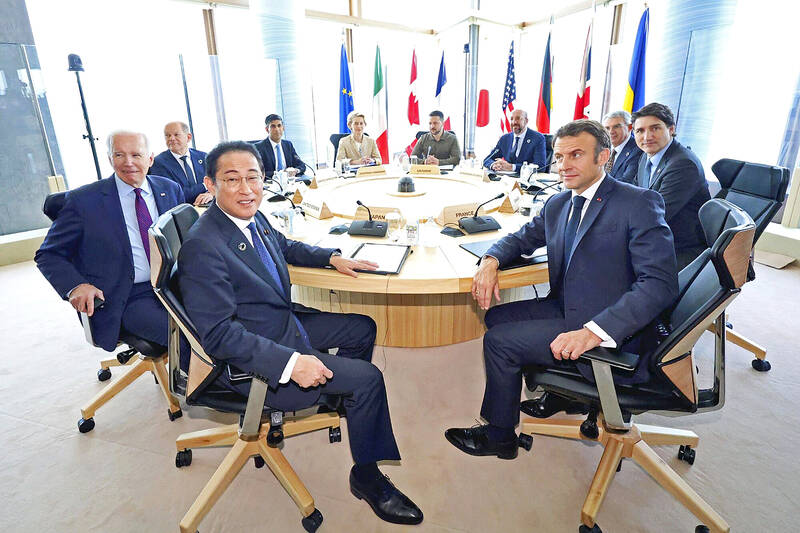 Ukrainian President Volodymyr Zelenskiy, far center, sits with the G7 leaders, clockwise from center left, Japanese Prime Minister Fumio Kishida, US President Joe Biden, German Chancellor Olaf Scholz, British Prime Minister Rishi Sunak, European Commission President Ursula von der Leyen, European Council President Charles Michel, Italian Ambassador to Japan Gianluigi Benedett, Canadian Prime Minister Justin Trudeau and French President Emmanuel Macron during a meeting in Hiroshima, Japan, on Sunday.
Photo: Bloomberg / Japan Pool
"He's going to want to do it at the best timing, to give him good results in the LDP race, to give him a mandate," said Airo Hino, a professor of political science at Tokyo's Waseda University.
Holding an election soon would let Kishida benefit from support rates that have shot up 9 percentage points in several polls since the G7 summit began on Friday, as well as perceptions that have strengthened his image as a global leader.
Kishida, who took office in October 2021, saw his approval slide to just under 30 percent in some polls in November, battered by revelations of ties between the LDP and the Unification Church, but numbers began to edge up with a thaw in ties with South Korea and a trip to Ukraine in March.
Hosting the summit in his home base of Hiroshima, the first city to suffer an atomic bombing in war, also played on sympathy for Ukraine and its suffering. This received a boost from Zelinskiy's unexpected appearance, as well as television images of the two leaders offering flowers at a monument to atomic bomb victims.
"For Kishida, Zelenskiy's visit has a unique significance that will help boost his support rating," said Shigenobu Tamura, a political analyst and former LDP staffer.
"In addition, Kishida chaired a summit that raised global issues and included other nations such as India and South Korea, highlighting his actions and stature in the world," Tamura said.
Kishida might also want to ride tailwinds from multi-decade highs in the benchmark Nikkei 225 index, fueled by strong earnings and signs of economic revival. Calling an early election could mean less time for the opposition to prepare.
Few of Japan's opposition groups pose a significant threat, but the LDP has a wary eye on the growing strength of the conservative Japan Innovation Party and would like to keep it from joining hands with other parties.
Still, Kishida is expected to hold off on an announcement until his government unveils proposals to combat a falling birthrate and passes a measure to increase defense spending. The parliamentary session ends on June 21.
However, there are also significant risks. An early election might come too soon to guarantee Kishida the LDP presidency even if the party does well, as a threat looms from rising prices, analyst Atsuo Ito said.
While the LDP has won recent elections, including a handful of by-elections last month, their victories have been far from overwhelming, he said, a point also made by other analysts.
"Prime ministers always gain popularity after summits," Ito added. "The question is whether he can keep it up."
Comments will be moderated. Keep comments relevant to the article. Remarks containing abusive and obscene language, personal attacks of any kind or promotion will be removed and the user banned. Final decision will be at the discretion of the Taipei Times.