LGBTQ refugees abused in Kenya camp: Amnesty
LGBTQ refugees and asylum seekers in Kenya are victims of severe hate crimes and abuses, including rape, a report released yesterday by Amnesty International and a Nairobi-based gay rights group said.
Kakuma Refugee Camp in northwestern Kenya hosts more than 200,000 refugees and asylum seekers, including hundreds of LGBTQ people who experience "extreme discrimination and violence," Amnesty and the National Gay and Lesbian Human Rights Commission said.
Perpetrators are able to "commit their crimes with almost total impunity, enabled by inaction on the part of the authorities," they added.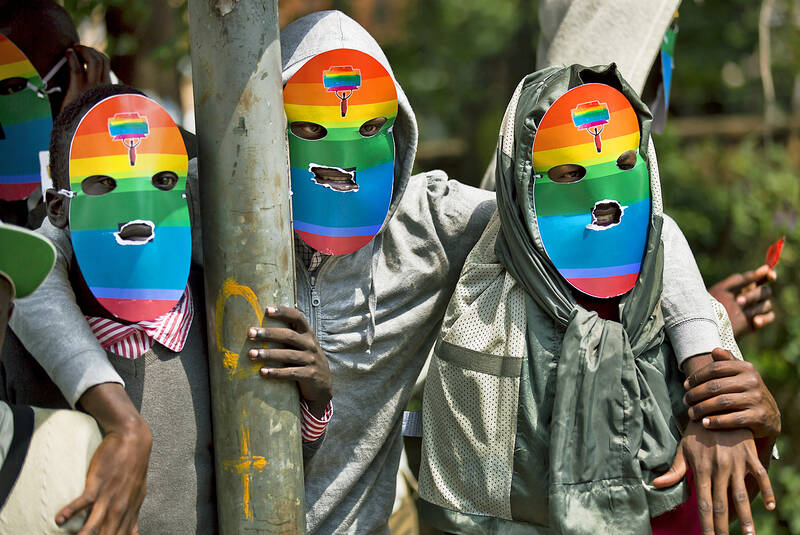 Kenyans supporting LGBTQ rights wear masks to preserve their anonymity at a demonstration in Nairobi on Feb. 10, 2014.
Photo: AP
Researchers interviewed 41 people from 2018 to February who described facing "hate crimes, violence, including rape, and other serious human rights abuses."
Esther, a 41-year-old lesbian, told researchers that she was raped twice in 2018 in the camp, the first time by two men threatening her with a knife, and the second time by four men during a burglary "in the presence of her seven-year-old son."
Another lesbian, Winnie, said her shop was destroyed by vandals who also injured one of her children.
She said that police had done little to help her apprehend those responsible.
Such incidents showed that the camp, which is run by the UN High Commissioner for Refugees, was "not yet safe for asylum seekers and refugees" who are LGBTQ, the report said.
The community faces "discrimination as well as homophobic and transphobic attitudes from government officials, the police and other service providers," Amnesty executive director for Kenya Irungu Houghton said.
"This is often reflected in delays to the processing of their asylum claims, harassment, violent homophobic attacks, threats, intimidation and extremely limited opportunities for local integration or third-country resettlement," Houghton said.
The Kenyan government must "urgently ensure the physical and psychological safety" of all LGBTQ asylum seekers and refugees in the Kakuma camp, the report said.
The report comes as the LGBTQ community finds itself under attack in Kenya and neighboring countries, with governments and politicians taking an increasingly harsh line on same-sex activity.
Kenyan President William Ruto, a born-again Christian elected in August last year, in March said that same-sex marriages could "happen in other countries, but not in Kenya."
Homosexuality is a Western import that Kenya's "customs, traditions, Christianity and Islam cannot allow," he said.
Gay sex is a crime under colonial-era laws in the East African nation. Penalties include prison terms of up to 14 years.
However, Kenya is the only nation in East Africa and the Horn region to offer "asylum to individuals who seek protection because of their sexual orientation, gender identity and/or expression and sex characteristics," the report said.
Comments will be moderated. Keep comments relevant to the article. Remarks containing abusive and obscene language, personal attacks of any kind or promotion will be removed and the user banned. Final decision will be at the discretion of the Taipei Times.