EU wants more say in China's backyard
INDO-PACIFIC FOCUS: The EU plans to pursue 20 Global Gateway projects in the region, while France said that it would send frigates to patrol there more often
The EU on Saturday offered closer political and investment ties to 20 countries from across the Indo-Pacific region, as the bloc seeks more influence despite growing Chinese and US ambitions.
At a forum that gathered foreign ministers from the EU and the Indo-Pacific, several speakers touted the Global Gateway program, Europe's answer to China's massive infrastructure project, the Belt and Road Initiative. The meeting on Saturday was itself a snub to Beijing, which was not invited.
"Our ambition is to work toward the preservation of the Indo-Pacific as a free, open, prosperous and inclusive region, and to build partnerships between equals," French Minister of Europe and Foreign Affairs Catherine Colonna said in a speech.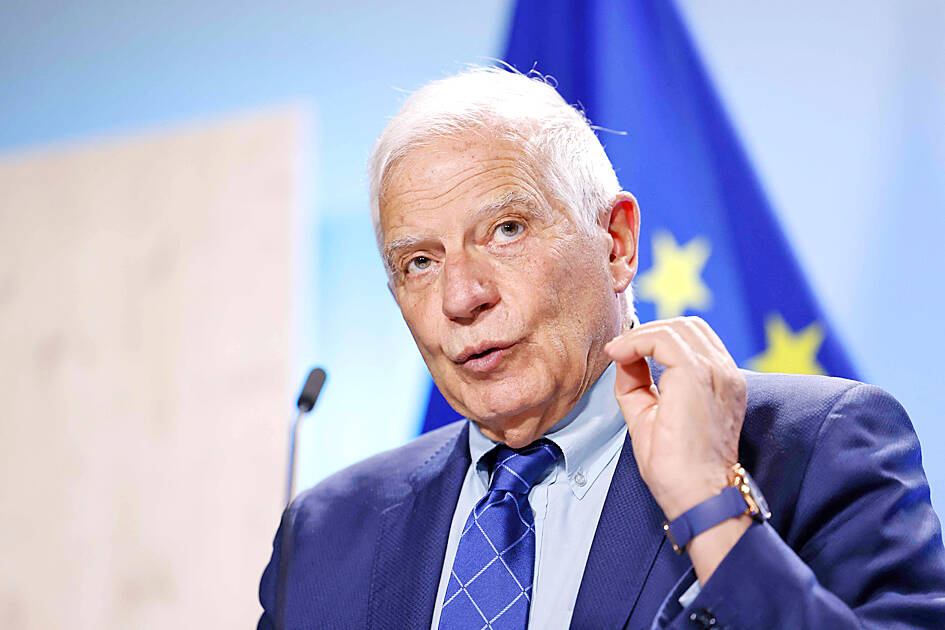 EU High Representative for Foreign Affairs and Security Policy Josep Borrell speaks at a news conference in Marsta, Sweden, on Saturday.
Photo: AFP
The EU "refuses to enter a logic of blocs that would make escalation and, eventually, confrontation, inevitable," she said.
After decades of viewing China primarily as a commercial opportunity, the EU is seeking to boost its footprint in the region and reduce its reliance on imports from the world's second-biggest economy, including on raw materials critical for the bloc's green transition.
The EU's dependence on Beijing, whose leader, Chinese President Xi Jinping (習近平), has declared a "no limits" friendship with Russian President Vladimir Putin, was laid bare during the COVID-19 pandemic, when countries and companies scrambled to source masks and other equipment.
Russia's invasion of Ukraine has heightened tensions with the West pressing Beijing to distance itself from Moscow.
The EU first adopted a common strategy on the Indo-Pacific in 2021 pushed by France, which has overseas territories in the area.
Ending Saturday's forum, whose guests included India, Japan and Indonesia, EU High Representative for Foreign Affairs and Security Policy Josep Borrell said the bloc wants "to step up our engagement to deliver more concrete results on the ground."
Borrell said the EU would pursue 20 Global Gateway projects in the Indo-Pacific "from investment in hydropower, solar energy plants to transportation infrastructure, railways, ports and airports."
The EU late last year signed an agreement with Thailand to foster a bilateral dialog on energy, climate change and other issues.
While Colonna did not mention China, she said the Global Gateway strategy was meant to promote "lasting, quality infrastructure projects that don't put countries in a situation of dependence," including in the digital sector.
Colonna also said that French frigates would patrol more often in the region.
A French warship patrolled the Taiwan Strait last month, while China conducted military exercises in the area.
France did not invite US representatives last year, but Washington was represented on Saturday.
Paris deems the Indo-Pacific a priority. The region hosts about 1.6 million French citizens and France has a military presence in French overseas islands, including New Caledonia, Wallis-and-Futuna or Mayotte, and 8,000 soldiers.
Comments will be moderated. Keep comments relevant to the article. Remarks containing abusive and obscene language, personal attacks of any kind or promotion will be removed and the user banned. Final decision will be at the discretion of the Taipei Times.