UN envoy lauds Sudan deal
PASSAGE FOR CIVILIANS: Volker Perthes said that the commitment to continue talks is an important first step toward a ceasefire between Sudan's warring generals
The UN envoy for Sudan on Friday welcomed a deal between the country's warring generals promising safe passage to civilians fleeing the conflict and protection for humanitarian operations in the East African nation.
UN Special Representative for Sudan Volker Perthes said the agreement was an important first step toward a ceasefire to the fighting, which is about to enter its fourth week.
The Sudanese military and the country's paramilitary, the Rapid Support Forces (RSF), late on Thursday signed a pact vowing to alleviate humanitarian suffering across the country, although a truce remains elusive.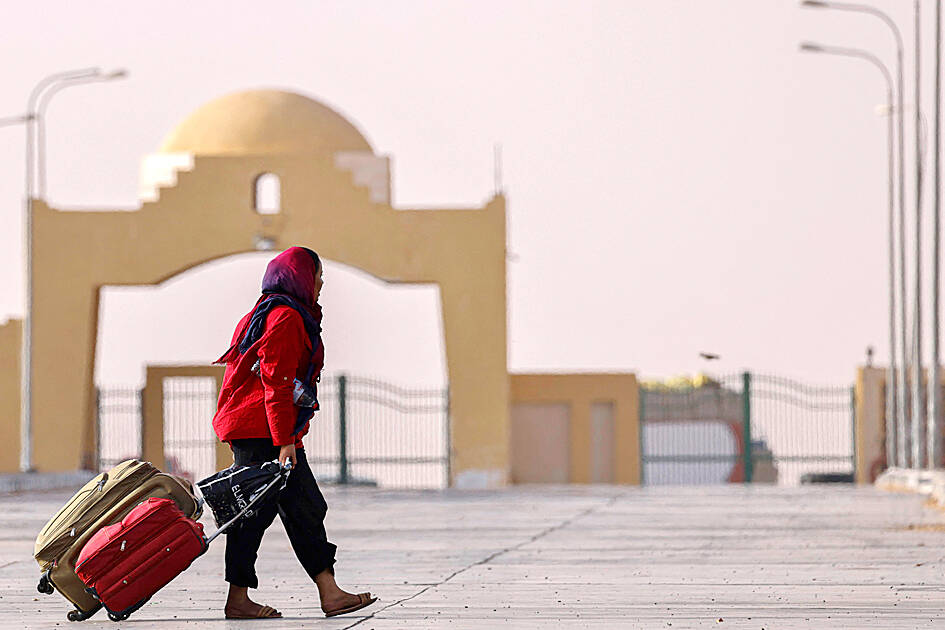 A woman walks toward the Egyptian border in Argeen, Sudan, on Friday.
Photo: AFP
Both sides also agreed to refrain from attacks likely to harm civilians.
The violence has killed more than 600 people, including civilians, the UN said.
"The most important element is that both sides commit to continue talks," Perthes told an online news conference from his office in Port Sudan.
International efforts to turn the deal into a ceasefire had started, he added.
The agreement outlines a series of shared pledges and promises to "facilitate humanitarian action in order to meet the needs of civilians."
The deal signing ceremony, brokered by the US and Saudi Arabia, was aired by Saudi Arabian state media in the early hours of Friday morning.
Neither the military nor the RSF immediately issued statements acknowledging Thursday's pact.
It does not provide any detail on how the agreed-on humanitarian promises would be upheld by troops on the ground.
Both sides agreed to several short ceasefires after the fighting broke out on April 15, but all have been breached.
In a post on Twitter, Amjad Farid, a Sudan analyst and former aid to the country's prime minister, said the deal is unlikely to bring any real change on the ground.
Other commentators expressed similar skepticism.
It is "composed of texts that are already in the international humanitarian law and treaties related to the treatment of civilians in times of war," Farid said.
Despite the signing, residents in Khartoum said fighting continued throughout Friday morning.
"I woke up to an airstrike nearby," said Waleed Adam, who lives in the east of the capital.
Over the past weeks, the fighting has turned Khartoum into an urban battlefield, and triggered deadly ethnic clashes in the western Darfur region.
About 200,000 people have fled the country, the UN said.
Comments will be moderated. Keep comments relevant to the article. Remarks containing abusive and obscene language, personal attacks of any kind or promotion will be removed and the user banned. Final decision will be at the discretion of the Taipei Times.