Thai radio show spooks a new generation
It is almost midnight, and above a semi-abandoned Bangkok shopping center, Ghost Radio is on air.
Rapid-fire comments ping across the studio's screens as thousands tune in online to hear callers describe their encounters with Thailand's supernatural.
Belief in spirits runs deep in the kingdom, which has a celebrated canon of ghosts from individuals such as Mae Nak, a woman who haunted her village after dying during childbirth, to more sinister creatures such as Krasue — bodyless women who float through the night looking to devour flesh.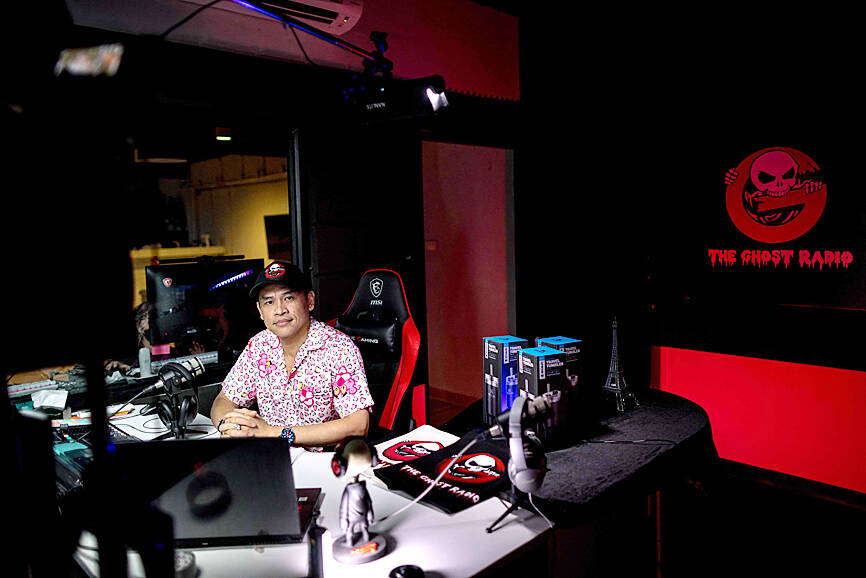 Ghost Radio station host Jack Watcharapol sits in his studio in Bangkok on March 25.
Photo: AFP
Now these ancient tales are being reinvigorated through online platforms such as YouTube, TikTok, WhatsApp and even delivery app Grab.
"She met a man in a white suit who told her that her time was up, and that she had to go with him," the first caller recounts, her voice quavering. "But when she turned back, she could see her body lying in bed."
In the studio, host Watcharapol Fukjaidee listens patiently, gently prying out details.
The charismatic 46-year-old, also known by his nickname Jack, films two live episodes per week from 11pm to dawn, fielding calls from spooked Thais as millions tune in and thousands comment online.
"When there is more technology, the chance to see ghosts increases," he told Agence France-Presse. "Ghosts come with apps, chat lines, phone calls. Technology becomes the channel where they can contact people."
Watcharapol recounted a caller who was contacted by a distant friend, asking him to meet at a temple, but when he got there he made a chilling discovery.
"It turns out that his friend had died and his phone was put into the coffin," he says, raising his eyebrows, a mischievous chuckle lurking.
The host got his break 20 years ago under Thailand's "godfather of ghosts," Kapol Thongplub, whose late-night call show was a favorite among the capital's taxi drivers.
It is now food delivery riders rather than cabbies who frequently encounter the supernatural as they crisscross Bangkok at all hours, Watcharapol said.
Unlike Kapol's show, which was dominated by the host's larger-than-life reactions, Watcharapol is more low-key and a little tongue-in-cheek.
"Now with the influence of Twitter and TikTok, more young people call," Ghost Radio worker Khemjira Jongkolsapapron said.
"This isn't a matter of still believing or not," said cultural anthropologist Andrew Alan Johnson, whose book Ghosts of the New City examines how recent events have reshaped Thai beliefs.
"Ghosts become a way to tell stories that are denied elsewhere," he said.
This is especially true in rapidly changing Bangkok, Johnson said, where ghost tales help preserve local memory — explaining unlucky locations, or feelings of alienation.
"Folk belief is incredibly adaptable, in that it seeks to speak to people's everyday experiences," he said.
The Ghost Radio YouTube channel has almost 3 million subscribers and is sponsored by local firms as well as pulling income from the themed cafe on the ground floor.
Watched over by an eclectic collection of ghost-themed toys, Khemjira sifts through scores of submissions, weeding out political stories or anything that might touch on the kingdom's tough laws against insulting the monarchy.
Not every tale makes it on air, but Khemjira is confident that the people telling them believe them to be true.
"I think people meet ghosts a lot. We hardly ever hear the same story," she says.
As Watcharapol listens upstairs, downstairs his cafe is raucous with young fans and families.
Munching on a tombstone-shaped brownie, 25-year-old policeman and regular caller Chalwat Thungood explained how he shares his colleagues' tales.
His spooky experience came on a call out to a house. As he arrived he glimpsed the shadow of an overweight man walk into a bathroom.
He struggled to open the door — until suddenly it gave way.
"I found a big man who had been dead for at least five hours. It proved to me that I saw a spirit of the big man walking into the bathroom," he said. "I 100 percent believe that ghosts exist."
Watcharapol refuses to be drawn on whether he actually believes, stating he has to maintain an open mind, before admitting he is "scared to death" of hospital ghosts.
People tune in to his show to find a like-minded community, "because sometimes they can't speak to their family about their ghostly experiences," he said.
"No one can prove it is real except the caller," he added.
Comments will be moderated. Keep comments relevant to the article. Remarks containing abusive and obscene language, personal attacks of any kind or promotion will be removed and the user banned. Final decision will be at the discretion of the Taipei Times.