Far-right activist convicted for 2016 voter suppression
A social media influencer who once had 58,000 Twitter followers was convicted by a federal jury of election interference in the 2016 US presidential race over a voter suppression scheme, the US Department of Justice said on Friday.
Douglass Mackey, known online as Ricky Vaughn, was convicted of the charge of conspiracy against rights stemming from a scheme to deprive individuals of their constitutional right to vote, the department said in a statement.
Mackey faces a maximum of 10 years in prison.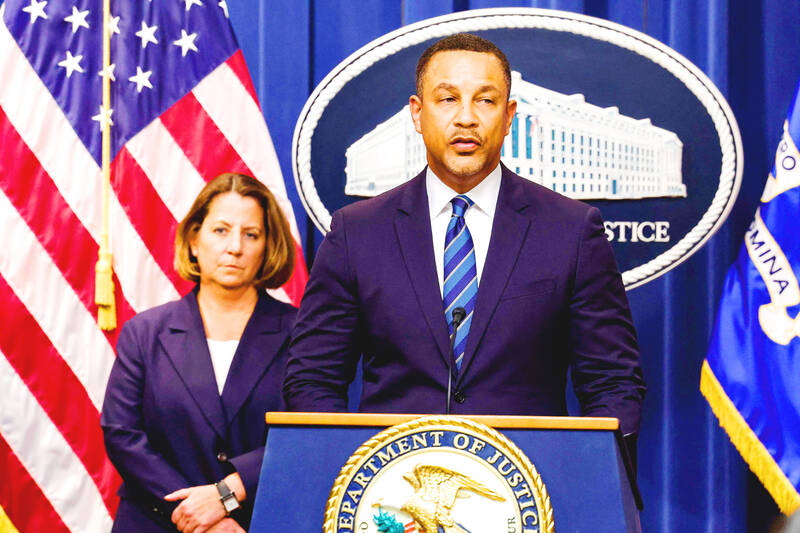 US Attorney for the Eastern District of New York Breon Peace speaks at a news conference in Washington on Jan. 18.
Photo: AFP
In 2016, Mackey, 33, established an audience on Twitter with 58,000 followers. An analysis in February 2016 by the Massachusetts Institute of Technology Media Lab ranked Mackey as the 107th-most important influencer of the then-upcoming presidential election, in which then-candidate Donald Trump defeated former US secretary of state Hillary Rodham Clinton.
Mackey, a Trump supporter, had been charged in 2021 by federal prosecutors in Brooklyn, who said he conspired with others to disseminate disinformation on social media that urged people to cast their ballots through invalid means such as text messages.
In one Twitter message, for example, he had featured a picture of an black woman standing in front of a sign for an unnamed candidate. Next to the image, it said: "Avoid the line. Vote from home."
"Today's verdict proves that the defendant's fraudulent actions crossed a line into criminality and flatly rejects his cynical attempt to use the constitutional right of free speech as a shield for his scheme to subvert the ballot box and suppress the vote," US Attorney for the Eastern District of New York Breon Peace said.
Mackey's lawyer, Andrew Frisch, suggested his client would appeal.
"This case presents an unusual array of appellate issues that are exceptionally strong," Frisch told the New York Times, adding: "I'm confident about the way forward."
The Southern Poverty Law Center, a civil rights organization, said Vaughn has openly supported hate groups.
Comments will be moderated. Keep comments relevant to the article. Remarks containing abusive and obscene language, personal attacks of any kind or promotion will be removed and the user banned. Final decision will be at the discretion of the Taipei Times.