Uzbekistan holds rally for controversial vote
On stage in front of a few hundred people, an entertainer desperately tries to sell a controversial referendum that could extend the rule of Uzbekistan's autocratic leader until 2040.
The April 30 vote is on a constitutional amendment that would introduce seven-year presidential terms and allow Uzbek President Shavkat Mirziyoyev to run for two new terms.
This would allow Mirziyoyev, in power since 2016, to potentially rule for two more decades.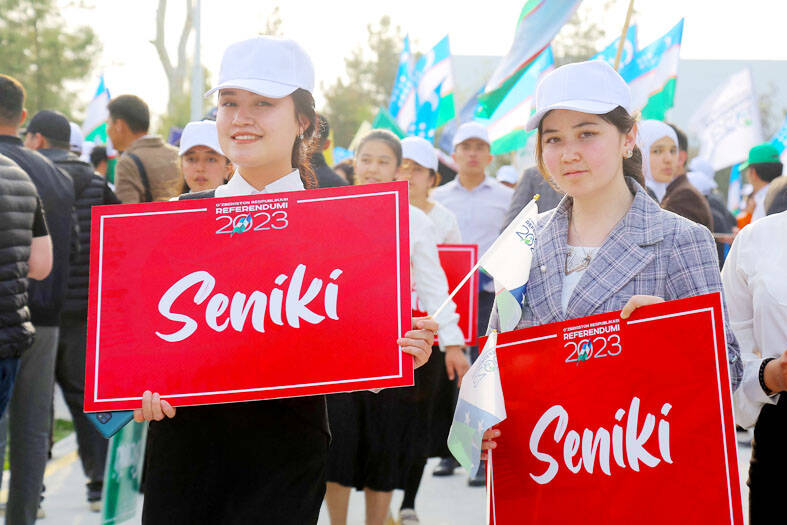 People attend an event supporting a constitutional referendum in Jizzakh, Uzbekistan, on Tuesday last week.
Photo: AFP
"Will you come to vote?" the entertainer asks the predominantly young crowd.
Few doubt the outcome of the referendum, billed as ushering in an "era of development."
Some of the students at the event in Jizzakh in central Uzbekistan said their professors forced them to go and even provided them with flags, banners and caps.
Anyone attempting to leave the two-hour rally was promptly told to "turn back."
"The constitution is yours, mine, ours," and "Yes, we'll come vote," the students sing.
The government has spared no resources, and called up singers and athletes to beat the general apathy.
The crowd was treated to a free concert by Gulsanam Mamazoitova, a singer with more than one million followers on Instagram.
People in the Central Asian nation "need to support the president and this constitution," said Nigora, a student in the audience who declined to give her full name.
"For me, this referendum is very important," Nigora said.
Oibek Alizhonov, a 45-year-old entrepreneur, said he supported Mirziyoyev's policies "200 percent" and "sees no other leader."
However, "the length of the presidential mandate should not be changed," Saera Yakhshilokova said. "No one should be in power well into old age. Presidents should be changed through elections."
Mirziyoyev introduced some reforms after decades of dictatorial rule under former Uzbek president Islam Karimov, but he is still criticized for his rights record.
His constitutional reforms started with bloodshed.
In July last year, 21 people died in protests over changes that would have undermined self-determination in the Republic of Karakalpakstan, and forced a rare U-turn by Mirziyoyev.
"I like some amendments on the judicial system, but I do not agree with the extension of the presidential mandate," said Azimzhon Okmurodov, a student.
"In the end, there will just end up being the one person ruling the country for a long time," he said.
Comments will be moderated. Keep comments relevant to the article. Remarks containing abusive and obscene language, personal attacks of any kind or promotion will be removed and the user banned. Final decision will be at the discretion of the Taipei Times.