Forest fires degrade air quality in north Thailand
Forest fires in northern Thailand are threatening to worsen the country's air pollution, which has sent nearly 2 million people to hospitals with respiratory illnesses since the beginning of the year.
Thai Prime Minister Prayuth Chan-ocha on Thursday ordered urgent steps to put out forest fires in Nakhon Nayok province in the east of the capital, Bangkok, and those in the country's northern region, including Chiang Mai and Chiang Rai, government spokesman Anucha Burapachasri said.
Firefighters and other officials have been deployed to monitor the affected areas, as burning of farmlands and illegal foraging occur during this time of the year, Anucha said in a statement.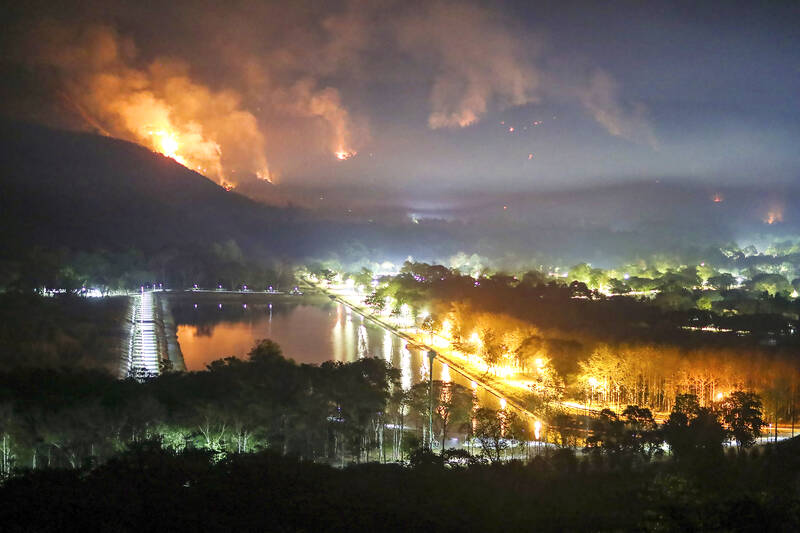 Fires burn on a mountain in Nakhon Nayok province in Thailand on Thursday.
Photo: AP
A mountain known as Khao Laem in Nakhon Nayok that was engulfed in flames since Wednesday had been brought under control, the government said.
Several wildfires are also reported from protected forests in Thailand's north, with several hotspots across the borders in Myanmar and Laos, a satellite heat map provided by a Thai space agency showed.
The wildfires are the latest cause for the worsening air quality in Thailand that has pushed levels of particulate dust particles known as PM2.5 in some areas past unhealthy threshold into a hazardous zone.
Bangkok and other Thai cities have grappled with poor air quality in the past few years, with pollution tending to get worse in the dry season from December to February due largely to agricultural burning in Thailand and neighboring countries, and vehicular emissions.
Prayuth urged ASEAN to take steps to tackle the trans-boundary haze situation that stems mainly from hotspots across the region, Anucha said in a separate statement.
Chiang Mai was ranked as the world's most polluted city by air quality monitor IQAir earlier on Thursday, with a "very unhealthy" PM2.5 concentration reading.
Its neighboring province Chiang Rai had a "hazardous" reading for most of the past seven days, IQAir data showed.
Comments will be moderated. Keep comments relevant to the article. Remarks containing abusive and obscene language, personal attacks of any kind or promotion will be removed and the user banned. Final decision will be at the discretion of the Taipei Times.