Thailand detains Chinese Christians
EMBASSY TRAP? A missionary said that the group had been told they needed to report to the Chinese embassy, but added if they were to walk in, 'they are gone'
More than 60 members of a Chinese Christian church have been detained in Thailand, supporters said yesterday, raising fears they might be returned to their home country, where they face possible persecution.
Deana Brown, one of two American supporters detained along with the church members, said that Thai authorities in the coastal city of Pattaya on Thursday detained the 63 church members, many of whom are children.
Thirty-two adult Chinese nationals were charged with overstaying their visas, said Colonel Tawee Kutthalaeng, chief of the Pattaya-area Nong Prue police station.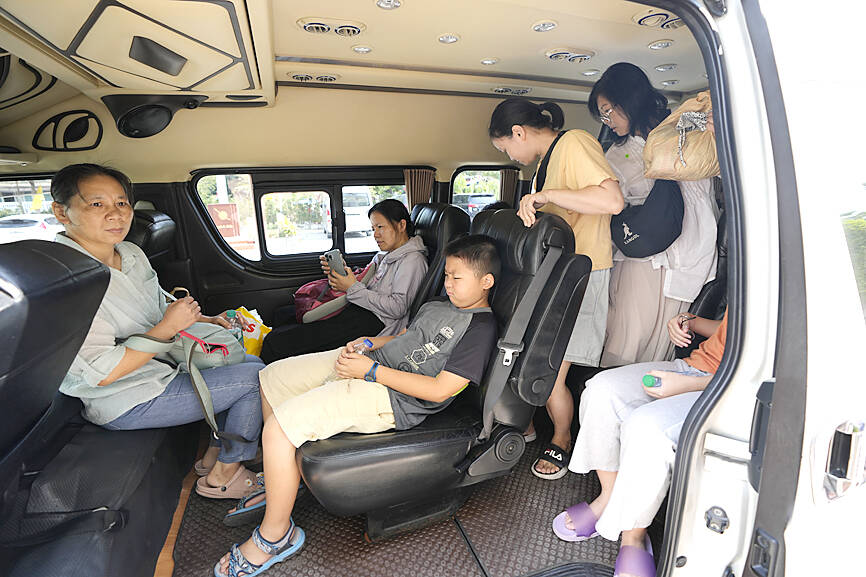 Members of the Shenzhen Holy Reformed Church sit in a vehicle outside a police station in Pattaya, Thailand, yesterday.
Photo: AP
The children were not charged, Kutthalaeng said.
The two US citizens were not placed under arrest, Kutthalaeng said.
Brown, chief executive officer of Texas-based Freedom Seekers International, an organization whose mission statement says it seeks to rescue "the most severely persecuted Christians in hostile and restrictive countries," said the group had been told that they would be given a court date later yesterday.
Brown said she is working to resettle the church members in Tyler, Texas, where her organization is based, but that they had run into problems with their visas in Thailand.
She said she assumed that she and the other American, a nurse, had been detained because they were there at the time the church members were taken into custody.
As the group looked into renewing their visas, they had been told that there was a new requirement that any Chinese citizen renewing a visa in Thailand must report to the Chinese embassy first, Brown said.
"When they told us that we knew that nobody could get their visas," said Brown, who was allowed to keep her phone while in detention. "There was no way, because as soon as they walk into the Chinese embassy, they're gone, we would not see them again. They've been hiding out since then."
The media section at the Chinese embassy in Bangkok did not answer its telephone and the embassy did not immediately respond to an e-mailed request for comment.
The US embassy said it had no immediate comment on the case.
Members of the Shenzhen Holy Reformed Church, also called the Mayflower Church, traveled to Thailand last year seeking asylum. The current status of their request was not immediately clear.
They fled China in 2019 alleging that their members were being persecuted by government security forces, initially settling on South Korea's Jeju Island.
They left South Korea for Thailand after meetings with local and US officials made it clear that prospects for refuge there were dim.
Upon their arrival in Thailand, church members told reporters that they had been stalked, harassed and received threatening calls and messages even while they were in South Korea.
They said that relatives in China had been summoned, interrogated and intimidated.
At that time, the Chinese Ministry of Foreign Affairs said that the matter was "not a diplomatic question" and declined to comment further.
In China, Christians are legally allowed to worship only in churches affiliated with Chinese Communist Party-controlled religious groups, but for decades, the authorities largely tolerated independent, unregistered "house churches."
They have tens of millions of members, possibly outnumbering those in the official groups.
However, in the past few years, house churches have come under heavy pressure, with many prominent ones shut down.
Unlike previous crackdowns, such as Beijing's ban on Falun Gong, the authorities have also targeted some people not explicitly opposed to the Chinese state.
Most members of the Shenzhen Holy Reformed Church are young, married middle-class couples, with their children making up about half the group.
Bob Fu (傅希秋), founder of ChinaAid, another Texas Christian group helping the church, said that US lawmakers were pressing the US Department of State to get involved.
In a statement on his Web site, Fu said that time was of the essence.
"Before the Chinese government demands repatriation, the international community can help prevent this tragedy from happening," he said.
Comments will be moderated. Keep comments relevant to the article. Remarks containing abusive and obscene language, personal attacks of any kind or promotion will be removed and the user banned. Final decision will be at the discretion of the Taipei Times.