Labor touts 'fresh start' after winning NSW vote
STRONG MOMENTUM: After the win in Australia's most populous state, the party of Prime Minister Anthony Albanese is set to govern all states except Tasmania
The Australian Labor Party in New South Wales (NSW) state claimed power in an election on Saturday night, with voters backing the center-left party's pledges of cost-of-living relief and to stop privatization policies.
The election in Australia's most populous state had been touted as a tight race between the incumbent Liberal-National coalition and Labor, but the vote count yesterday showed Labor on track to take the 47 seats needed to form a majority government, after three terms in opposition.
The win marks further endorsement of the party of Australian Prime Minister Anthony Albanese, who on polling day joined Chris Minns, the Labor candidate who was later designated NSW premier-elect.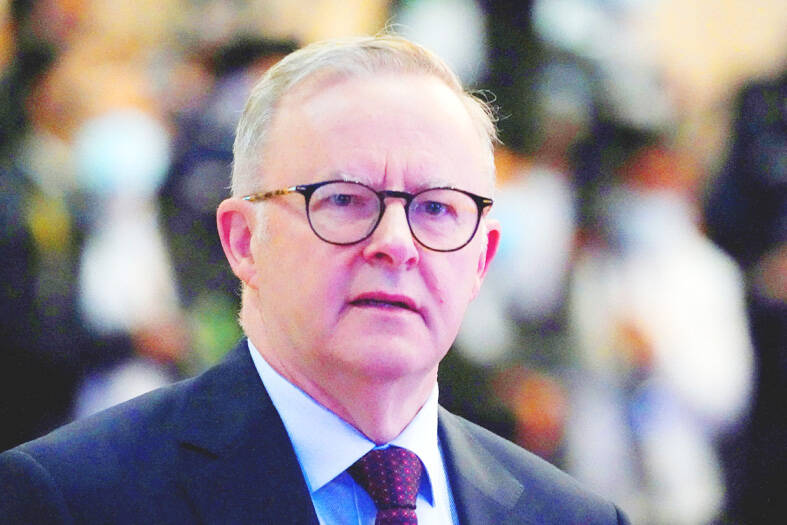 Australian Prime Minister Anthony Albanese attends an ASEAN summit in Phnom Penh on Nov. 13 last year.
Photo: REUTERS
"A huge congratulations to @ChrisMinnsMP ... and the whole NSW Labor team on your election victory," Albanese wrote on Twitter late on Saturday.
MAINLAND POWERHOUSE
Labor's win means the party now governs at state and federal level across Australia's mainland, leaving island state Tasmania as the conservative outlier.
"After 12 years in opposition the people of New South Wales have voted for a fresh start," Minns told supporters in Sydney late on Saturday.
"The people of New South Wales voted to put in a government that would put people at the heart of all decisionmaking".
Labor's campaign in the state featured a pledge to rule out further privatization of state assets and a promise to boost public sector wages amid cost-of-living concerns.
Outgoing NSW Premier Dominic Perrottet, a socially conservative Catholic and former state treasurer, was elected premier in 2021 after his predecessor, Gladys Berejiklian of the Libberal Party, resigned after a corruption watchdog probe into whether she was involved in conduct that "constituted or involved a breach of public trust."
Albanese, in the lead up to polling day, urged voters in his home state to back Labor, saying Perrottet's coalition government was "in shambles" due to infighting.
Comments will be moderated. Keep comments relevant to the article. Remarks containing abusive and obscene language, personal attacks of any kind or promotion will be removed and the user banned. Final decision will be at the discretion of the Taipei Times.