India faces renewables headwinds
GOALS AT RISK: An analyst said that some green projects that are borderline economically viable or do not have a strong business case would be shelved
It took less than two weeks for TotalEnergies SE to put a massive hydrogen energy project with Adani Group on hold after the Indian conglomerate was rocked by allegations of fraud.
The deal — part of a plan in which billionaire Gautam Adani's energy business would have invested US$50 billion over the next decade in the fuel — remains in limbo, a victim of Hindenburg Research's short-seller report.
The fallout is unlikely to be limited to the Adani empire. The controversy over the business practices of the group — which became one of the country's biggest investors in renewable energy sources after expanding from transport infrastructure — means there will likely be greater scrutiny of Indian corporate governance across the board.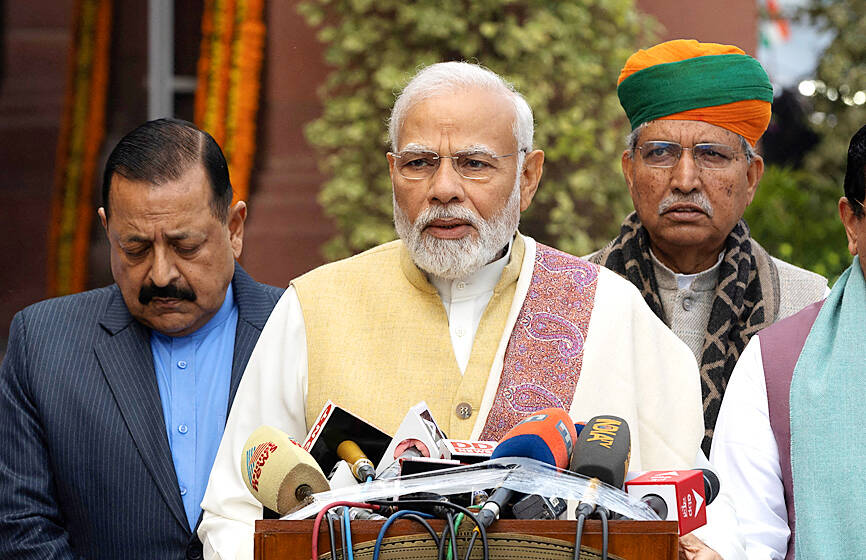 Indian Prime Minister Narendra Modi, center, speaks at parliament in New Delhi on Jan. 31.
Photo: Reuters
Energy transition investments in India already lag behind other major nations and now the cost of capital is increasing as global interest rates rise, while the US Inflation Reduction Act is creating more opportunities for clean-power investors in the US and its free-trade partners.
That spells trouble for Indian Prime Minister Narendra Modi's goal to put India at the forefront of climate action.
"The markets are enforcing discipline on companies, including Adani, to reduce debt and bring in equity," said Shashank Krishna, a London-based partner at law firm Baker Botts LLP, who advises clients on energy and infrastructure deals. "Some projects that are borderline economically viable or may not have a strong business case will have to be shelved or reduced in size."
The headwinds are making the Indian government's goal of tripling clean-electricity capacity by the end of the decade less achievable.
New Delhi wants to increase the current 169 gigawatts to 500 gigawatts by 2030, taking its percentage of the total from 41 percent to almost two-thirds.
If it falls short of the target, the world's third-largest emitter would rely on coal for longer. That is bad news for the Indian economy, which hopes to lure investment from multinationals under pressure to decarbonize their supply chains.
While India installed 15 gigawatts of grid-connected wind and solar capacity last year, 44 percent more than in 2021, it is still well short of what is needed to reach the 2030 target.
Moreover, making a major increase in the level of investment was already proving tough before the Adani crisis.
Investment in the deployment of renewable energy technology rose about 4 percent to US$11.5 billion in India last year, but that was still lower than a recent peak of US$12.7 billion in 2017, data compiled by BloombergNEF showed.
Fiscal incentives such as US legislation are drawing a lot of capital that could have potentially found its way to India, said Anita George, a cofounder of Edhina Capital, an Indian private-equity firm looking to invest in clean energy, mobility, green buildings and recycling opportunities. "That has been a dampener for all the emerging markets, not just India."
Comments will be moderated. Keep comments relevant to the article. Remarks containing abusive and obscene language, personal attacks of any kind or promotion will be removed and the user banned. Final decision will be at the discretion of the Taipei Times.