Argentina, Ecuador leaders trade barbs over ex-minister
DIPLOMATIC RIFT: Argentina has offered asylum to a former official who fled Ecuador after being sentenced to eight years in prison for bribery
The presidents of Argentina and Ecuador on Tuesday publicly criticized each other, in a growing diplomatic rift caused by the mysterious appearance in Venezuela of a convicted Ecuadoran ex-minister.
Maria de los Angeles Duarte, fleeing an eight-year sentence in Ecuador over bribery charges, had been holed up in Argentina's mission in Quito since August 2020.
Argentina had offered asylum to Duarte, who served under former Ecuadoran president Rafael Correa, but Ecuador refused to grant her free passage out of the country.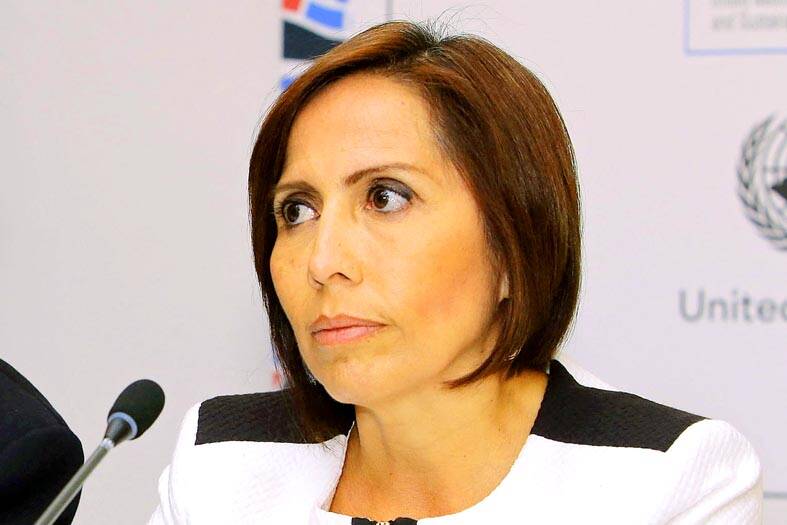 Then-Ecuadoran minister of urban development and housing Maria de los Angeles Duarte attends a news conference in Quito on Oct. 14, 2016, ahead of the HABITAT III meeting in Ecuador.
Photo: AFP
On Tuesday last week, Argentina announced that Duarte had appeared at its mission in Caracas, but did not know how she had arrived there.
MUTUAL EXPULSION
The incident resulted in Ecuador expelling Argentina's ambassador and recalling its own from Buenos Aires, measures Argentina then reciprocated.
In a Twitter post on Monday, Ecuadoran President Guillermo Lasso accused his Argentine counterpart of "putting his personal friendship and political identity" with Correa — who has also been found guilty of corruption — "ahead of the fraternal relationship between the peoples of Argentina and Ecuador."
Correa, who was president from 2007 to 2017 and has been granted asylum in Belgium, on Tuesday attended a meeting of a human rights group in Buenos Aires.
Argentine President Alberto Fernandez responded on Tuesday by posting on Twitter a public letter addressed to Lasso, in which he defended his government's actions and condemned the expulsion of its ambassador as "disproportionate."
"The seriousness and injustice of that decision show that it is his [Lasso's] excessive behavior that truly hurts the relationship between our peoples," Fernandez wrote.
"In our embassy was a refugee who enjoyed full freedom of movement. Argentina had neither the duty of custody over her nor any capacity to limit her movements," he said.
Lasso later released his own letter to Fernandez on Twitter, defending his decision to declare Argentina's ambassador persona non grata and accusing the envoy of acting as a "political operator."
"Collaborating in the escape of a fugitive from justice contributes to impunity, an evil that affects the entire region," Lasso said.
Comments will be moderated. Keep comments relevant to the article. Remarks containing abusive and obscene language, personal attacks of any kind or promotion will be removed and the user banned. Final decision will be at the discretion of the Taipei Times.