S Korea to return Japan to white list
ECONOMIC BENEFITS: The last administration had left relations in a 'quagmire,' but improved ties would help build stable supply chains in high-tech industries, Yoon said
South Korean President Yoon Suk-yeol yesterday pledged to restore Japan's fast-track trade status after a summit with Japanese Prime Minister Fumio Kishida last week, a move he said was crucial for bolstering supply chains in key areas.
Yoon announced the decision at a cabinet meeting, saying that South Korea and Japan should try to remove obstacles that hinder developing bilateral ties.
"I will pre-emptively order our trade minister today to begin necessary legal procedures to have Japan back on our white list," Yoon told the meeting, which was televised live. "I'm sure Japan will respond if South Korea first starts removing the obstacles."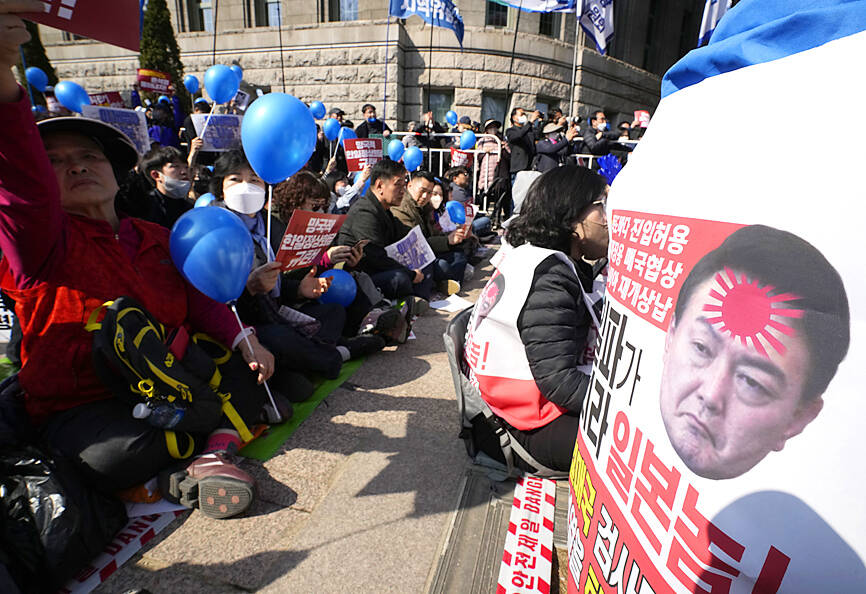 An image of South Korean President Yoon Suk-yeol is depicted on the vest of a protester during a rally in Seoul yesterday denouncing Yoon's March 16 summit with Japanese Prime Minister Fumio Kishida.
Photo: AP
South Korea and Japan removed each other from the list in 2019 amid a decades-old row over a 2018 South Korean court order for Japanese companies to compensate forced laborers during Japan's 1910-1945 occupation of Korea.
Tokyo criticized the ruling, saying the issue was resolved under a 1965 treaty that normalized relations, and the strained ties fanned concerns over US-led efforts to bolster cooperation to counter North Korea's nuclear and missile threats.
Yoon, who took office in May last year, has vowed to mend the bilateral ties and is pushing to resolve the forced labor feud through a plan unveiled this month, under which a public foundation, funded by South Korean companies, would pay compensation.
The plan was welcomed in Tokyo, but faced a backlash from some victims and opposition lawmakers, who accused Yoon of capitulating to Tokyo and inviting Japanese troops back to the Korean Peninsula.
Some people would seek political gains by fueling "hostile nationalism and anti-Japan sentiment," Yoon said, without naming them, but added that it was irresponsible to do so as the president.
He also accused his predecessor's government of leaving relations in a "quagmire" at the expense of crucial economic, security and people-to-people exchanges.
"I felt like I was trapped in a maze with no exit, but I couldn't just sit back and watch," Yoon said.
Kishida told him at the summit that he would uphold Japan's past apologies for wartime atrocities, including a 1998 declaration focusing on colonial rule, Yoon said, adding that now is the time for the two neighbors to go beyond the past.
"The relationship is not a zero-sum one where one side gains and the other side loses as much. It can and must be a win-win," he said.
Better ties would help build stable supply chains in high-tech industries such as semiconductors by linking South Korea's manufacturing technology with Japan's edge in materials, parts and equipment, he said.
The US has called for greater trilateral cooperation with its key two Asian allies on economic security.
As a follow-up to the summit, the South Korean Ministry of Foreign Affairs yesterday said that it had normalized the General Security of Military Information Agreement intelligence-sharing pact with Tokyo to foster closer security cooperation on North Korea.
Comments will be moderated. Keep comments relevant to the article. Remarks containing abusive and obscene language, personal attacks of any kind or promotion will be removed and the user banned. Final decision will be at the discretion of the Taipei Times.