Putin makes surprise visit to fallen Mariupol city
GRAIN CONCERNS: Ukraine and Russia have agreed to extend a deal enabling Ukraine to continue exports, although there was a disagreement over the terms
Russian President Vladimir Putin made a surprise visit to Mariupol, state media reported yesterday, his first to the city since it was captured after a lengthy siege at the start of Moscow's invasion of Ukraine.
Russia besieged Mariupol at the start of its invasion last year, destroying the Azovstal steel works, the last holdout of Ukrainian forces in the city.
Putin on Saturday flew by helicopter to Mariupol and took a tour of the city, at times driving a car, Russian state news agency TASS reported yesterday.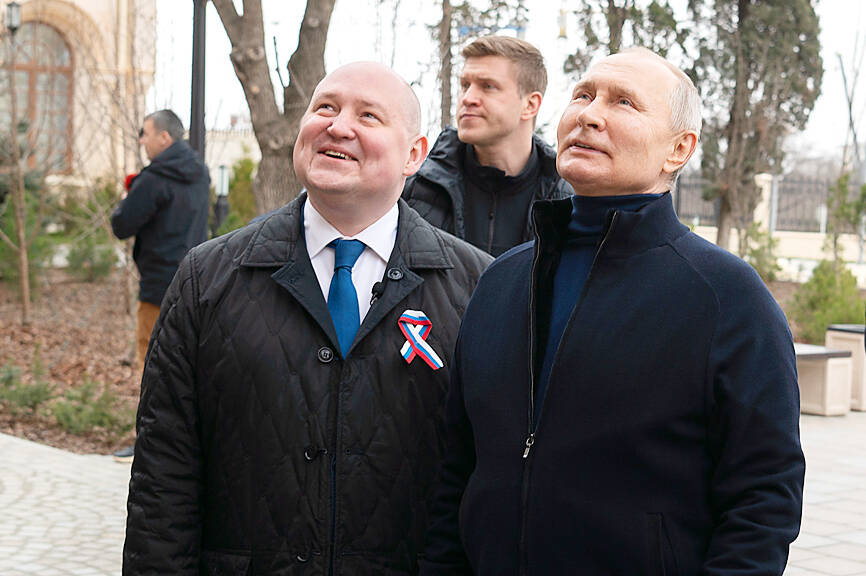 Russian President Vladimir Putin, right, and Sevastopol Governor Mikhail Razvozhayev visit a children's arts and crafts center in Sevastopol, Crimea, on Saturday.
Photo: EPA-EFE/Russian Presidential Press Office
He visited several sites and spoke with residents, and was presented with a report on the reconstruction work of the city, TASS said.
Putin's stop in Mariupol comes after his surprise visit to Crimea on Saturday to mark the ninth anniversary of the peninsula's annexation.
Russian state TV showed him visiting the Black Sea port city of Sevastopol, accompanied by local Moscow-appointed Governor Mikhail Razvozhayev.
Putin had been expected to take part in the opening of a children's art school by video link, Razvozhayev said on Telegram.
"But Vladimir Vladimirovich came in person. Himself. Behind the wheel. Because on such a historic day, the president is always with Sevastopol and the people of Sevastopol," he said.
Russia annexed Crimea in 2014, following a referendum that was not recognized by Kyiv and the international community.
Ukrainian President Volodymyr Zelenskiy told the World Economic Forum in Switzerland in January that he aimed to take back Crimea, although Moscow has refused to include it in possible peace talks.
The trip comes after an arrest warrant was issued for Putin by the International Criminal Court (ICC) over Russia's alleged deportation of thousands of Ukrainian children during the conflict.
Meanwhile in Ankara, Turkish President Recep Tayyip Erdogan said that Ukraine and Russia had agreed to extend a deal that has allowed Ukraine, a major grain exporter, to resume exports after its Black Sea ports were blocked by Russian warships, but there was disagreement over the terms.
Ukrainian Minister of Infrastructure Oleksandr Kubrakov said the deal had been extended for 120 days, but a Russian Ministry of Foreign Affairs spokeswoman said Moscow had agreed to a 60-day extension.
Fighting is now concentrated in the eastern Donetsk region of Ukraine, particularly the city of Bakhmut.
Russian strikes on Saturday hit the nearby city of Kramatorsk, killing two people and wounding 10, said regional Donetsk Governor Pavlo Kyrylenko, who accused Moscow of using cluster bombs in the attack.
Journalists in Kramatorsk heard about 10 explosions go off nearly simultaneously just before 4pm, and saw smoke rise above a park in the southern part of the city.
A woman died at the scene from her wounds, they said.
Comments will be moderated. Keep comments relevant to the article. Remarks containing abusive and obscene language, personal attacks of any kind or promotion will be removed and the user banned. Final decision will be at the discretion of the Taipei Times.