Ecuador, Peru quake kills at least 14
SHAKEN: The epicenter of the magnitude 6.8 earthquake was in Ecuador's Balao municipality, and although it occurred near the border, Peru only reported one death
At least 14 people were killed and several wounded in a powerful earthquake that shook Peru and Ecuador on Saturday, authorities said.
Destroyed buildings, crushed vehicles and debris could be seen in cities such as Machala and Cuenca in Ecuador, as rescue officials rushed to lend aid and panicked residents ran into the streets.
The quake, which the US Geological Survey put at a magnitude 6.8 and a depth of nearly 66km, struck at 12:12pm.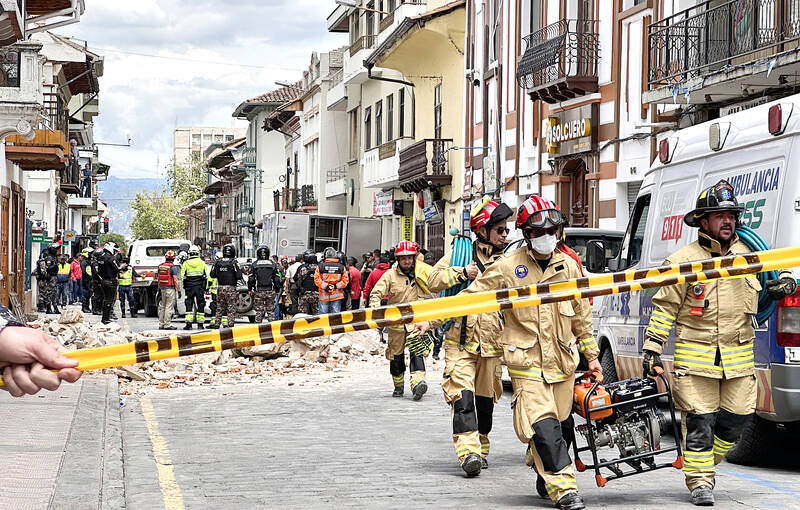 Emergency personnel respond to a scene after an earthquake in Cuenca, Ecuador, on Saturday.
Photo: EPA-EFE
Its epicenter was in the Ecuadoran municipality of Balao, near the border with Peru, authorities said.
"I went out into the street because I saw people starting to run in panic, getting out of their cars," said Magaly Escandon, a sewing supplies saleswoman in Cuenca.
Ecuador's presidency reported 13 dead — 11 in El Oro Province and two in Azuay Province.
In the Peruvian city of Tumbes on the border with Ecuador, a four-year-old girl died after a brick hit her on the head, an official report said.
"There where the pool of blood is, I was playing with my ... niece and a brick fell on her," her uncle David Alvarado said.
The tremor was also strongly felt in other cities, including Guayaquil, Quito, Manabi and Manta, social media reports said.
Ecuador's presidency reported that "there are injured people who are being treated promptly in hospitals," but did not provide any figures.
Ecuadorian President Guillermo Lasso traveled to El Oro, where he visited the wounded in a hospital, and was next planning to go to Azuay.
"I have just finished visiting the city of Machala... I have ratified government support, the availability of resources," he said in a video on Twitter.
Earlier in the day he urged people to remain "calm and to be informed through official channels" about damage to buildings.
Quito's Risk Management Office said that the facade of a house collapsed on a vehicle and left "a deceased person" in Cuenca.
Journalists in the city also reported that old houses in the historic center had been damaged. Roads near Cuenca were also blocked by landslides.
Nearby, in El Oro, three people were reported dead when a tower fell over and crushed them.
The earthquake shook the north and central coasts of Peru with less intensity.
In Tumbes, it damaged 12 homes, an official report said.
"It is a relatively high magnitude for what we have in the country," Ecuadorian Geophysical Institute director Mario Ruiz said in an interview with FM Mundo radio.
Comments will be moderated. Keep comments relevant to the article. Remarks containing abusive and obscene language, personal attacks of any kind or promotion will be removed and the user banned. Final decision will be at the discretion of the Taipei Times.