New Zealand bans TikTok from lawmakers' phones
New Zealand lawmakers and other workers inside the nation's parliament would be banned from having the TikTok app on their government smartphones, officials said yesterday.
The ban, which takes effect at the end of this month, follows similar moves in many other countries.
However, New Zealand's ban would apply only to about 500 people in the parliamentary complex, not to all government workers, who are subject to bans in the US and the UK.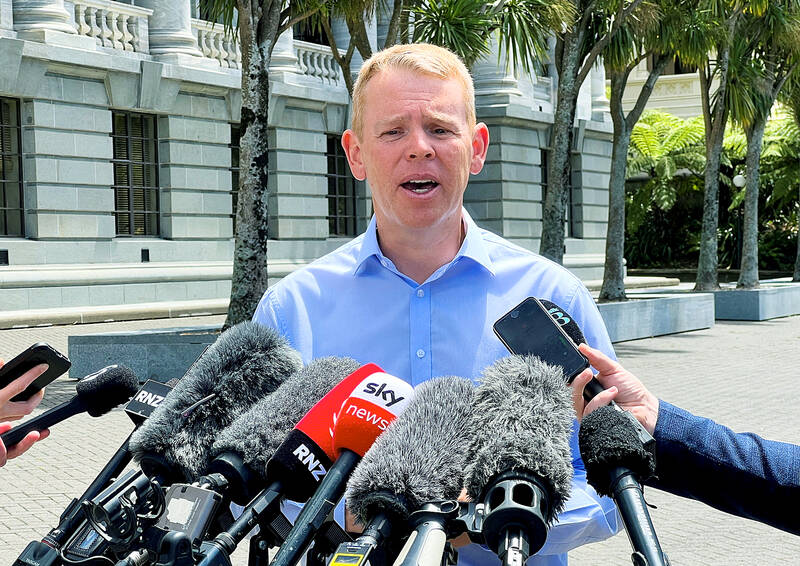 New Zealand Prime Minister Chris Hipkins speaks to reporters in Wellington on Jan. 21.
Photo: REUTERS
Other New Zealand agencies could decide later to impose their own bans.
Global concern about the app comes after warnings by the FBI and other agencies that TikTok's Chinese parent company could share TikTok user data — such as browsing history, location and biometric identifiers — with the Chinese government.
New Zealand Prime Minister Chris Hipkins said he did not have TikTok on his smartphone.
"I'm not that hip and trendy," he told reporters.
The government's move came on the advice of government cybersecurity experts, New Zealand Parliamentary Service Chief Executive Rafael Gonzalez-Montero said.
He said that the app would be removed from all devices with access to the parliamentary network, although officials could make special arrangements for anybody who needed TikTok to perform their democratic duties.
"This decision has been made based on our own experts' analysis and following discussion with our colleagues across government and internationally," Gonzalez-Montero said in a statement. "Based on this information, the service has determined that the risks are not acceptable in the current New Zealand parliamentary environment."
Hipkins said the cybersecurity advice came from the country's intelligence agency, the New Zealand Government Communications Security Bureau.
He said New Zealand did not take a blanket approach to all government workers, and it would be up to each department or agency to make cybersecurity decisions.
Separately, the administration of US President Joe Biden continues to back legislation to address national security concerns about TikTok, US National Security Council spokesman John Kirby said on Thursday.
During a news briefing, Kirby reiterated the administration's support of a bill, known as the Restrict Act, that would give Biden new powers to tackle foreign technology threats and could allow his administration to ban TikTok.
Additional reporting by Reuters
Comments will be moderated. Keep comments relevant to the article. Remarks containing abusive and obscene language, personal attacks of any kind or promotion will be removed and the user banned. Final decision will be at the discretion of the Taipei Times.