Beijing's 'peace deal' in spotlight as Xi plans talks
'LOW-COST VENTURE': Xi Jinping is set to meet separately with Putin and Zelenskiy, but analysts doubt whether Beijing's effort can help end the war
Chinese President Xi Jinping (習近平) is expected to soon visit Russian President Vladimir Putin and, according to news reports, hold a virtual meeting with Ukrainian President Volodymyr Zelenskiy weeks after China proposed a 12-point plan for peace in Ukraine.
The Chinese Ministry of Foreign Affairs has said it is in communication with both sides and, while it has not confirmed Xi's plan for talks with either Putin or Zelenskiy, there is speculation that China might try to get the rivals to the negotiating table.
These are some of the issues China and others are likely to be taking into account as they consider prospects for peace in Ukraine.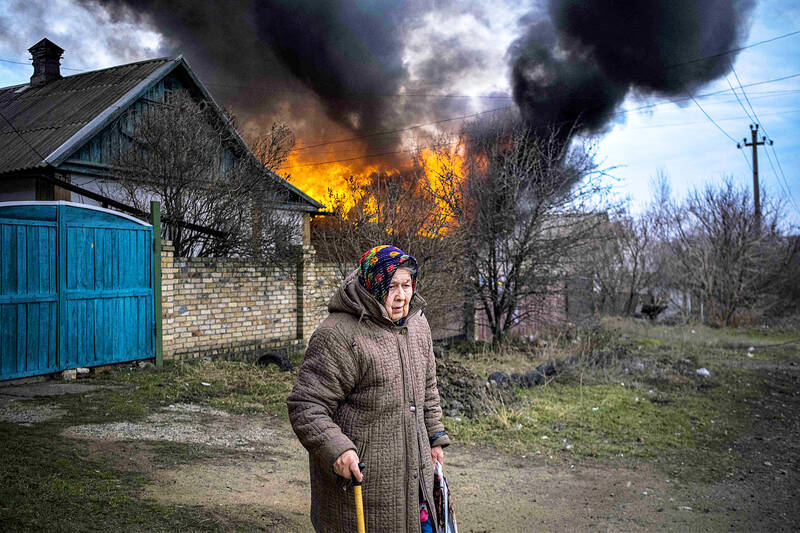 A woman stands near a burning building following Russian shelling in Kostyantynivka, Ukraine, on Wednesday.
Photo: AFP
WHY MEDIATE?
China says it has traditionally adhered to a principle of not interfering in other countries' conflicts, especially the more distant ones.
However, a peace deal struck in Beijing last week between Saudi Arabia and Iran highlighted a Chinese aim to project itself as a responsible great power under Xi's stewardship, analysts said.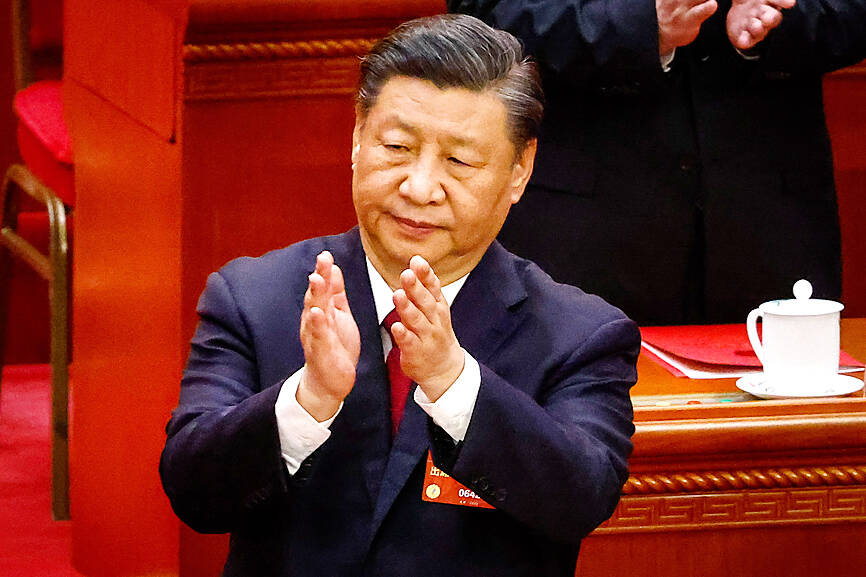 Chinese President Xi Jinping applauds at the closing session of the Chinese National People's Congress in Beijing on Monday.
Photo: EPA-EFE
"Xi would want to be seen on the global stage as a statesman whose influence at least equals that of the US leader," City University of Hong Kong law professor Wang Jiangyu (王江雨) said.
China is also eager to deflect criticism that when it comes to Ukraine, it has sided with the aggressor, Russia, which calls its invasion in February last year a "special military operation."
Attempting to broker peace is a low-cost venture that can yield high returns for China, even if a quick breakthrough is highly unlikely, analysts said.
CHINA'S PROPOSAL
China has urged both sides to agree to a gradual de-escalation leading to a comprehensive ceasefire in its 12-point paper on the "political resolution of the Ukraine crisis."
While the plan called for the protection of civilians and that the sovereignty of all countries be respected, China has refrained from condemning Russia for its invasion.
The plan got lukewarm welcomes in Russia and Ukraine, while the US and NATO were skeptical.
Ukraine, which said it would only consider peace settlements after Russian troops leave Ukrainian territory, took issue with the plan for not stating that Russia should withdraw behind borders in place since the Soviet Union collapsed in 1991, but later said it was open to "parts of the plan."
Russia said it would take a "nuanced study" of the plan, but did not see any sign for a peaceful resolution for now.
The US said China presented itself publicly as neutral and seeking peace, while at the same time reflected Russia's "false narrative" about the war, provided it with nonlethal assistance and was considering lethal assistance.
China denies that.
NATO said China did not have much credibility as a mediator on Ukraine.
CHINA'S ROLE
Analysts said it would be hard for China to get Russia and Ukraine to the negotiating table, unlike Saudi Arabia and Iran, which presented an easier diplomatic win.
"Saudi Arabia and Iran actually want to talk and improve relations, while Russia and Ukraine don't, at least for now," said Yun Sun (孫韻), director of the China program at the Washington-based Stimson Center.
However, Yun said that Xi could act as a backchannel, which could start momentum toward talks that for now seem unlikely with both sides hardening their stances in the grinding war.
A fruitless attempt by NATO member Turkey to host dialogue in Istanbul in the weeks after the war began last year underscored the difficulty.
CHINA'S LEVERAGE
Some analysts say China is in a better position than Turkey to mediate because it has more leverage over Russia.
China is Russia's most important ally, as it has been buying Russian oil and provided a market for Russian goods shunned by Western countries.
China also has some leverage over Ukraine, which would not want to torpedo the chances of Chinese support for its reconstruction, said Samuel Ramani, a Russia expert at the University of Oxford.
China expanded trade with Ukraine after Russia invaded Crimea in 2014 and did not recognize the annexed territory as Russian, he said.
"Most importantly, Zelenskiy does not want to provoke China so much that they start arming Russia," Ramani said.
HONEST BROKER?
China's close ties with Russia mean its role would be viewed with deep skepticism.
Days before Russia invaded Ukraine, China and Russia announced a "no-limits" partnership.
While China has called for peace since the beginning of the war, it has largely reflected the Russian position that NATO threatened Moscow with its eastward expansion, while Ukraine's Western allies fanned the flames of war by supplying it with tanks and missiles.
Andrew Small, a senior fellow at the German Marshall Fund of the US, said China wants to be seen as doing its part for peace, but is not prepared to press Putin to stop the war and sacrifice its relations with Russia.
"Beijing hasn't thrown its weight around nor sought to coerce Russia into doing anything," he said.
Comments will be moderated. Keep comments relevant to the article. Remarks containing abusive and obscene language, personal attacks of any kind or promotion will be removed and the user banned. Final decision will be at the discretion of the Taipei Times.