Ecuador, Argentina spar over 'escape'
FLIGHT TO CARACAS: The two nations expressed 'sadness' after a convicted former official traveled from Argentina's embassy in Ecuador to its mission in Venezuela
A diplomatic spat between Ecuador and Argentina escalated on Tuesday after it was revealed that a convicted former Cabinet minister, who had been living in the Argentine embassy, had escaped Quito to Venezuela.
Maria de los Angeles Duarte, who served under former Eduadoran president Rafael Correa, was sentenced to eight years for bribery, but had been holed up in Argentina's embassy since August 2020 with her son, whose father is Argentine.
Argentina had offered Duarte asylum, but Ecuador refused to grant her free passage out of the country.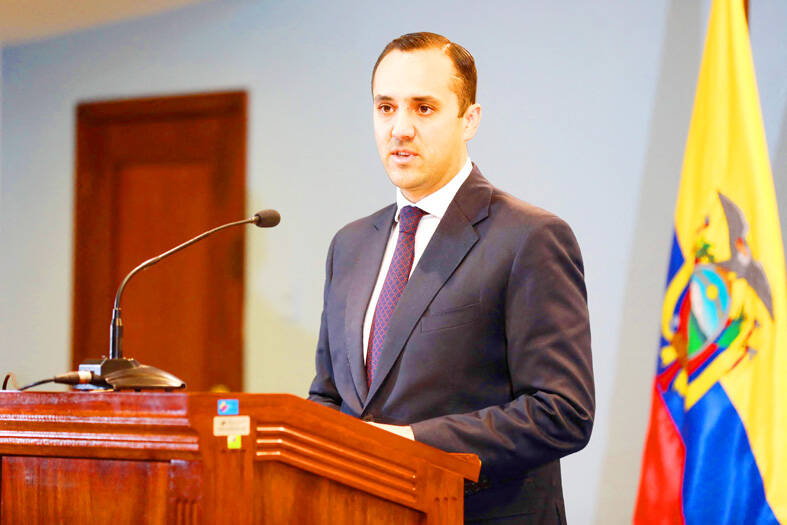 Ecuadoran Minister of Foreign Affairs Juan Carlos Holguin speaks at a news conference at the ministry in Quito on Tuesday.
Photo: AFP / ECUADORAN FOREIGN MINISTRY
Duarte "was present in the Argentine embassy in Caracas" from 11am on Tuesday, the Argentine Ministry of Foreign Affairs said in a statement, without giving any details of how she traveled to Venezuela.
Ecuador summoned Argentine Ambassador Gabriel Fuks to explain what it called inconsistencies in the embassy's explanations of how Duarte had escaped and for refusing to hand over video surveillance footage from inside the compound.
Quito then declared Fuks persona non grata and recalled its own ambassador to Argentina for consultations.
Buenos Aires then followed suit, recalling its ambassador from Quito and saying it would also expel Ecuador's ambassador.
On Monday, Argentine Minister of Foreign Affairs Santiago Cafiero told his Ecuadoran counterpart that Duarte had "escaped" from the embassy "without the knowledge of staff" there.
Duarte then fled Quito, entered Venezuela and presented herself at the Argentine embassy in Caracas without saying how she had arrived there or whether she had been accompanied by her son, the ministry's statement said.
Duarte "said she has no intention of traveling to Argentina in the short term," although she "made inquiries about documents" that the country could offer her, it added.
"We feel that good faith has been violated," Ecuadoran Minister of Foreign Affairs Juan Carlos Holguin told a news conference, calling his government's decision to expel Fuks "difficult and sad."
Holguin told reporters that he was confident "relations can be rebuilt" between his country and Argentina through dialogue.
For its part, the Argentine ministry said it received Ecuador's "incomprehensible decision" with "surprise and deep sadness."
Duarte was convicted alongside Correa, who was president from 2007 to 2017, and other former government officials for corruption in relation to a request for almost US$7.6 million of bribes in return for state contracts, the public prosecutors' office has said.
Correa, who has been granted asylum in Belgium, where his wife was born, says he is a victim of political persecution.
Separately, Ecuador's national assembly voted to declassify documents tied to investigations into allegations of corruption at public companies in a bid to shore up impeachment charges against Ecuadoran President Guillermo Lasso.
Earlier this month a majority of lawmakers in the assembly backed a report accusing Lasso of connections to possible crimes against state security and public administration, assertions rejected by the government.
Though the assembly backed the non-binding report, which stemmed from ongoing investigations by the attorney general into alleged graft at state companies, the opposition is still examining which charges it wants to bring against Lasso and has not yet formally requested impeachment hearings.
The government made no immediate comment, but has said previously the report's findings are based on coincidences and conjecture.
Tuesday's resolution, adopted in a private session of the assembly's 137 members, allows legislators access to the presidency's visitor logs and information from the companies regulator.
"We have unanimously approved both the lifting of the classification of the information from the Superintendency of Companies — the box was opened in our presence — and the lifting of the classification of the logs from the presidency," Ecuadoran Legislator Darwin Pereira told reporters.
The visitors log would be digitized and shared with lawmakers, Pereira said.
Comments will be moderated. Keep comments relevant to the article. Remarks containing abusive and obscene language, personal attacks of any kind or promotion will be removed and the user banned. Final decision will be at the discretion of the Taipei Times.