Senegal protesters back opposition leader before trial
Hundreds of protesters on Tuesday took to the streets of Senegal's capital in a peaceful show of support for the country's opposition leader who is going on trial later this week.
It was the first of several days of scheduled demonstrations backing Ousmane Sonko. The 46-year-old president of the Patriots of Senegal for Ethics, Work and Fraternity party, is to go to court today, after being charged in a civil lawsuit by Senegal's tourism minister for alleged defamation and public insults.
The case stems from accusations Sonko made against the minister during a news conference late last year. He had said that the tourism minister allegedly stole US$47 million from a government agency.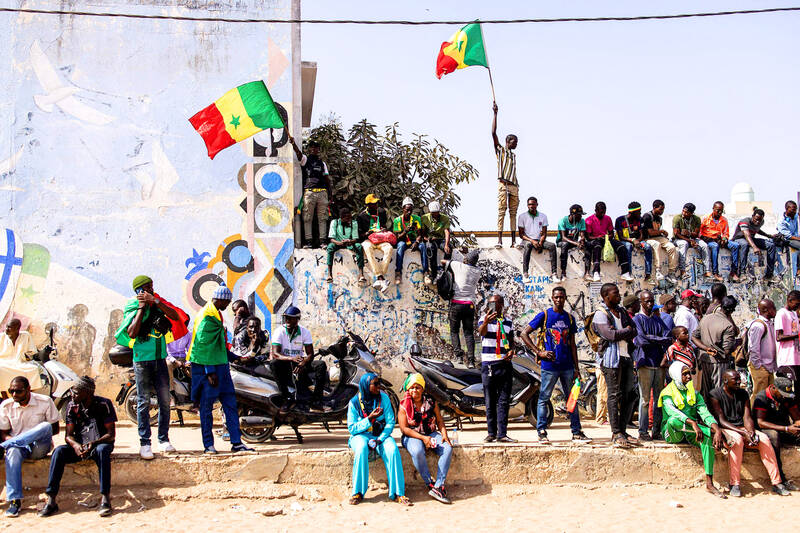 Opposition supporters gather ahead of a rally in Dakar on Tuesday.
Photo: AFP
Protesters gathered in Dakar's suburbs, shouting and chanting.
"We are here to support our leader, Ousmane Sonko. We will do everything to ensure that he is not imprisoned. He is not guilty of anything," Moustapha Diedhiou said.
Sonko's supporters see the charges against him as the latest attempt to cut short his political career, including his likely presidential candidacy next year. Sonko finished third in Senegal's 2019 presidential election and has called on Senegalese President Macky Sall to declare publicly that he will not seek a third term.
The ruling party says that Sall should be allowed to run after a constitutional change in 2016 —made while Sall was president — which changed presidential terms to five years.
Along with the defamation trial, Sonko also faces rape charges after a female employee accused him of assaulting her at a massage salon. If convicted, he faces up to 10 years in prison and would be barred from running for president. No date is set for the trial.
Sonko is politicizing a legal problem between two citizens, government spokesman Abdou Karim Fofana said, adding that the government would ensure order.
In 2021, days of deadly protests erupted after Sonko was arrested for disturbing public order while on his way to the courthouse for a scheduled appearance in the rape case. At least 13 people died during the worst violence to rock Senegal in years.
With elections less than a year away, Sonko's supporters say they are not going to back down.
The government's "objective is to prevent the candidacy of our leader in the next presidential election," Mamadou Fall said. "We will not accept it."
Comments will be moderated. Keep comments relevant to the article. Remarks containing abusive and obscene language, personal attacks of any kind or promotion will be removed and the user banned. Final decision will be at the discretion of the Taipei Times.