Germany seeks motive for Hamburg church shooting
German police were searching for a motive yesterday after a gunman, believed to have been acting alone, killed several people in a Jehovah's Witness church in Hamburg.
Police declined to say how many people had been killed in Thursday night's attack, but said the gunman was believed to be among the dead.
The Bild newspaper reported seven people were dead and eight wounded in the shooting at the Kingdom Hall of Jehovah's Witnesses in the northern city that is home to Germany's biggest port.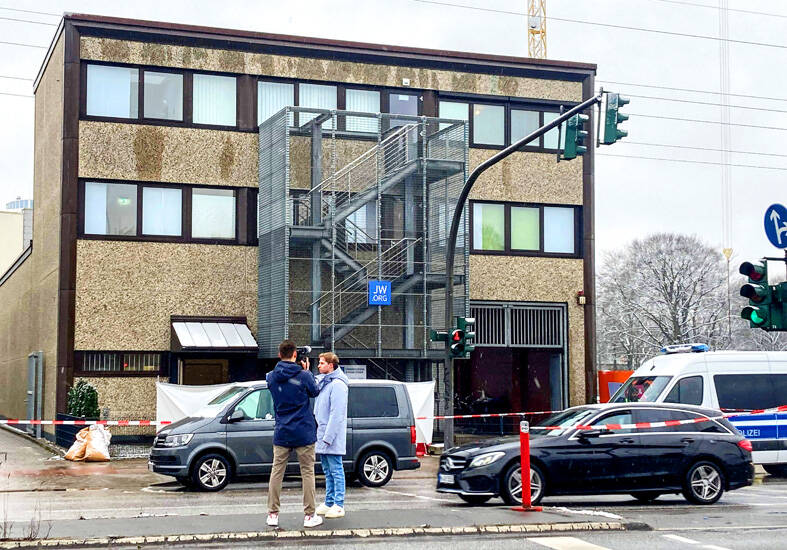 The site of a Jehovah's Witness center where several people were killed in a shooting is pictured yesterday in Hamburg.
Photo: AFP
No details of the suspected killer were released.
"Bad news from Hamburg," German Chancellor Olaf Scholz wrote on Twitter yesterday, calling the attack "a brutal act of violence."
He said his thoughts were with the victims, their families and the security forces, who "have been through a difficult deployment" since the shooting at about 9pm.
German authorities are working urgently to investigate the crime, German Minister of the Interior Nancy Faeser wrote on Twitter.
"We assume that there is one perpetrator," police said late on Thursday. "Investigations into the motives behind the crime are continuing."
Police established an Internet portal for people to upload photos and videos "of the crime or relevant events."
Soon after the violence began, residents in the Alsterdorf district received warnings on their mobile phones of a "life threatening situation," and the area was sealed off, the Deutsche Presse-Agentur reported.
Television footage showed dozens of police cars as well as fire engines blocking off streets, and some people, wrapped in blankets, being led by emergency service workers into a bus.
"We heard shots," one unidentified witness told reporters.
"There were 12 continuous shots," he said. "Then we saw how people were taken away in black bags."
Police arrived at the scene to find several people seriously wounded and some dead.
"Then they heard a shot from above, they went upstairs and found one further person," a police spokesperson said.
Germany has been shaken by a number of shootings over the past few years. In February 2020, a gunman with suspected far-right links shot dead nine people, including migrants from Turkey, in the western town of Hanau before killing himself and his mother.
In October 2019, a gunman killed two people when he opened fire outside a synagogue in the eastern city of Halle on the Jewish holy day of Yom Kippur.
Comments will be moderated. Keep comments relevant to the article. Remarks containing abusive and obscene language, personal attacks of any kind or promotion will be removed and the user banned. Final decision will be at the discretion of the Taipei Times.