Rebels in Papua seek mediation by UN
A New Zealand pilot who was taken hostage last month by rebels in Indonesia's Papua region has appeared in videos put out by separatists calling for the UN to mediate in the conflict in the region.
Pilot Phillip Mehrtens, who works for the small, domestic Susi Air service, was abducted by the armed wing of the Free Papua Movement (OPM) on Feb. 7 after landing at an airstrip in Nduga district.
"OPM requests the United Nations to mediate between Papua and Indonesia to work towards Papuan independence," Mehrtens said in one video, echoing comments in a earlier video statement, in which he said he would only be released if Papua became independent.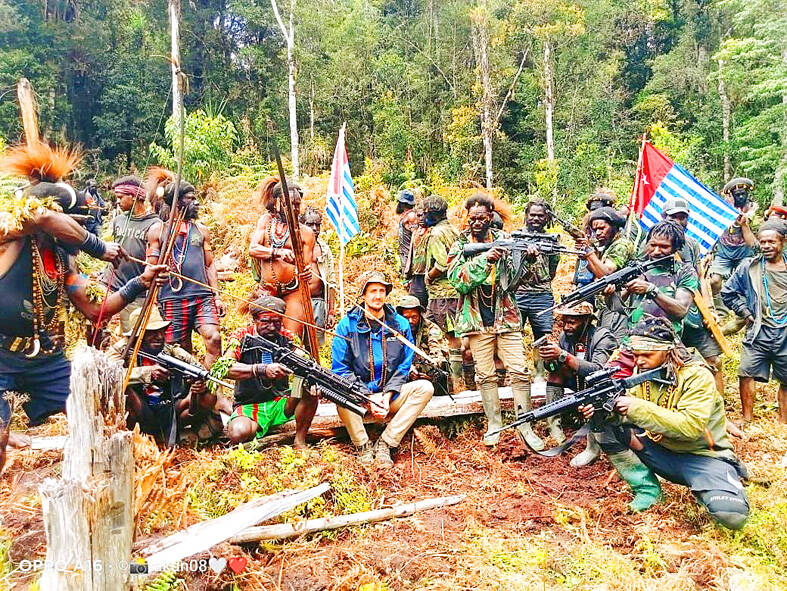 Philip Mehrtens, center, a New Zealand pilot, sits among armed men in Indonesia's Papua region in an image taken from video said to be recorded on Monday.
Photo: Reuters / The West Papua National Liberation Army (TPNPB) / handout
Reuters could not independently verify where and when the videos were taken.
Sebby Sambom, a spokesman for the rebels, said the footage was taken on Monday.
Papua, the western half of New Guinea island, has seen a low-level separatist insurgency since the region that was once governed by the Netherlands was brought under Indonesian control following a UN-supervised vote in 1969 that separatists say was flawed.
Indonesia's chief security minister and other officials did not immediately respond to a request for comment on the videos.
Since the rebels seized the pilot, officials have sought to use dialogue to secure his release, saying a "law enforcement operation" would be a last resort.
In one of the videos, Mehrtens read out a statement while sitting in a jungle clearing and surrounded by a group of men, some with guns and one with a bow.
Wearing a blue jacket, beige trousers and a camouflage hat, Mehrtens said he had been instructed to read the statement with new demands from OPM.
"No foreign pilots are permitted to work and fly in Papua until Papua is independent," Mehrtens said.
In another of the videos, Mehrtens sent his love to his family, and asked that any salary he was owed be given to them for food and bills.
"Try not to worry about me, I am being taken care of as well as can be expected given the situation," he said, adding that he was getting enough food and water, warm clothes and medicine.
"Hopefully we can be together soon," he said.
In a third video, a separatist called on states such as Australia, Britain, China, France, New Zealand, Russia and the US to stop military cooperation with Indonesia.
Comments will be moderated. Keep comments relevant to the article. Remarks containing abusive and obscene language, personal attacks of any kind or promotion will be removed and the user banned. Final decision will be at the discretion of the Taipei Times.