Indonesians seek justice after syrup deaths
Birthday decorations still hang on the walls of Safitri Puspa Rani's home, where the family celebrated their youngest son's birthday last year.
"Knock knock. Hey everyone. It's my eighth birthday," a beaming Panghegar Bhumi said in a video from September last year, while making a heart-shaped gesture with his arms.
A month later he died from acute kidney injury, days after a doctor prescribed him a cough syrup containing ingredients that have been linked to more than 200 child deaths in Indonesia.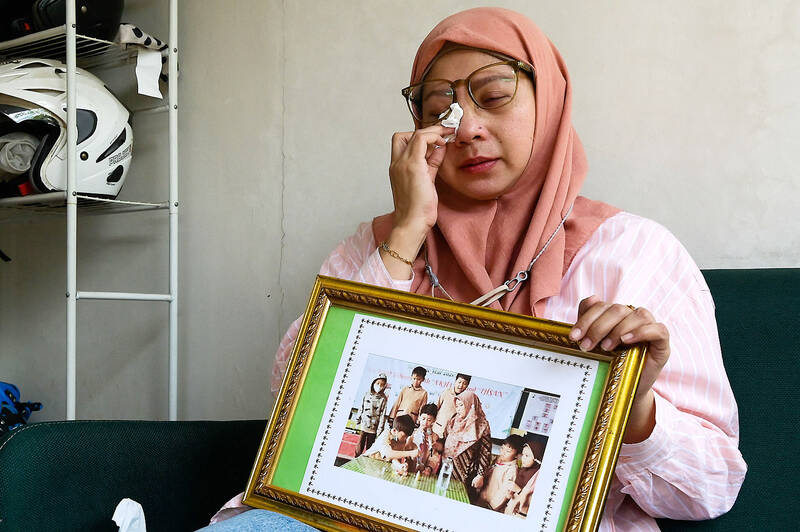 Safitri Puspa Rani in her home in Jakarta on Feb.11 holds a picture of her son, Panghegar Bhumi, who died from kidney injury days after a doctor prescribed him a cough syrup that has been linked to more than 200 child deaths in the country.
Photo: AFP
"I whispered in his ears: 'The medicine is coming, please hang in there a little bit more,'" Rani said, crying in her home in West Java Province as she recalled the final days of her son's life. "But I lied, there was no medicine."
The 42-year-old mother is among more than two dozen Indonesian families seeking justice for their children, whom they allege were either killed or sickened by contaminated cough syrup.
Their class-action lawsuit targets the Indonesian Ministry of Health, the Indonesian Food and Drug Authority and eight companies they accuse of selling the syrups — which the WHO said contain an "unacceptable amount" of diethylene glycol and ethylene glycol.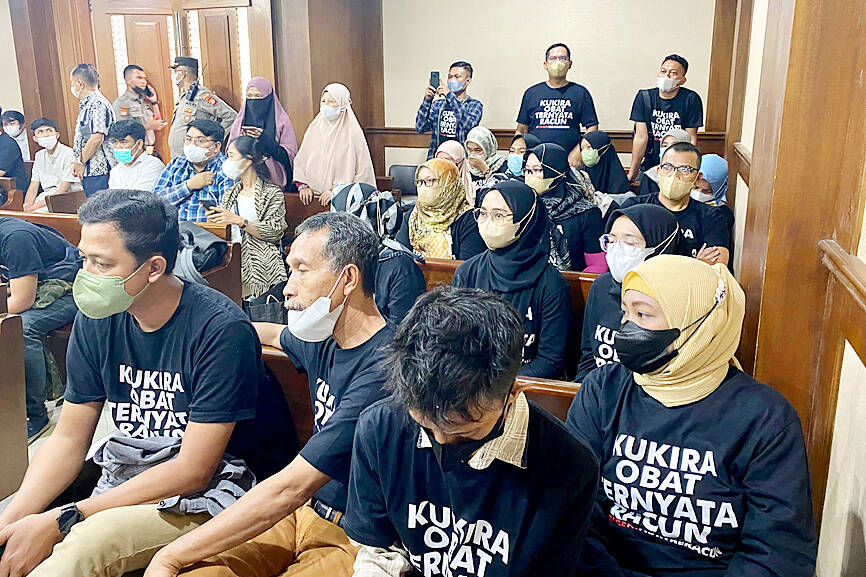 Parents of children who died or fell sick after taking cough syrup attend a court hearing in Jakarta on Feb. 7.
Photo: AFP
"These contaminants are toxic chemicals used as industrial solvents and antifreeze agents that can be fatal even taken in small amounts, and should never be found in medicines," the WHO said in January.
Since October last year, the WHO has issued alerts for the Gambia, Indonesia and Uzbekistan over syrups containing the two chemicals.
Five-year-old Farrazka was required to undergo dialysis for his failing kidneys after he took one of the medicines, his mother said.
"When I heard that he had to have dialysis, I was so confused and did not know what to do. He is just a kid," Indah Septian said at her home.
"Now he gets easily fatigued even when he only does a bit of activity," the 31-year-old said.
However, Septian and her husband, Riski Agri, consider themselves luckier than other families.
"Until today I still wake up in the middle of the night and check on him. We almost lost him," 34-year-old Agri said.
Since the Indonesian government sounded the alarm in October, the Food and Drug Authority has recalled 105 products after tests revealed excessive amounts of the two chemicals.
It has also revoked the licenses of six pharmaceutical firms.
Police have launched an investigation into five companies and arrested four suspects.
However, the plaintiffs say that is not enough.
"From the beginning, this case was not considered a priority," said Awan Puryadi, a lawyer representing the families. "All of the victims who are still alive, and are still being treated, must all be covered by the government for the rest of their lives."
They are seeking compensation of 2 billion rupiah (US$131,000) for every person killed and 1 billion rupiah for every person injured.
In a hearing last month, parents wore black shirts that read: "I thought it was medicine, it was poison."
The next hearing is scheduled for Thursday next week.
One of the companies accused in the lawsuit denied putting the chemicals in its cough syrups and blamed a distributor for any contamination.
Indonesia's drug regulator, like the WHO, said the chemicals should never be used in syrup medicines because they can be toxic for humans.
However, it also said that in the event of contamination during production, the chemicals can be consumed safely up to a level of 0.1mg per milliliter.
Without compensation, the injured children's parents face treatment costs that many cannot afford.
Eighteen-month-old Raivan was unable to move after he consumed cough syrup prescribed by a doctor in May, said his mother, Resti Safriti.
He is now fed through a tube, and breathes through another in his neck.
In the hopes of replicating physical therapy techniques, his parents resort to rocking him on an exercise ball in their Jakarta home.
"We could not afford therapy, so we do what we can with what we have at home," Resti said.
Resti and her husband had to leave their jobs to take care of him, and she asked the government to "fix the system" that has led to her child's suffering.
"Don't let other parents and children go through this," she said. "What if this happened to your own child?"
Comments will be moderated. Keep comments relevant to the article. Remarks containing abusive and obscene language, personal attacks of any kind or promotion will be removed and the user banned. Final decision will be at the discretion of the Taipei Times.