Yoon renews hopes for better S Korea-Japan ties
'SHARED VALUES': The South Korean president called Japan a partner for his country in a speech to mark the anniversary of an uprising against Japanese colonial rule
South Korean President Yoon Suk-yeol yesterday called Japan "a partner that shares the same universal values" and renewed hopes to repair ties frayed over Japan's colonial rule of the Korean Peninsula.
Since taking office in May last year, Yoon has been pushing to mend the historical grievance with Japan and boost Seoul-Tokyo-Washington security cooperation to better cope with increasing North Korean nuclear threats.
In a televised speech marking the 1919 uprising against the Japanese colonizers, Yoon urged South Koreans to remember what he called "patriotic martyrs who gave their all for our country's freedom and independence during the dark days."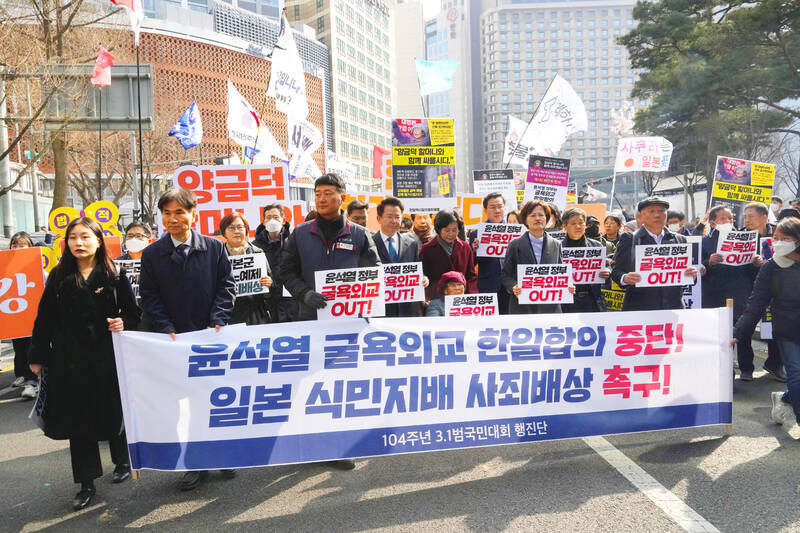 Protesters carry a banner that reads: "Suspend South Korean President Yoon Suk-yeol's South Korea-Japan agreement," at a demonstration in Seoul yesterday.
Photo: AP
However, he avoided mentioning any specific colonial wrongdoing as he explained why greater cooperation with Japan is needed.
"Now, a century after the March 1 Independence Movement, Japan has transformed from a militaristic aggressor of the past into a partner that shares the same universal values with us, and cooperates on issues of security, economy and global agendas," Yoon said.
"In particular, the trilateral cooperation among the Republic of Korea, the United States and Japan has become more important than ever to overcome the serious nuclear threats posed by North Korea and global polycrisis," Yoon said.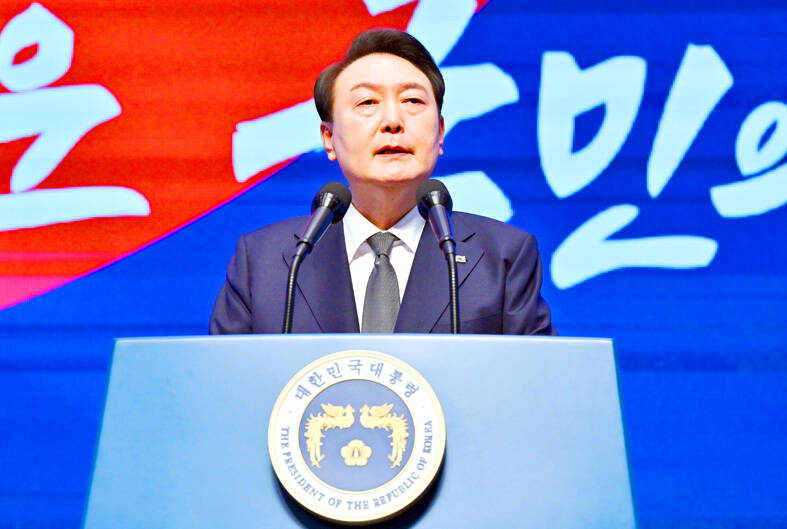 South Korean President Yoon Suk-yeol speaks at a ceremony to mark the 104th anniversary of the March 1 Independence Movement in Seoul yesterday.
Photo: EPA-EFE
Leif-Eric Easley, a professor at Ewha Womans University in Seoul, said Yoon's address "offers hopeful signs not only for Seoul's relations with Tokyo, but also for South Korea's role in the world."
"Emphasizing shared values is much more than rhetoric if backed up by a foreign policy that deepens trilateral cooperation with the US and Japan while increasing contributions to global efforts, such as supporting Ukraine, strengthening supply chains and countering climate change," Easley said.
South Korea and Japan are closely linked economically and culturally, and are key US allies in the Indo-Pacific region.
However, they often bicker over issues stemming from Japan's 1910-45 occupation of the Korean Peninsula.
At the center of their current dispute are South Korean court rulings in 2018 that ordered two Japanese companies — Nippon Steel and Mitsubishi Heavy Industries — to compensate Koreans who had been forced to work in their factories during the Japanese colonial period.
The companies and the Japanese government have dismissed the rulings, saying that all compensation issues were settled in a 1965 treaty that normalized bilateral ties and included Tokyo's provision of hundreds of millions of US dollars to Seoul in economic assistance and loans.
The dispute prompted the two governments to downgrade each other's trade status and Seoul to threaten to abandon an intelligence-sharing deal.
Comments will be moderated. Keep comments relevant to the article. Remarks containing abusive and obscene language, personal attacks of any kind or promotion will be removed and the user banned. Final decision will be at the discretion of the Taipei Times.