Simu Liu dedicates 'sensory room' at Warriors' arena
Simu Liu (劉思慕), who is best known for playing Marvel superhero Shang-Chi, wants everyone who attends an event at the Chase Center in San Francisco to feel welcome, comfortable and supported, just as he has been in the five months since speaking about his own challenges with anxiety.
Now, there is the Simu Liu Sensory Room, complete with carpeted walls, lighting features, puzzles and games to provide a quiet space for guests who might feel overwhelmed or overstimulated.
The Chinese-Canadian actor who starred in the 2021 film Shang-Chi and the Legend of the Ten Rings helped unveil the renovated room before the National Basketball Association game between the Golden State Warriors and the Oklahoma City Thunder on Monday.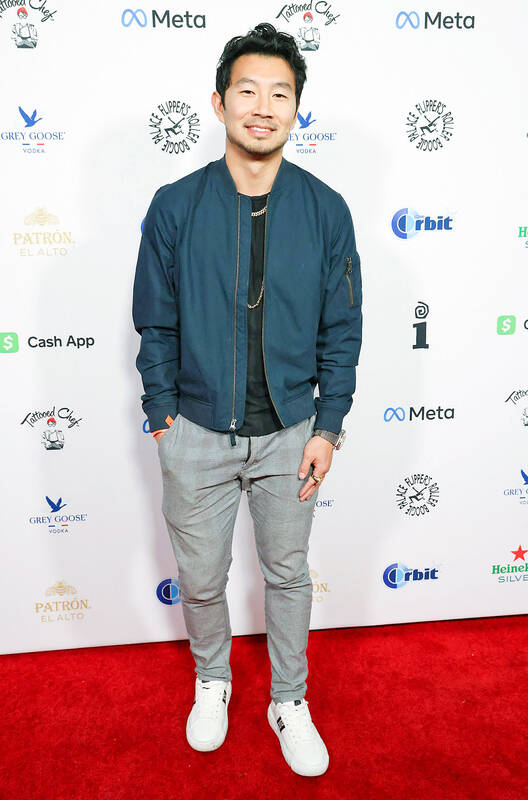 Actor Simu Liu attends an event at the Hollywood Palladium in Los Angeles on Saturday.
Photo: AFP
"Pretty neat. It's simple. It's perfect," Liu said. "What an incredible opportunity that we've given so many fans that ordinarily would have only dreamt of coming to Chase Center to watch the Golden State Warriors play."
Built with support from KultureCity, a nonprofit that advocates for acceptance of those with "invisible disabilities," the spot also can be used by nursing mothers, complete with a fridge to store milk. The space includes noise cancelation, and activities and lights to help calm the mind.
Liu wants to use his platform to advocate and show care for others going through difficult times.
"Obviously it goes without saying that I've really come to understand the importance of mental health and looking after one's mental health. It starts with something as simple as burnout and then it can spiral quickly into feelings of anxiety, feelings of depression," he said. "For some people, the solution to those ailments and those issues is as simple as seeing somebody, seeking professional help and getting therapy. And that's what I did and it was immensely helpful."
The 33-year-old said it might seem "unfathomable" for people with sensory issues to feel they can come to a game, but that the new calming space could help ease that burden.
"There's an overstimulation of the senses and sometimes you just need a place that's nice and quiet, and it's as simple as just coming here for a few minutes, calming down, looking at some of the lights and taking a breath and taking a moment," he said.
Comments will be moderated. Keep comments relevant to the article. Remarks containing abusive and obscene language, personal attacks of any kind or promotion will be removed and the user banned. Final decision will be at the discretion of the Taipei Times.