Artist provides different view for poor people
For the past decade, artist Seb Toussaint has traveled to some of the poorest parts of the world to paint brightly colored frescoes on the walls of downtrodden neighborhoods.
Dressed in shorts and a T-shirt, the 35-year-old French-British artist, who always paints an inspiring word at the heart of his work, is tackling a piece called Future in a dusty slum on the outskirts of Mauritania's capital, Nouakchott.
"The goal is to paint the words of those who don't have a voice," he said.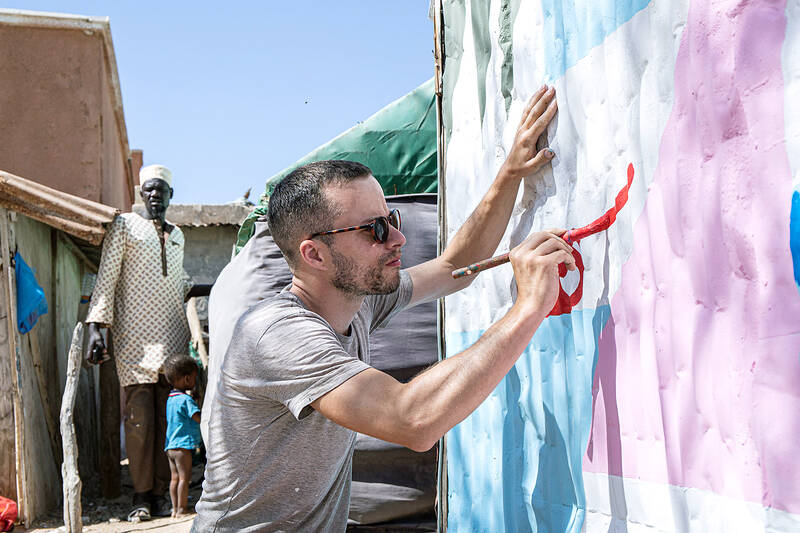 French artist Seb Toussaint paints a mural on a home in Nouakchott, Mauritania, on Jan. 1.
Photo: AFP
He and two travel companions have daubed the sides of a sheet-metal shack with a mural of geometric and undulating shapes in white, blue and baby pink.
As they work, children play in the dirt paths, rolling a tire or kicking a ball between makeshift homes, as curious women in colorful veils mill around. Zaatar is a hodgepodge extension of the capital, where fishers, construction workers, carpenters and casual workers have made their homes.
The soil is too salt-laden to be cultivated and there is little greenery aside from two ailing acacia trees.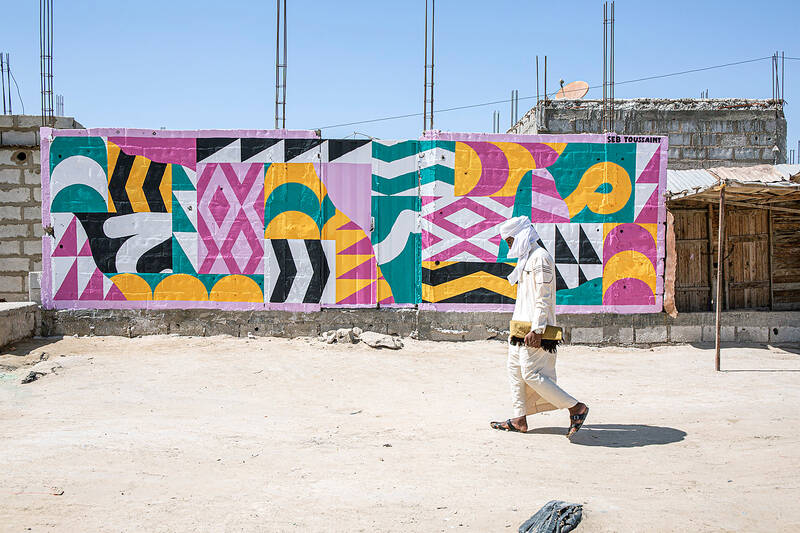 A man walks past a mural painted by French artist Seb Toussaint in Nouakchott, Mauritania, on Jan. 1.
Photo: AFP
Since 2013, Toussaint has painted walls of cement, wood, and corrugated iron with words in different languages and alphabets as part of his project, which he calls "Share the Word."
There was Humanity in the Palestinian Territories, Change in Nepal and Freedom in Iraq.
He earns a living painting murals in Europe and saves to finance about two trips a year to spend a month in a slum or refugee camp, where he offers his services to residents. The homeowner decides what word they want highlighted in the mural.
Toussaint started his career painting "tifos" — vibrant choreographed displays held by fans at soccer matches. He decided to dedicate himself to bringing "color to an environment where there is very little," after he was exposed to the harsh realities some people face while he traveling the world on his bicycle a decade ago.
When he arrived in Zaatar early last month, "we played football with the kids. I explained in broken Arabic that the goal was to paint houses. One person said: 'I would like you to paint my house.'"
"We have never had anyone turn us down," he said.
However, there is often an initial reluctance.
"We had our suspicions about their presence, but we quickly realized these guys had good intentions," said fisherman Amar Mohamed Mahmoud, 52. "They do a good job that brightens up the neighborhood."
Mahmoud got a rare animal painting, The Camel, in shades of blue and fawn, in honor of the animal that plays an important role in Mauritanian society.
He has painted eight murals in the neighborhood, among them Mum, Youth and Friends, whose colors dazzle in the sun-scorched neighborhood.
He estimates he has painted 222 word murals around the world, with a general fondness for the themes "Peace" and "Love."
Some of his works last for years, while others are fleeting. Several murals disappeared when a migrant camp in Calais in northern France was dismantled.
The murals also become a backdrop for local music artists to shoot videos, he said.
Once, in Nepal, one of his painted walls was used as a backdrop for a fashion shoot.
Comments will be moderated. Keep comments relevant to the article. Remarks containing abusive and obscene language, personal attacks of any kind or promotion will be removed and the user banned. Final decision will be at the discretion of the Taipei Times.