Opinions clash over record Swedish wolf hunt
Hunter Lars Bjork pointed to fresh tracks in the snow as he lumbered through a whited-out forest in central Sweden, where the biggest wolf hunt in modern times is drawing controversy.
"We have quite a lot of wolves here, we're actually sitting in a new wolf territory where we are now," Bjork, a predator expert at the Swedish Hunters' Association, said as he settled into a small hunting lodge a few kilometers outside the town of Vasteras.
Long known as a champion of environmental protection, Sweden has paradoxically had a centuries-long opposition to wolves, considered a plague in the 1800s, with the state paying out bounties for kills as late as the mid-20th century.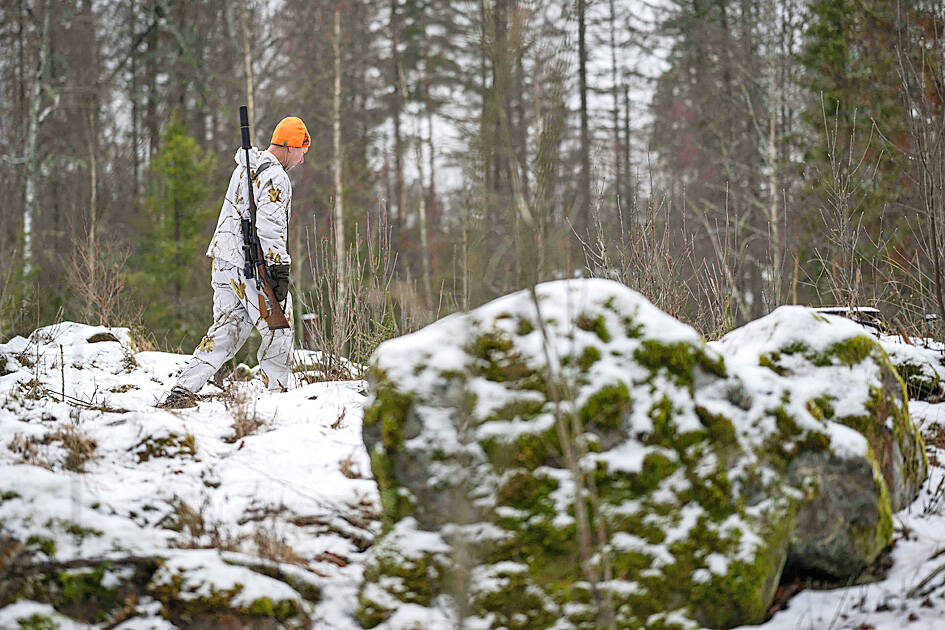 Lars Bjork, a predator expert at the Swedish Hunters' Association, is pictured in his hunting gear a few kilometers outside Vasteras, Sweden, on Jan. 24.
Photo: AFP
Still seen as a threat by farmers, the state now sanctions a limited cull of the animals every year.
This year, Sweden's hunters are allowed to kill a record 75 wolves out of an estimated population of 460, the Swedish Environmental Protection Agency's latest inventory says.
That is more than twice the number that hunters were allowed to kill last year, and the highest number since the culls began in 2010.
A total of 54 wolves had been killed as of Sunday.
Several local authorities have already called off the hunt in their regions, and the full quota is not expected to be reached by the deadline on Wednesday next week.
Nonetheless, the wolf hunt remains a highly divisive issue, inside and outside the Nordic nation.
After Sweden's wolves were hunted to the brink of extinction, the country declared them a protected species in the 1960s. Wolves started reappearing in the late 1970s and 1980s, before populations started growing in the 1990s.
As their numbers surpassed 200, Sweden began allowing licensed hunts in 2010, issuing quotas for the number that can be killed during a set period.
"The purpose is simply to limit the problems they cause out in more rural areas," 59-year-old Bjork said.
For farmers, wolves are a menace as they occasionally attack livestock, primarily sheep.
They also pose a threat to hunting dogs, used to track and drive wild game such as deer and elk.
Sweden also allows yearly hunts of brown bears, wolverines and lynx — all considered endangered — to limit damage to livestock and reindeer. Reindeer are integral to the indigenous Sami people's way of life in the far north.
All hunts have detractors, but the wolf hunt has been particularly acrimonious since its inception.
Opponents of the hunt say that wolves are needed to protect biodiversity, playing an important role as predators.
"It is astonishing that Sweden keeps on making these decisions," says Marie Stegard Lind, vice president of Jaktkritikerna, a group working to limit hunting.
The hunts continue "in spite of the fact that the European Commission has been very clear about its opinion that these hunts are in fact illegal", she said at the group's office in Stockholm.
In 2015, the European Commission said Sweden's wolf hunt fell foul of the EU Habitats Directive, and that the wolf "population has not reached a level that guarantees the conservation of the species."
Other EU members with growing wolf populations have called on the commission to update its Habitats Directive to better protect livestock farming.
Swedish lawmaker Kjell-Arne Ottosson, vice president of the parliament's Committee on Environment and Agriculture, said that Sweden needs to stand its ground against the EU.
"Wolves are a threat for those of us who live in rural areas. We have to manage that, we have to take this seriously," Ottoson said.
The only fatal wolf attack in modern times against a person in Sweden was in 2012, when a captive wolf attacked a keeper at the Kolmarden Wildlife Park.
However, the issue often boils down to disputes over an acceptable size for the wolf population in terms of impact and risks, and ensuring there are enough wolves to limit inbreeding.
The Swedish Environmental Protection Agency says that at least 300 are necessary to sustain a healthy population.
In a letter published by Science magazine in July last year, a group of scientists said that the culls threaten a healthy Swedish wolf population.
They said the stocks that span Scandinavia and Finland should be kept above 500.
Conversely, Sweden's parliament in 2021 voted to cap the population at 270 wolves.
The Swedish Hunters' Association wants to go even further and lower the limit to 150 wolves spread across the country.
The animals are mostly found in the central and western parts of Sweden.
"The wolf has a place here, absolutely, but not in the amounts we have today, and not in the concentrations we have today," Bjork said.
Comments will be moderated. Keep comments relevant to the article. Remarks containing abusive and obscene language, personal attacks of any kind or promotion will be removed and the user banned. Final decision will be at the discretion of the Taipei Times.