Train carrying chemicals derails in Ohio
A freight train derailment in Ohio near the Pennsylvania state line left a mangled and charred mass of boxcars and flames on Saturday as authorities launched a federal investigation and monitored air quality from the various hazardous chemicals in the train.
About 50 cars derailed in East Palestine at about 9pm on Friday as a train was carrying a variety of products from Madison, Illinois, to Conway, Pennsylvania, rail operator Norfolk Southern said on Saturday.
There was no immediate information about what caused the derailment.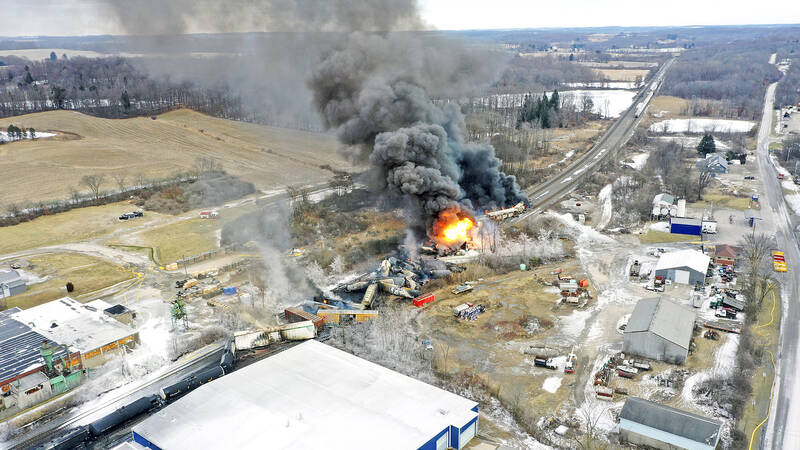 Smoke on Saturday billows from a burning freight train that derailed the day before in East Palestine, Ohio.
Photo: AP
No injuries or damage to structures were reported.
"The post-derailment fire spanned about the length of the derailed train cars," US National Transportation Safety Board member Michael Graham said. "The fire has since reduced in intensity, but remains active and the two main tracks are still blocked."
TWENTY CARS POSE RISK
Norfolk Southern said 20 of the more than 100 cars were classified as carrying hazardous materials — defined as cargo that could pose any kind of danger "including flammables, combustibles or environmental risks."
Graham said 14 cars carrying vinyl chloride were involved in the derailment "and have been exposed to fire."
At least one "is intermittently releasing the contents of the car through a pressure release device as designed," he added.
"At this time we are working to verify which hazardous materials cars, if any, have been breached," he said.
The US Environmental Protection Agency and Norfolk Southern were continuing to monitor air quality, Graham said, adding that investigators would begin their on-scene work "once the scene is safe and secure."
Vinyl chloride, used to make the polyvinyl chloride hard plastic resin used in a variety of plastic products, is associated with increased risk of liver cancer and other cancers, the US National Cancer Institute said.
Federal officials said that they were also concerned about other possibly hazardous materials.
East Palestine Mayor Trent Conaway, who earlier declared a state of emergency citing the "train derailment with hazardous materials," said air quality monitors near the derailment site had shown no dangerous readings.
East Palestine Fire Department Chief Keith Drabick said officials were most concerned about the vinyl chloride and referenced one car containing that chemical, but added that safety features on that car were still functioning.
Emergency crews would keep their distance until Norfolk Southern officials told them it was safe to approach, Drabick said.
"When they say it's time to go in and put the fire out, my guys will go in and put the fire out," he said.
Comments will be moderated. Keep comments relevant to the article. Remarks containing abusive and obscene language, personal attacks of any kind or promotion will be removed and the user banned. Final decision will be at the discretion of the Taipei Times.