COVID-19: China, HK scrap cross-border travel quota and testing
Travel between Hong Kong and mainland China would no longer require COVID-19 testing nor be held to a daily limit, authorities announced yesterday, as the governments on both sides seek to drive economic growth.
Hong Kong's tourism industry has suffered since 2019 after months of political strife that at times turned into violent clashes between protesters and police, as well as harsh entry restrictions implemented during the COVID-19 pandemic.
"From Monday, there will be a full resumption of travel between Hong Kong and the mainland," Hong Kong Chief Executive John Lee (李家超) told a news briefing.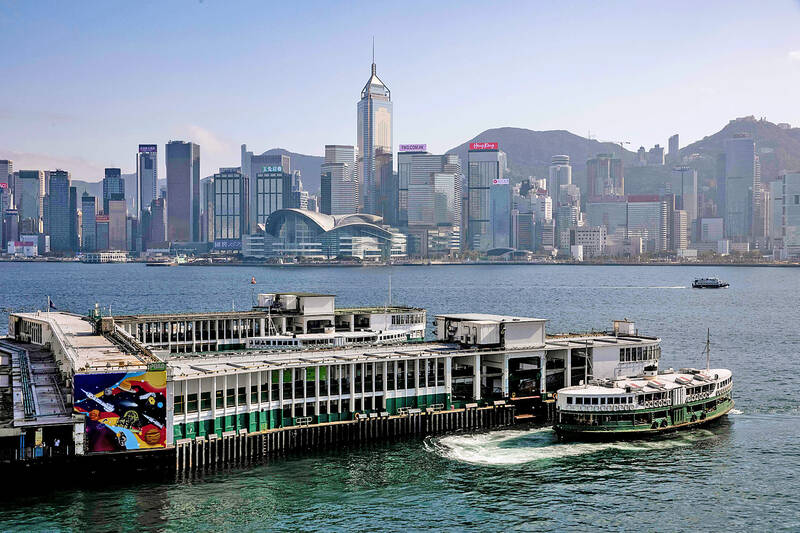 A ferry leaves a terminal in Hong Kong's Kowloon District on Thursday.
Photo: AFP
Lee said quotas for travelers would be scrapped and all boundary checkpoints would reopen next week.
The announcement came a day after Lee unveiled a tourism campaign aimed at attracting travelers to Hong Kong that includes 500,000 free air tickets for tourists to visit the territory.
China eased travel restrictions with Hong Kong on Jan. 8, dropping a mandatory quarantine period required for travelers entering the mainland.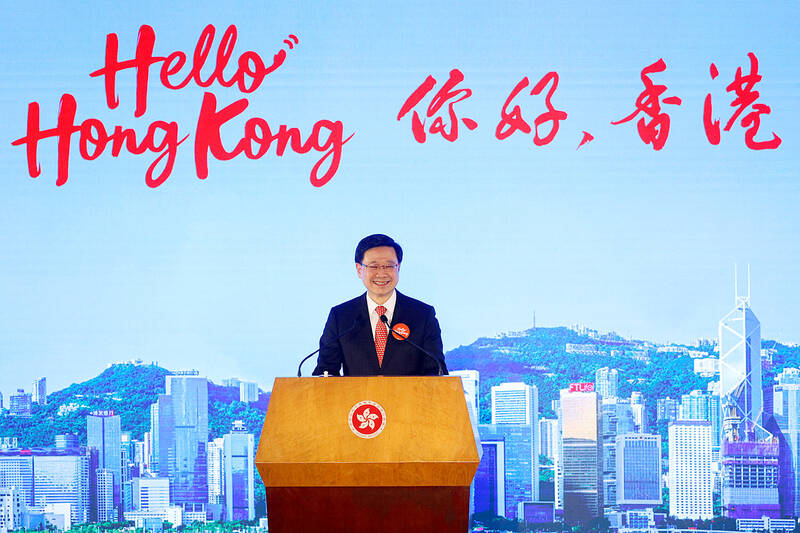 Hong Kong Chief Executive John Lee speaks at an event to promote tourism in Hong Kong on Thursday.
Photo: REUTERS
However, the number of travelers entering the mainland from Hong Kong via land checkpoints was limited to 50,000 a day.
From Monday, most travelers crossing the border between mainland China and Hong Kong would no longer need to present the negative result of a COVID-19 test taken prior to travel.
Only those who have traveled overseas within the past seven days would be required to produce a negative test result, Hong Kong and Chinese authorities said.
Hong Kong and mainland China were among the last holdouts globally to keep entry restrictions, including mandatory quarantine, even as the rest of the world began reopening their borders last year.
Hong Kong has seen its tourism industry battered over the past three years.
In spite of China easing entry restrictions last month, Hong Kong's tourism industry has a long road to recovery.
Last year, nearly 605,000 people visited Hong Kong — up sixfold from the year before, but about 90 percent fewer than in 2019, when 55.9 million arrivals were registered.
Comments will be moderated. Keep comments relevant to the article. Remarks containing abusive and obscene language, personal attacks of any kind or promotion will be removed and the user banned. Final decision will be at the discretion of the Taipei Times.