Indonesian leprosy survivor makes artificial limbs for shunned villagers
When Ali Saga visited a clinic in Jakarta four decades ago, he watched as patients and health workers scrambled to get away from him.
"The doctor suddenly shouted at the patients: 'Stand back, this person is a leper,'" the 57-year-old said, recalling one of the most devastating moments after his diagnosis in the 1970s.
"They also roughly used a syringe to test my skin and I cried. My skin might not feel anything, but my soul was hurt," the former leprosy patient added, choking back tears.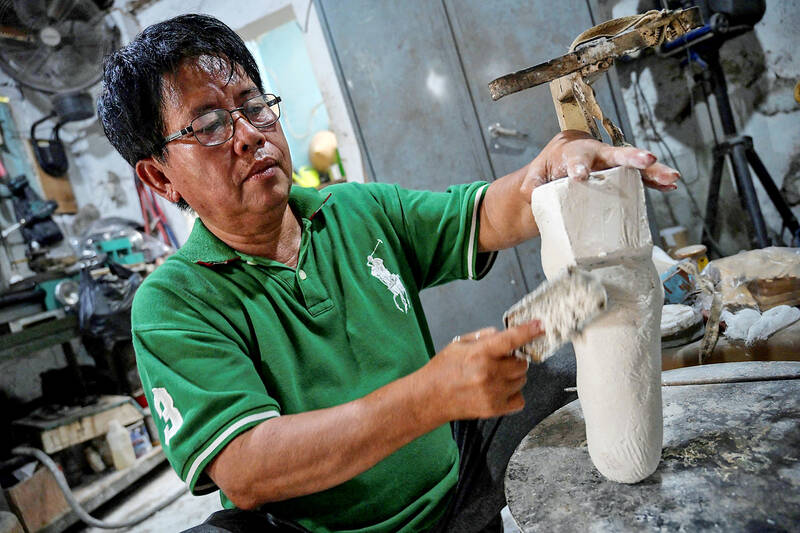 Ali Saga makes a prosthetic limb inside his workshop in Tangerang, Indonesia, on Jan. 18.
Photo: AFP
Now he is using his pain to help other residents of a village on the outskirts of the Indonesian capital live a normal life after leprosy with hand-crafted prosthetic limbs.
After Brazil and India, Indonesia has the world's third-highest cases of leprosy — a contagious bacterial disease transmitted by prolonged close contact with untreated cases.
Ahead of World Leprosy Day yesterday, the Indonesian Ministry of Health said the country still has more than 15,000 active cases, with more than 11,000 new cases recorded last year.
The ancient disease, which causes disabilities and loss of feeling in reddish skin patches, is diagnosed with a skin biopsy and easily treated with multidrug therapy.
However, Saga and other residents of Sitanala village — where hundreds of former leprosy patients have relocated to find solace — have been treated as outcasts for years and dubbed a "leper colony" by local media.
They are heavily stigmatized by pervasive perceptions around leprosy, also known as Hansen's disease, with some Indonesians believing the affliction is a curse sent by God that can be passed on by brief contact.
However, in a small, dusty workshop surrounded by fake body parts hung on white walls, Saga is chipping away at that social cold shoulder, sculpting artificial limbs that have been improving residents' lives since 2005.
One of the neighbors to receive Saga's creations is 70-year-old tailor Cun San, who had a leg amputated in his teens and lost another in 2007.
"I once thought I would never be able to walk again ... but now I am so grateful I can walk normally," San said.
Nearly 500 people who had leprosy now live in Sitanala, because it was located behind a hospital that for decades served as the rehabilitation center for patients across Indonesia. The hospital made headlines in 1989 when Princess Diana visited and was photographed shaking hands with a leprosy patient, challenging the stigma against the marginalized group.
Today, many in the village cannot find formal jobs because of their disabilities and instead have taken on roles as street sweepers or rickshaw drivers.
Jamingun, a 60-year-old driver, lost his leg when he was a teenager. For years he wore a fake bamboo stump because he could not afford a prosthetic limb.
"It was painful and I still had to use a walking stick to steady myself when I walked," said Jamingun, who like many Indonesians goes by one name.
However, his life changed after receiving a prosthetic leg for free that Saga had made through a charity.
"It feels so different, because now I actually have a sole, it feels like a real foot," he told reporters. "And I'm no longer in pain when I walk."
Saga finds it difficult to talk about his past, preferring to focus on his part in helping others build their future.
A limb can cost as much as 10 million rupiah (US$667), but he gives away prosthetic legs for free, or accepts lower sums, for those who cannot afford the price.
He said he has made more than 5,000 prosthetic legs for people across Indonesia.
Comments will be moderated. Keep comments relevant to the article. Remarks containing abusive and obscene language, personal attacks of any kind or promotion will be removed and the user banned. Final decision will be at the discretion of the Taipei Times.