Jerusalem hit by two shooting attacks
SEVEN DEAD: The incidents represent 'one of the worst attacks' on Israel in recent years, and came after a military raid killed nine people in the occupied West Bank
An assailant shot and wounded two people in east Jerusalem yesterday, Israeli medics said, hours after a Palestinian gunman killed seven people outside a synagogue in one of the deadliest such attacks in years.
Police said the suspect was "neutralized" following the latest gun attack in the Silwan neighborhood, just outside Jerusalem's old walled city.
Israel's Magen David Adom emergency response service identified the victims as two men, aged 47 and 23, both with "gunshot wounds to their upper body."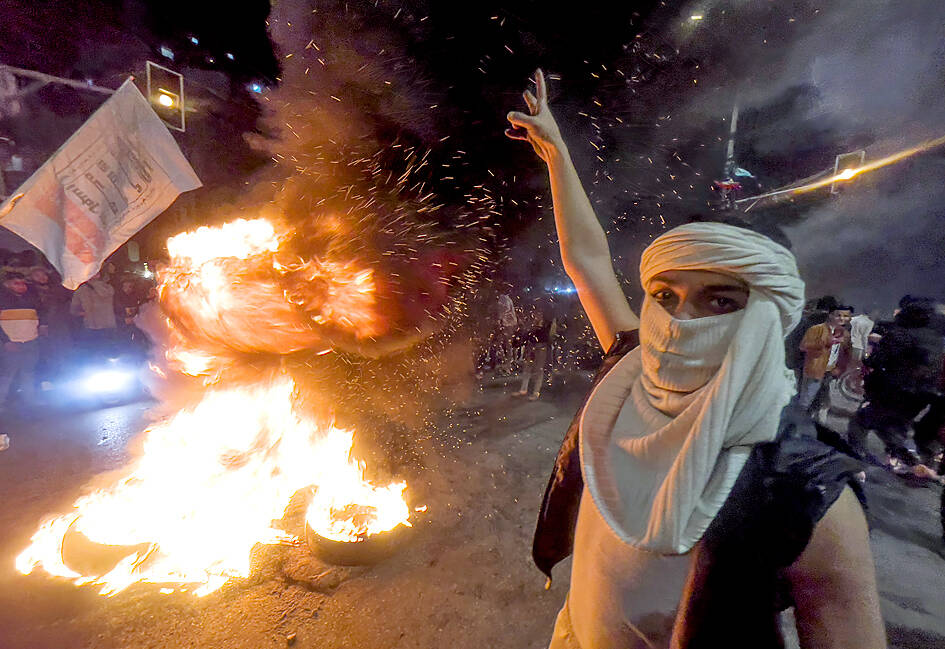 Palestinians celebrate in the streets of Gaza on Friday after a shooting near a synagogue in Jerusalem.
Photo: EPA
Police had earlier announced 42 arrests in connection with an shooting on Friday outside a synagogue, in which a Palestinian gunman killed seven people.
Friday's shooting came a day after a major escalation in the Israeli-Palestinian conflict, including an army raid in the occupied West Bank that killed nine people, rocket fire from Gaza and retaliatory Israeli strikes.
Israeli police commissioner Kobi Shabtai called the shooting in the Neve Yaakov area "one of the worst attacks we have encountered in recent years."
Police said that "at around 8:15pm a terrorist arrived at a synagogue in the Neve Yaakov Boulevard in Jerusalem and proceeded to shoot at a number of people in the area."
"As a result of the terror attack, seven civilians were pronounced dead and three additional civilians were injured," police said.
They said the gunman fled the scene in a car, but was quickly tracked down and killed in an "exchange of fire" with police.
Police have identified the gunman as a Palestinian resident of east Jerusalem, which was annexed by Israel following the 1967 Six-Day War.
The surging violence comes a month after a new government, led by veteran Israeli Prime Minister Benjamin Netanyahu, took power.
Netanyahu and Israeli Minister of National Security Itamar Ben-Gvir visited the scene on Friday, as crowds chanted "death to Arabs," Agence France-Presse journalists at the scene said.
Speaking on television after visiting the scene, Netanyahu said his security cabinet would soon announce "immediate measures" in response, and urged Israelis not to "take the law into their own hands."
Shalom Borohov, a barber who lives near the synagogue, said that after hearing gunshots he "went down to help people."
"I saw the terrorist arriving with his car. He stopped in the middle of the junction and shot from his car," continuing to shoot as people came to the scene, he said.
US President Joe Biden spoke with Netanyahu to condemn what he called a "horrific terror attack."
Just hours earlier, Washington had urged "de-escalation" over the West Bank violence and Gaza rocket fire.
UN Secretary-General Antonio Guterres condemned the synagogue shooting as "abhorrent," while France called it "appalling."
Israeli Minister of Defense Yoav Gallant, who was on a family visit to the US, has cut short his trip and is returning to Israel, his office said.
"The attack against civilians this Friday evening was horrific," Gallant said in a statement, vowing to "operate decisively and forcefully against terror" and "reach anyone involved in the attack."
In Gaza and several locations across the West Bank, Palestinians celebrated the attack, including in Ramallah, where large crowds cheered and waved Palestinian flags.
Nine people were killed on Thursday in what Israel described as a "counterterrorism" operation in the Jenin refugee camp.
It was one of the deadliest Israeli army raids in the occupied West Bank since the second intifada, or Palestinian uprising, of 2000 to 2005.
Israel said Islamic Jihad operatives were the target.
Islamic Jihad and Hamas vowed to retaliate, later firing several rockets at Israeli territory.
Most of the rockets were intercepted by Israeli air defenses. The military responded with strikes on Hamas targets in Gaza. There were no injuries reported on either side, but Gaza's armed groups vowed further action.
Comments will be moderated. Keep comments relevant to the article. Remarks containing abusive and obscene language, personal attacks of any kind or promotion will be removed and the user banned. Final decision will be at the discretion of the Taipei Times.