California's Asian hub reeling after deadly shooting
AFTER 11 PEOPLE KILLED: Kevin Mok said he hopes customers will come back to his shop, which, like many others in Monterey Park, sells Asian delicacies
For decades, Monterey Park, California, has been a haven for Asian immigrants seeking to maintain a strong cultural identity — and a culinary heaven worth visiting for anybody near Los Angeles craving authentic Asian cuisine.
Signs across the vibrant suburb are written in English and Chinese. Families raise bilingual children. Residents in their golden years enjoy karaoke, mahjong and — as the outside world learned last week after a horrific mass shooting — ballroom dancing.
"It's a very quiet, humble place. And we mind our own," said Denny Mu, a second-generation American who runs the popular Mandarin Noodle House, which was founded by his grandfather.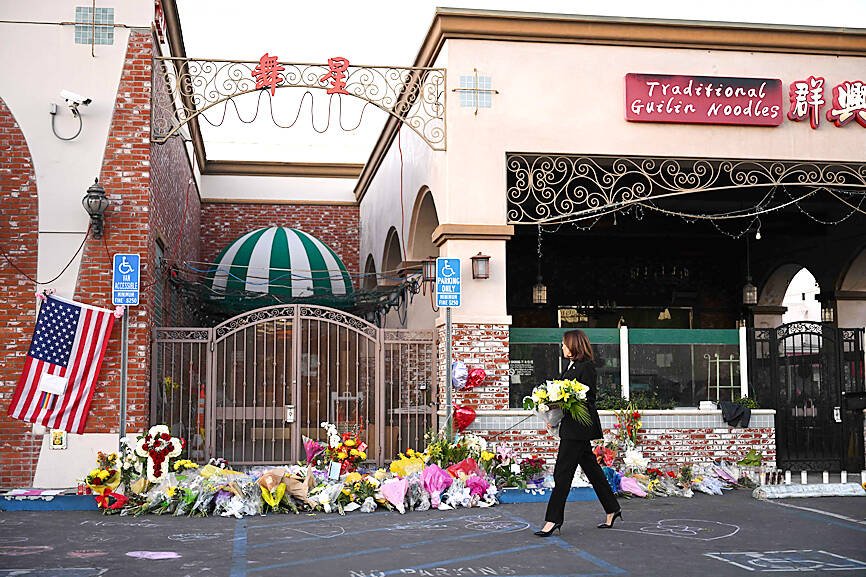 US Vice President Kamala Harris leaves flowers at a makeshift memorial at the Star Dance Ballroom in Monterey Park, California, on Wednesday.
Photo: AFP
That sense of peace was shattered after a gunman killed 11 people in their 50s, 60s and 70s, and wounded nine on Saturday during a Lunar New Year celebration at the Star Dance Ballroom.
However, while residents of the tight-knit community work through the trauma — just as they did during the COVID-19 pandemic, when anti-Asian sentiment rose in the US — the tragedy has only sharpened their feelings about what makes Monterey Park so special, and worth protecting.
Kristina Hayes, who started staging tango events at Star Dance Ballroom when the studio reopened after the pandemic, said dance is "hugely important" for Monterey Park's seniors.
"It's a pastime, hobby and even competitive — but in the best way possible," she said.
Mu, whose restaurant is known for its scallion pancakes and beef noodle soup, said he has no plans of leaving Monterey Park, and believes the slowdown in visitors over the past week would be fleeting.
"It's the food mecca, especially if you like any sort of Asian food," Mu said.
Monterey Park's transformation to a predominantly Asian city was the brainchild of Fred Hsieh (謝樹剛), a Chinese immigrant who was also a savvy real-estate developer.
He is credited with first coining the city's nickname, "Chinese Beverly Hills."
In the 1970s and 80s, he used that phrase in Asian newspapers abroad to lure people from Taiwan and Hong Kong to the US.
He cleverly highlighted the city's area code, 818. In Taiwanese and Chinese cultures, the number eight is seen by some as a symbol of prosperity and good fortune.
When Hiseh died in 1999, Monterey Park had become the only US city with an Asian American majority population, with 65 percent Asian-American residents, an obituary said at the time.
Today, nearly 70 percent of residents are Asian American, mostly of Chinese descent.
As residents deal with the shock and grief that the shooting brought, they hope people will continue to see the city of about 60,000 for the vibrant community it is.
The backstory of Mandarin Noodle House, which at 43 years old is one of the oldest restaurants in Monterey Park, is the story of many Asian immigrant families who have stayed faithful to the community and elevated it beyond some cookie-cutter suburb.
For decades, the city has been revered as the flagship location in Southern California for authentic Asian food, particularly Chinese cuisine from various regions.
For the 36-year-old Mu, the regular customers at Mandarin Noodle House are one reason he cannot see himself leaving Monterey Park.
"It's nice to go to a restaurant and ask the customer: 'How was your day? How was your kid's dance recital?,'" Mu said. "It's all about community."
Hayes said her specialty over the years has been creating dance programs for seniors, especially for those who have lost mobility or have dementia. Some dedicated dancers who came to the ballroom showed up after work and on the weekends.
"In the Asian American community across the country, seniors have kept ballroom dancing alive," Hayes said.
Betina Hsieh, a second-generation Taiwanese American and an associate professor at California State University Long Beach's College of Education, knows at least one person whose parents went to the ballroom.
Dance halls and churches in Asian communities have traditionally been safe spaces for older people.
"There is a big separation or tension between immigrant parents and people like me who are second generation," Betina Hsieh said. "Our families bought into this idea of helping us kids assimilate. But, they remained in their ethnic enclaves and mingled among themselves, which means they have limited spaces to gather as they age."
Kevin Mok, a 32-year-old of Chinese descent, runs Japanese dessert shop Mr. Obanyaki with his parents and brother.
Since the shooting, he said he still feels "there's a sense of fear in this community," because there are less people on the streets, he said.
"It's quieter than usual," Mok said, while eating lunch at Mu's restaurant. "I feel like my sales have dropped like 15 to 20 percent at night. Hopefully, it'll come back."
The alleged gunman — a 72-year-old Asian American man known in the community — shot and killed himself, and his motifs remained under investigation.
Comments will be moderated. Keep comments relevant to the article. Remarks containing abusive and obscene language, personal attacks of any kind or promotion will be removed and the user banned. Final decision will be at the discretion of the Taipei Times.