Snowstorm hits S Korean capital
Vehicles slowed and stopped on icy roads, and bundled-up commuters gingerly navigated snow-covered sidewalks as a snowstorm yesterday swept through the South Korean capital of Seoul and nearby regions, extending a frigid cold spell that has the country in its grip.
There were no immediate reports of major disruptions or damage caused by the snow, ice and sub-zero temperatures as of yesterday afternoon, as officials lifted heavy snow warnings for the area after the snowfall weakened following morning commuting hours.
Traffic on the country's major roads was normal, although 110 hiking trails across three national parks remained closed.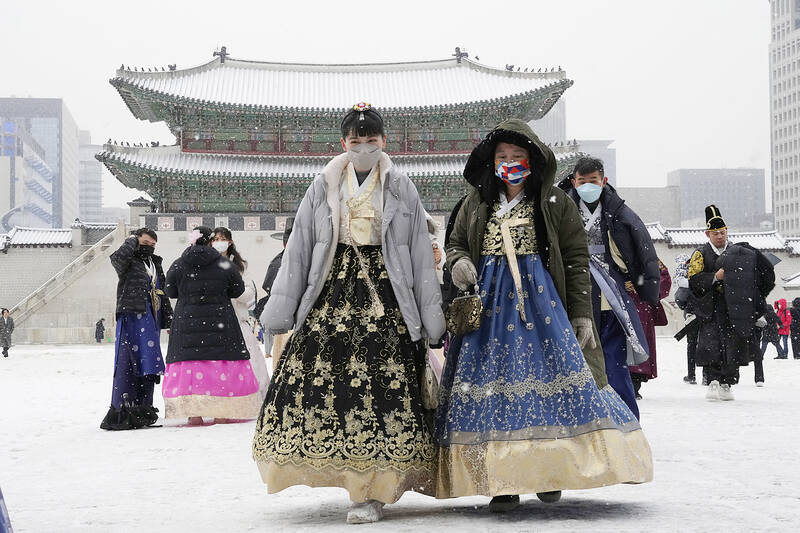 Women wearing traditional "hanbok" outfits walk in the snow at the Gyeongbok Palace in Seoul yesterday.
Photo: AP
More than 5cm of snow yesterday fell in Seoul in the 24 hours through 11am, while neighboring city Incheon and Gyeonggi Province received 6cm to 8cm of snow.
Morning temperatures in the region fell to about minus-10°C.
The country's weather agency forecast similar weather for tomorrow, prompting officials to warn that driving conditions could worsen after a hard freeze of snowy surfaces.
About 2,100 public workers and 1,100 vehicles yesterday were deployed to spray more than 3,100 tonnes of snow-clearing chemicals and salt on major roads and expressways from midnight to 4am to prevent them from becoming dangerously slick during the commuting hours, the South Korean Ministry of the Interior and Safety said.
While the country has so far avoided major traffic accidents, about 540 homes, mostly in the greater Seoul area, reported that their water pressure-gauges or pipes froze and burst.
Air traffic yesterday returned to mostly normal, recovering from a major disruption caused by a snowstorm that hit the southern resort island of Jeju earlier this week.
The disruption resulted in the cancelation of hundreds of flights on Tuesday, and stranded tens of thousands of travelers who visited the island during the Lunar New Year holidays.
The country has increased the number of flights into and out of Jeju since Wednesday to transport the travelers who had been stuck there.
Comments will be moderated. Keep comments relevant to the article. Remarks containing abusive and obscene language, personal attacks of any kind or promotion will be removed and the user banned. Final decision will be at the discretion of the Taipei Times.