Burmese army accused of war crimes in complaint
ATROCITIES: Sixteen people filed a case in Germany under the principle of universal jurisdiction, which allows the persecution of grave crimes regardless of location
A group of people from Myanmar have filed a criminal complaint in Germany accusing their country's military of genocide, war crimes and crimes against humanity, a rights organization said yesterday.
The case was lodged with Germany's Federal Public Prosecutor General under the principle of universal jurisdiction, which allows the prosecution of certain grave crimes regardless of where they took place, and has been used to try Syrians over atrocities committed during that country's civil war.
The 16 complainants live in several countries, including Myanmar, and are drawn from a cross-section of the country's numerous ethnic groups — including Rohingya, the dominant Burman and minority Chin communities.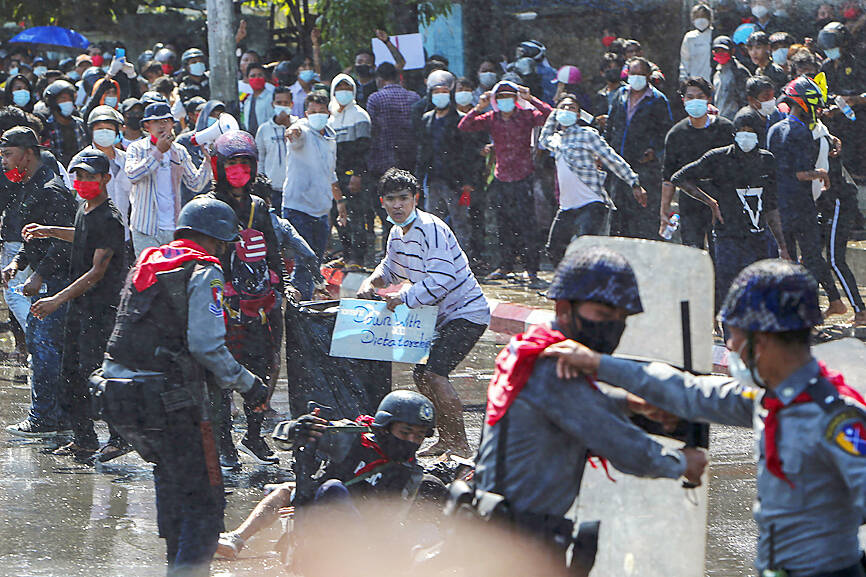 Riot police disperse protesters in Mandalay, Myanmar, on Feb. 9, 2021.
Photo: AP
Their accounts date from 2017, when the country was run by a civilian government, to 2021, after the coup that brought the current junta to power.
"They [the army] don't think of us as people and treat us like animals," said Thi Da, a 35-year-old ethnic Chin.
Her husband disappeared in September, following the 2021 army coup.
The 215-page complaint alleges the military "systematically killed, raped, tortured, imprisoned, disappeared, persecuted, and committed other acts that amount to genocide, crimes against humanity and war crimes," the campaign group Fortify Rights, which is leading the legal case, said in a statement.
The complaint draws on more than 1,000 interviews conducted by Fortify Rights since 2013, as well as leaked documents and information from the Burmese army and deserters, the rights group said.
It alleges that senior military officials "knew about their subordinates' crimes, and failed to take any action to prevent the crimes from happening and to punish the perpetrators."
The complaint asks the German prosecutor to open an investigation into specific officials and others liable for mass atrocity crimes.
It also addresses the army's actions during a violent crackdown against the Rohingya in 2017, which forced more than 740,000 to flee.
One Rohingya woman, identified by the initials FK, survived an attack by soldiers and non-Rohingya on her northern Rakhine village in August 2017.
Seven members of her family were killed and as she was beaten by soldiers, she heard her daughter-in-law being raped in the adjacent room.
"As a Rohingya woman, I want justice for the genocide so that it does not happen again," FK said.
Cases are being heard by the International Criminal Court, the International Court of Justice and another universal jurisdiction case in Argentina for crimes committed during the military crackdown on the Rohingya.
The US has said Myanmar's 2017 crackdown on Rohingya constituted genocide.
The German complaint was filed on Friday and is not publicly available, said Fortify Rights, which was established in Myanmar, and also works in Thailand and Malaysia.
Germany has repeatedly prosecuted atrocities committed abroad, including the war in Syria.
Comments will be moderated. Keep comments relevant to the article. Remarks containing abusive and obscene language, personal attacks of any kind or promotion will be removed and the user banned. Final decision will be at the discretion of the Taipei Times.