Brazil's Lula sacks army chief
LOSS OF CONFIDENCE: Julio Cesar de Arruda was fired after former Brazil president Jair Bolsonaro's supporters ransacked the presidential palace, Supreme Court and Congress
Brazilian President Luiz Inacio Lula da Silva on Saturday sacked the commander of army, two weeks after an election-denying mob loyal to his predecessor ransacked the halls of power in Brasilia.
The dismissal of Julio Cesar de Arruda came a day before Lula was to make his first trip abroad — to Argentina — as he moves to put the South American powerhouse back on the international stage.
Arruda had only taken up the post on Dec. 30, two days before the end of outgoing Brazilian president Jair Bolsonaro's term, and was confirmed by Lula's administration early this month.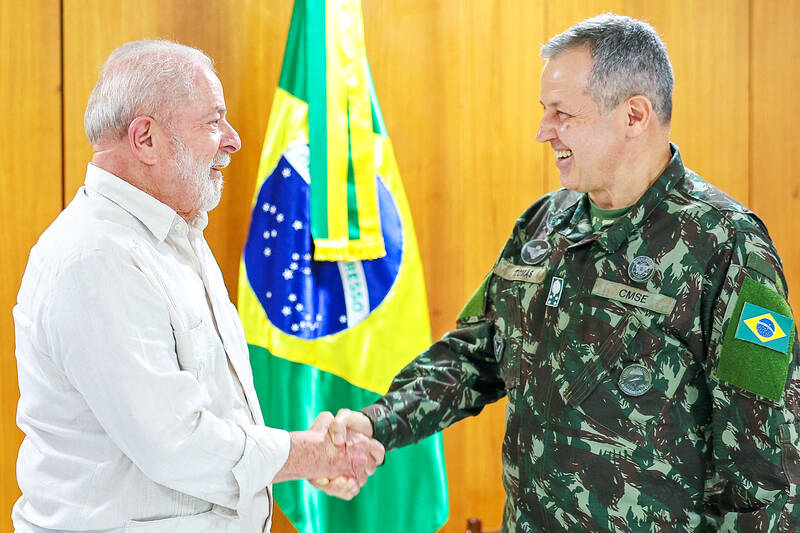 Brazilian President Luiz Inacio Lula da Silva, left, shakes hands with new army commander General Tomas Ribeiro Paiva in Brasilia on Saturday.
Photo: AFP / Brazilian Presidency
On Jan. 8, Bolsonaro supporters ransacked the presidential palace, Supreme Court and congress in Brasilia, breaking windows and furniture, destroying priceless works of art and leaving graffiti messages calling for a military coup.
Lula has said he suspects security forces might have been involved in the riots, in which more than 2,000 people were arrested. He announced a review of his immediate environment.
Brazilian Minister of Defense Jose Mucio said on Saturday evening after meeting with the president that Arruda was out as head of the army, because of "a break in the level of confidence."
"We thought we needed to stop this in order to get over this episode," Mucio said, alluding to the attack in Brasilia.
Mucio on Friday said after a meeting with Lula and the chiefs of the three branches of the military that there was no direct armed forces involvement in the riots.
On Wednesday, the man named to be the new army chief, Tomas Ribeiro Paiva, until now the head of the southeastern army command, vowed that the military "will continue to guarantee democracy."
He also suggested the results of the October election in which Lula defeated Bolsonaro should be accepted.
Lula was yesterday to head to Argentina, the customary first stop for Brazilian presidents. Beyond tradition, however, the trip would also allow him to meet with a faithful ally, Argentine President Alberto Fernandez, as well as regional counterparts at the summit of the Community of Latin American and Caribbean States.
"Everyone wants to talk to Brazil," Lula said this week in an interview with the Globo TV channel, promising to rebuild Brasilia's ties with the international community after Bolsonaro's four years in office were marked by international isolation for the country.
Latin America is only the initial phase of his international push, with German Chancellor Olaf Scholz paying a visit on Jan. 30, and Lula headed to Washington to meet with his US counterpart Joe Biden on Feb. 10.
Lula's priority is to "reconnect with Latin America" after ties with neighbors in the region were "relegated to the backburner," said Joao Daniel Almeida, a foreign relations specialist at Pontifical University in Rio de Janeiro.
Lula was to arrive in Buenos Aires on Sunday and meet Fernandez the following day. Fernandez has already traveled to Brazil for a bilateral meeting on Jan. 2, the day after Lula took office.
Discussion is expected to include trade, science, technology and defense, the Brazilian Ministry of Foreign Affairs said.
Brazil's 77-year-old leader could also meet today with several leftist counterparts in Buenos Aires — Cuba's Miguel Diaz Canel and Venezuela's Nicolas Maduro, with whom Brasilia has recently normalized ties — who would all be attending a regional summit.
Under Bolsonaro, Brazil was one of 50 countries that recognized Maduro's main opponent, Juan Guaido, as interim president of the country.
Comments will be moderated. Keep comments relevant to the article. Remarks containing abusive and obscene language, personal attacks of any kind or promotion will be removed and the user banned. Final decision will be at the discretion of the Taipei Times.