Joe Biden in Mexico for talks
'THREE AMIGOS': Joe Biden is to meet with the leaders of Mexico and Canada to discuss migration and drug trafficking, saying the problems did not 'arise overnight'
A regional migration and drug smuggling crisis was expected to dominate talks between US President Joe Biden and Mexican President Andres Manuel Lopez Obrador yesterday.
Biden arrived in Mexico City late on Sunday after a politically charged stop at the southern US border — his first since taking office.
He would meet yesterday and today with Lopez Obrador and Canadian Prime Minister Justin Trudeau one-on-one and also together in what is dubbed the "Three Amigos" summit.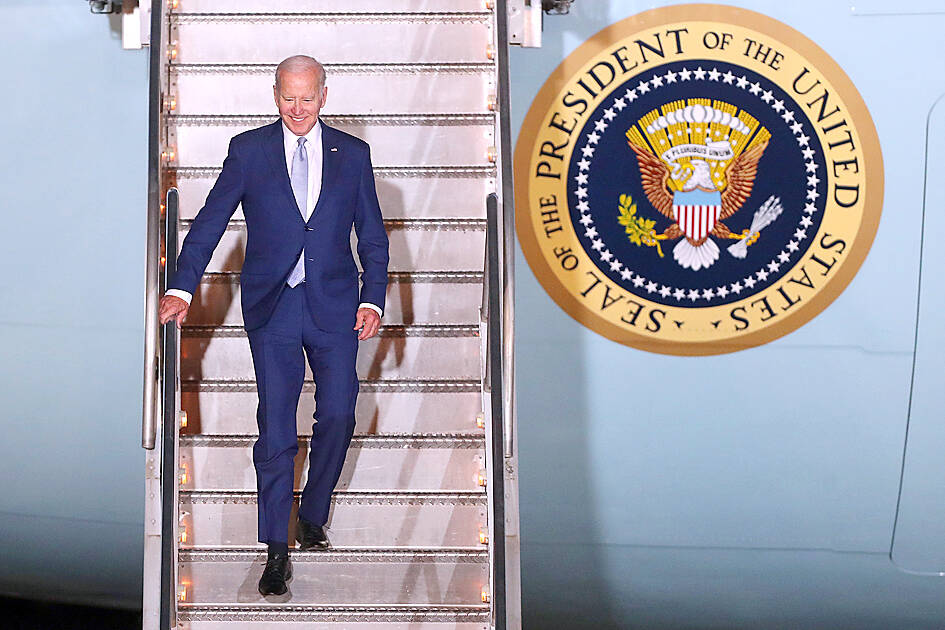 US President Joe Biden disembarks from Air Force One at Felipe Angeles International Airport in Zumpango, Mexico, on Sunday.
Photo: EPA-EFE
While trade and environmental issues are also on the table, Biden has put a surge in irregular migration and dangerous drug trafficking front and center of his trip, his first to Mexico as president.
"Our problems at the border didn't arise overnight," Biden posted on Twitter after his arrival.
"And they won't be solved overnight. But, we can come together to fix this broken system. We can secure the border and fix the immigration process to be orderly, fair, safe, and humane," he said.
In his meetings with Lopez Obrador and Trudeau, Biden would address the regional scope of the issue.
"It's gripping the hemisphere, and a regional challenge requires a regional solution," US Homeland Security Secretary Alejandro Mayorkas told ABC News, adding that migrants were on the move from as far afield as Haiti, Venezuela and Nicaragua.
Biden on Thursday announced an expansion of powers to expel people showing up at the US border without clearance. At the same time, a legal, strictly enforced pathway would be created for up to 30,000 migrants a month from Cuba, Haiti, Nicaragua and Venezuela.
The quota would be restricted to those who already have a US sponsor, while anyone attempting to cross the border illegally would be expelled in coordination with Mexico.
Human rights groups harshly criticized this as closing the door on desperate people, but the Biden administration has said that its actions would essentially kill the market for human smuggling networks, while encouraging legitimate arrivals.
On his way to Mexico, Biden stopped for several hours in El Paso, Texas, a city at the heart of the troubled border.
Meeting Biden off Air Force One at El Paso's airport, Texas Governor Greg Abbott, a Republican, handed him a letter blasting the visit as "$20 billion too little and two years too late."
At his first stop, the US president observed as border officers in El Paso demonstrated how they search vehicles for drugs, money and other contraband. Next, he traveled to a dusty street with abandoned buildings and walked along a metal border fence that separated the US city from Ciudad Juarez, Mexico.
His last stop was the El Paso County Migrant Services Center — but there were no migrants in sight.
Biden's nearly four-hour visit to El Paso was highly controlled. He encountered no migrants except when his motorcade drove alongside the border and about a dozen were visible on the Ciudad Juarez side.
His visit did not include time at a US Customs and Border Patrol station, where migrants who cross illegally are arrested and held before their release.
He delivered no public remarks.
Additional reporting by AP
Comments will be moderated. Keep comments relevant to the article. Remarks containing abusive and obscene language, personal attacks of any kind or promotion will be removed and the user banned. Final decision will be at the discretion of the Taipei Times.