US rail unions decry plan
Railroad unions on Tuesday decried US President Joe Biden's call for the US Congress to intervene in their contract dispute, saying it undercuts their efforts to address workers' quality-of-life concerns, but businesses said that it is crucial to avoid a strike next week.
Biden and US House of Representatives Speaker Nancy Pelosi said that lawmakers were to be asked to vote yesterday to impose the terms of the deals the 12 unions agreed to before an original strike deadline in September — prior to midterm elections — even though four of those unions representing more than half of the 115,000 rail workers rejected them.
Eight other unions ratified the five-year deals that include 24 percent raises and US$5,000 in bonuses.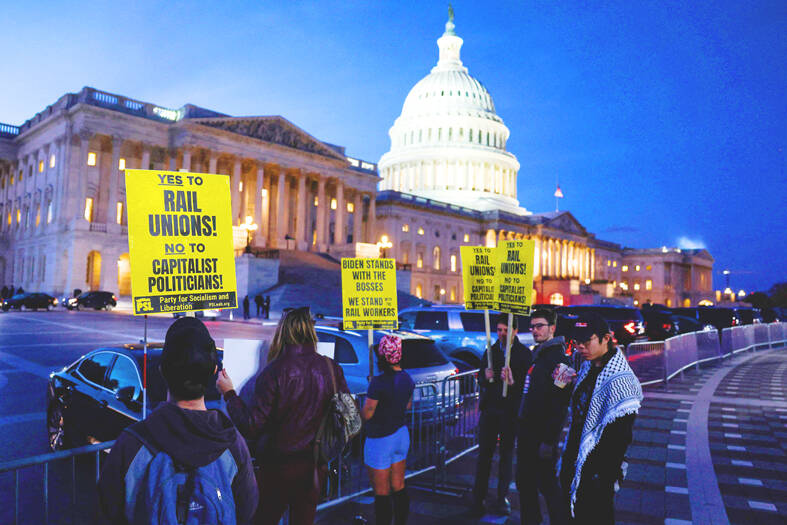 People protest in support of rail workers outside the US Capitol in Washington on Tuesday.
Photo: AFP
Biden said he agreed that it would be best to override the union votes because the potential damage to the economy would be too great.
"Congress I think has to act to prevent it," Biden said. "It's not an easy call, but I think we have to do it. The economy's at risk."
Unions and worker groups have been pushing to improve the demanding schedules they say make it hard for workers to ever take a day off and persuade railroads to add paid sick time.
They have threatened to strike if new agreements cannot be reached before a deadline on Friday next week that had been pushed back as negotiations faltered ahead of the Nov. 8 elections.
"It is not enough to 'share workers' concerns,'" the Brotherhood of Maintenance of Way Employees Division union said in a statement. "A call to Congress to act immediately to pass legislation that adopts tentative agreements that exclude paid sick leave ignores the railroad workers' concerns."
The union is one of the four that rejected their deal.
The railroads have refused to consider adding sick time because they did not want to spend any more on the deals than they agreed to in September.
They have also argued that rail unions have agreed over the decades to forego paid sick time in favor of higher wages and stronger short-term disability benefits.
Conductor Gabe Christenson, a chairman of the Railroad Workers United coalition that includes workers from all the unions, said that Biden and the Democrats are siding with the railroads over workers.
"The 'most labor-friendly president in history' has proven that he and the Democratic Party are not the friends of labor they have touted themselves to be," said Christenson, whose group encouraged workers to reject the deals. "These wolves in sheep's clothing have for decades been in bed with corporate America and have allowed them to continue chipping away at the ... middle class and organized labor."
Paul Lindsey, a Union Pacific engineer who is active with Railroad Workers United, said that Congress and Biden seem to be sending the message that "your quality of life, your time off, your days, your standard of living doesn't matter if you getting a pay increase is going to hurt business."
Diesel mechanic Nathaniel Tinsley, who works for BNSF in the Kansas City area, said it was disheartening to see Congress take away workers' ability to strike, making it harder to put pressure on the railroads.
"The railroads are making tons of money ... yet we're squabbling over sick days," Tinsley said. "The railroaders just want a little bit more time off. They want to be able to not have to go to work sick because that's what we do. We go to work sick."
Comments will be moderated. Keep comments relevant to the article. Remarks containing abusive and obscene language, personal attacks of any kind or promotion will be removed and the user banned. Final decision will be at the discretion of the Taipei Times.