Brazil to be fiscally sound, Lula says to ease investors
Brazil is to be fiscally prudent under the new government that takes office in January, Brazilian president-elect Luiz Inacio Lula da Silva said on Friday in a nod to investors after a week of heightened market volatility.
"I was already fiscally responsible," Lula told reporters in Lisbon, referring to his two terms as president from 2003 to 2010. "Therefore there is no reason for that fear, there is no reason for the stock market to fluctuate like this."
Lula's comments come after Brazilian assets tumbled earlier this week on signs that the new administration's spending plans could further strain government finances. The president-elect's team is seeking to exempt 175 billion reais (US$32.51 billion) in social outlays from Brazil's main fiscal rule, a spending cap that limits growth of public expenditure to the previous year's inflation rate.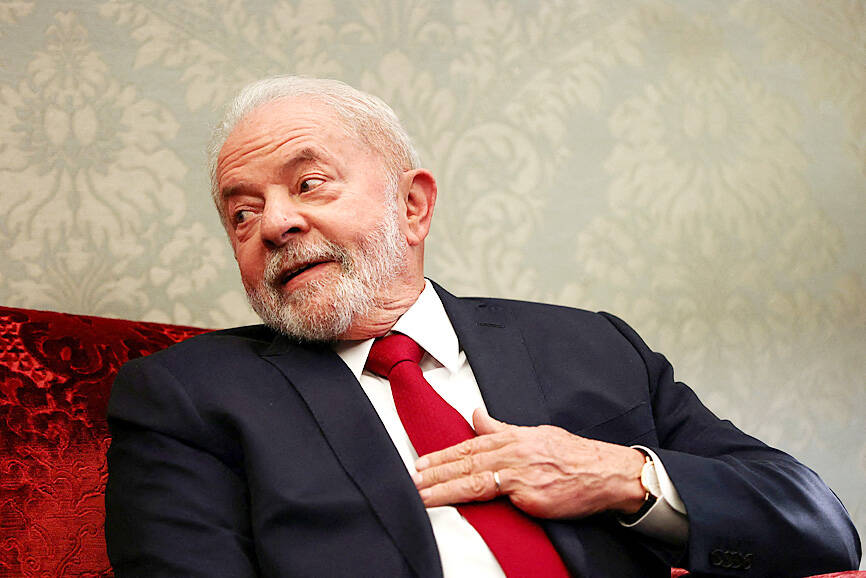 Brazilian president-elect Luiz Inacio Lula da Silva attends a meeting in Lisbon, Portugal, on Friday.
Photo: Reuters
Lula, who is to be sworn into office on Jan. 1, also said he would start considering the names for his cabinet next week when he returns to Brazil. The president visited Portugal after participating in the COP27 climate conference in Egypt, his first international trip since winning Brazil's presidential election on Oct. 30.
Lula is inclined to choose former Sao Paulo mayor Fernando Haddad as his finance minister, entrusting him to negotiate key economic reforms with congress, according to three people familiar with the matter.
Lula is likely to hand his most important cabinet position to a member of his Workers' Party, ruling out more pro-business options after appointing a mix of liberal and left-leaning economists to the government transition team, the people said on the condition of anonymity.
Haddad, who has been lobbying for the job, joined Lula's delegation to the COP27 climate conference in Egypt this week. If confirmed, his appointment is likely to create a stir among investors who expected a more technical profile for the role.
Meanwhile, Lula has said that the UN Security Council needs to reform by adding members to better represent each continent.
The council also "needs to end the idea that a [single] country can have the right of veto," he told journalists in Portugal.
Additional reporting by Reuters
Comments will be moderated. Keep comments relevant to the article. Remarks containing abusive and obscene language, personal attacks of any kind or promotion will be removed and the user banned. Final decision will be at the discretion of the Taipei Times.