Filipinos fish at the front line of China's claims
Philippine fisherman Mariel Villamonte had spent years plying the turquoise waters of the disputed Scarborough Shoal (Huangyan Island, 黃岩島) in the South China Sea for snapper and grouper — until a Chinese coast guard vessel water cannoned his boat.
That was in 2012, around the time China snatched control of the small ring of reefs from the Philippines, and he has not dared go back.
"Their ships are made of steel, ours are made of wood," said Villamonte, now 31, recalling how two Chinese vessels chased his outrigger before blasting it with high-pressure water.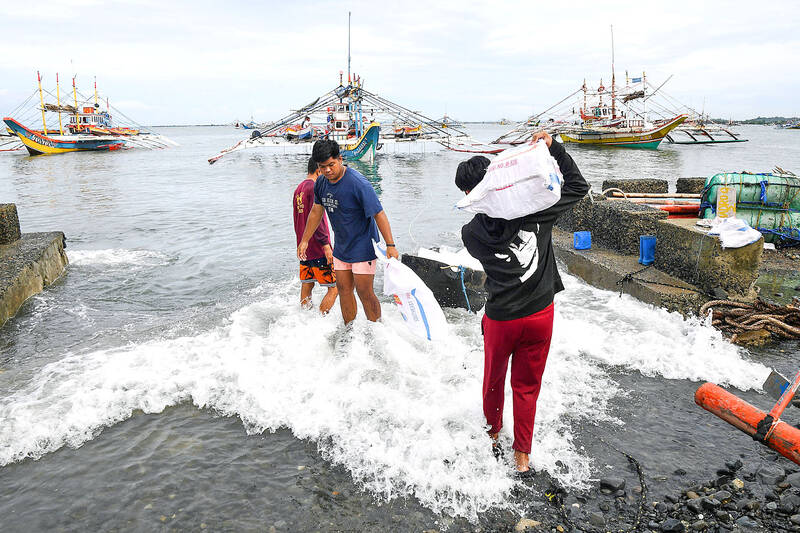 Fishers load bags of ice to their boat in Cato, Philippines, on Aug. 10.
Photo: AFP
The fishing ground, tapped by generations of Filipinos, is one of many potential flashpoints for military conflict over the South China Sea.
Taiwan and China claim sovereignty over large parts of the sea, while the Philippines, Vietnam, Malaysia and Brunei have competing claims to smaller parts of it.
Trillions of dollars of ship-borne trade passes through the waterway annually, and naval vessels from the US and Western allies sail through it regularly.
Of all the claimants, China has in the past few years forced its stance most aggressively. Hundreds of Chinese coast guard and maritime militia vessels prowl the waters, swarming reefs, harassing and attacking fishing and other boats, and interfering in oil and gas exploration, and scientific research.
Analysts say Beijing's aim is regional supremacy and control over all activity in the waters — and it is using its might to bully smaller rivals into submission.
"They really envision themselves to be the center of this region, economically, politically and militarily," said Jay Batongbacal, director of the University of the Philippines' Institute for Maritime Affairs and Law of the Sea. "What they want is that eventually the weaker nations simply give up and leave them there just to avoid a problem."
China often invokes the so-called "nine-dash line," a vague delineation based on maps from the 1940s, to justify its claims over the South China Sea.
The Philippines has brought a case before an international court disputing China's stance. The tribunal in 2016 ruled that Beijing's claims have no legal basis.
China has since ignored the ruling, but tensions with the Philippines eased after former Philippine president Rodrigo Duterte set aside his country's legal victory and courted Chinese businesses instead.
Philippine President Ferdinand Marcos Jr, who took over from Duterte in June, has pledged to uphold the court decision and said he would not let China trample on Manila's maritime rights.
However, in the decade under Chinese President Xi Jinping (習近平), who is expected to secure an unprecedented third consecutive term in office this month, China has dramatically expanded its presence in the sea.
Despite the risks, Philippine fishers still try to enter the shoal to top up their catch.
Christopher de Vera, 53, said members of his crew have gone inside under the cover of darkness, leaving them feeling like "a thief in your own backyard."
However, he said the shallow waters no longer teem with fish after the coral was "decimated" by Chinese giant clam harvesters.
Villamonte used to regularly make 6,000 pesos (US$102) per trip when he could fish at the shoal. Now it can be as little as 2,000 pesos, or nothing at all.
Fishing is all he knows — his father and grandfather were fishermen — and his "worst nightmare" is losing access to the rest of Philippine waters.
"My family will go hungry," he said.
Comments will be moderated. Keep comments relevant to the article. Remarks containing abusive and obscene language, personal attacks of any kind or promotion will be removed and the user banned. Final decision will be at the discretion of the Taipei Times.