Xi's graft sweep targets ex-Tibet official
AHEAD OF CCP CONGRESS: The indictment came as a former deputy minister was given a death sentence with a two-year reprieve for stock manipulation and bribery
Former Tibet vice governor Zhang Yongze (張永澤) has been indicted on charges of accepting bribes, state media reported yesterday.
Zhang is the latest high-level former official to be indicted on graft charges weeks before a major congress of the Chinese Communist Party (CCP), whose leader, Chinese President Xi Jinping (習近平), has made fighting corruption a signature issue.
Zhang "took advantage of his former positions and power to seek benefits for others" in obtaining government contracts and obtaining promotions, for which he "illegally accepted a large amount of money and valuables in return," the official Xinhua news agency quoted the indictment as saying.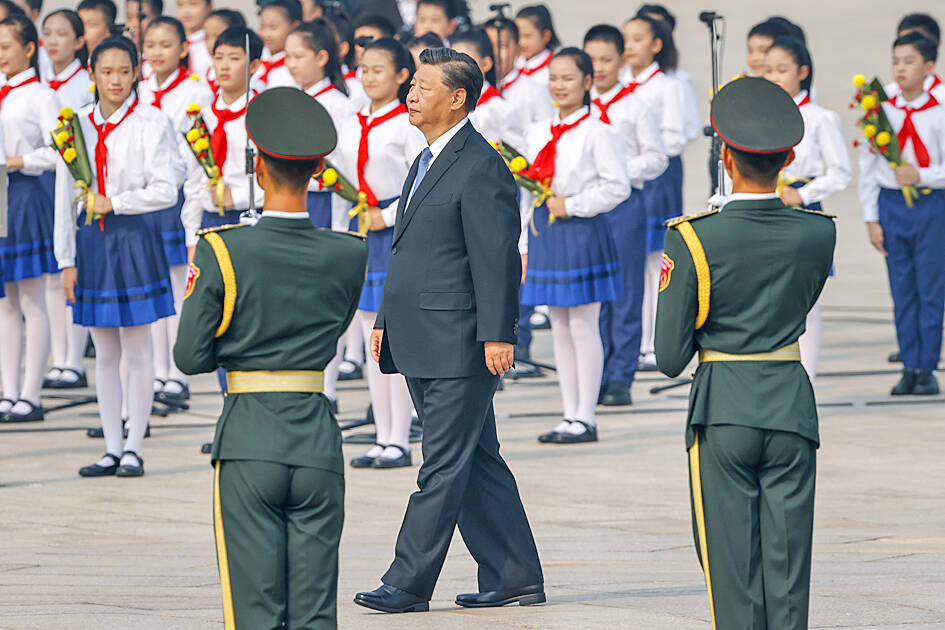 Chinese President Xi Jinping, center, attends a ceremony to mark Martyrs' Day at Tiananmen Square in Beijing yesterday.
Photo: EPA-EFE
Zhang's case is being handled by prosecutors and courts in the western province of Shaanxi, in keeping with the practice of moving cases elsewhere when senior officials and serious charges are involved.
Tibet, annexed by China in 1951, holds an abundance of mineral wealth and is run as a virtual police state to guard against pro-independence sentiment among its native population who are ethnically, linguistically and culturally distinct from China's Han majority.
Deadly anti-government protests swept across the region in 2008, fueled by heavy-handed CCP rule and a loss of economic opportunities to Chinese migrants. Security forces crushed the protests, with an unknown number imprisoned or executed.
On Wednesday, a former top graft buster at the Chinese Ministry of State Security was indicted on bribery charges.
The indictment of Liu Yanping (劉彥平), who was secretary of the ministry's Central Discipline Inspection Committee from May 2015 until March, was a further reminder of Xi's vow to attack corruption "amongst both the flies and tigers."
State media said Liu had accepted "huge" amounts of property from others in return for favors.
Those often include derailing investigations or offering promotions for cash.
He was expelled from the party earlier this month in a sign that he would be indicted, tried and almost certainly handed a lengthy prison term.
In that initial investigation, it was found that Liu had "lost his ideals and convictions," and was "downright corrupt politically," the report said.
He "traded political power for interests and distorted his power into a tool to seek political capital, personal benefits and wealth," it said.
Liu was found to have "engaged in superstitious activities" and accepted invitations to golf games, banquets, tours and medical services from private business people "that may compromise his impartiality in the performance of official duties," the reports said.
Separately, former Chinese deputy minister of public security Sun Lijun (孫力軍) was given a death sentence with a two-year reprieve on charges of manipulating the stock market, taking bribes and other offenses.
A former justice minister and a former ruling party official who were accused of colluding with him received similar penalties.
Sun was convicted of collecting 646 million yuan (US$91 million) in bribes and charged with using his official position in 2018 to manipulate stock trading to help a trader avoid losses.
He was also accused of selling official jobs and abandoning his post during the COVID-19 pandemic.
Xi launched his anti-graft campaign shortly after taking over as party leader in late 2012. It has at times been seen as a tool to remove political rivals and intimidate bureaucracts into doing his bidding.
The latest moves come ahead of the beginning of the congress on Oct. 16. Xi is expected to secure an unprecedented thrid term at the meeting.
Comments will be moderated. Keep comments relevant to the article. Remarks containing abusive and obscene language, personal attacks of any kind or promotion will be removed and the user banned. Final decision will be at the discretion of the Taipei Times.