China reopens to foreign students after two years
China yesterday opened its borders for foreign students for the first time in more than two years, easing restrictions on their entry imposed in the early days of the COVID-19 pandemic.
Foreign nationals holding a Chinese residence permit for study or an APEC business travel card would be allowed to enter the country, the Chinese embassy in the US said in a statement on WeChat on Tuesday.
Similar statements were made by the Chinese embassies in Japan and India.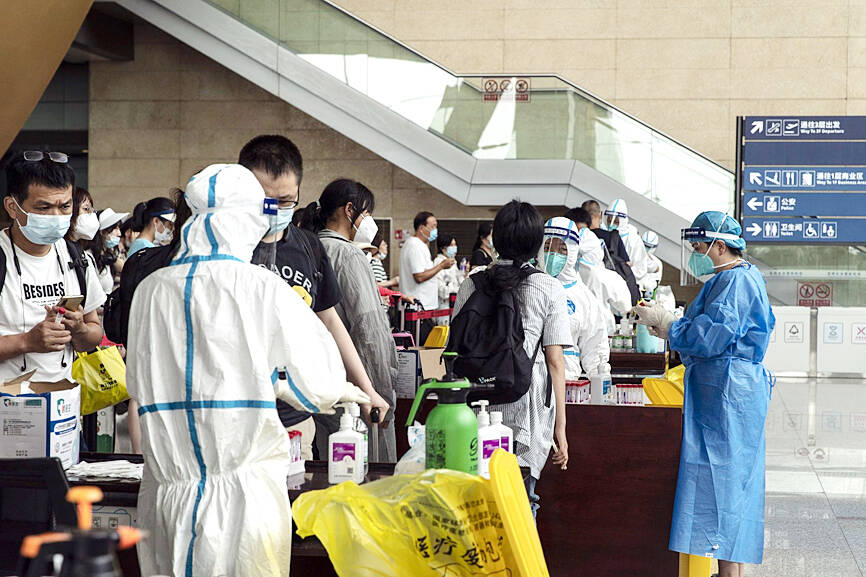 Arriving travelers line up for COVID-19 tests at Changshui International Airport in Kunming, China, on Aug. 8.
Photo: Bloomberg
While the country has been allowing some students to enter on an ad-hoc basis for some time, the move shows that Beijing is attempting to normalize aspects of the economy — while holding fast to its "zero COVID-19" approach.
Anyone entering China still faces one of the most intensive pandemic border regimes globally, with mandatory traveler quarantines still in place.
Allowing international students to return does not mean China has relaxed its strict pandemic control measures or that the government has abandoned its dynamic "zero COVID-19" policy, the state-run Global Times reported.
Lu Hongzhou (盧洪洲), a health commentator and president of the Third People's Hospital in Shenzhen, said further shortening the quarantine period for inbound travelers in the short term is unlikely, the report added.
China still has the world's toughest entry requirements, even after easing quarantine rules in June. Arriving travelers need to spend seven days in an isolation facility and then monitor their health at home for a further three days. Flights to the country are also limited.
The country welcomed 492,185 foreign students in 2018, low compared with the more than 1 million enrolled in the 2019-2020 academic year in the US, where international education is a significant industry.
Most of China's students came from South Korea, followed by Thailand and Pakistan.
Comments will be moderated. Keep comments relevant to the article. Remarks containing abusive and obscene language, personal attacks of any kind or promotion will be removed and the user banned. Final decision will be at the discretion of the Taipei Times.