Typhoon strikes Northern Marianas
TAIWAN BOUND? Reports said that about 30 people had been rescued in the US territory, while the storm was forecast to pass south of Taiwan and was weakening
Rescue teams and heavy equipment were mobilized across the Northern Mariana Islands yesterday after a super typhoon hit US Western Pacific territories overnight, causing blackouts and damage to critical infrastructure.
With sustained winds of more than 270kph, Super Typhoon Yutu pulled down trees, telegraph poles and tore roofs from buildings as it passed through the chain of 15 islands about 2,700km east of Taiwan.
"Many homes have been destroyed, our critical infrastructure has been compromised, we currently have no power and water at this time, and our ports are inaccessible," Tinian Island Mayor Joey Patrick San Nicolas said.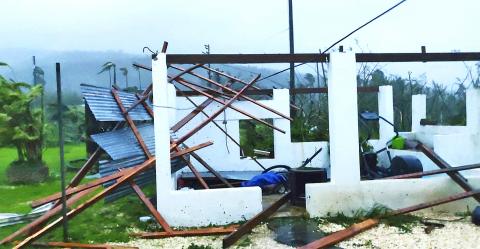 A house shows damage after Super Typhoon Yutu passed over Saipan, Northern Mariana Islands, yesterday.
Photo: AP
There were no immediate reports of casualties.
In a video posted on Facebook, San Nicolas said that about 30 people had been rescued and more were expected to be reached later in the day.
The power distribution system was completely destroyed, he said, and requests had been made for water and food, which could be delivered by air as the Tinian's airport runway was undamaged.
Yutu had prior to its arrival been described by local authorities as one of the most powerful typhoons to hit the Northern Mariana Islands in recent history.
The storm was the equivalent of a Category 5 hurricane, making it the strongest to hit any part of the US this year, the US National Weather Service said.
"At its peak, it felt like many trains running constant," Glen Hunter wrote in a Facebook message to reporters.
Hunter lives on Saipan, the largest island in the commonwealth.
"At its peak, the wind was constant and the sound horrifying," he said.
The storm passed over Tinian and Saipan early yesterday local time, said Brandon Aydlett, a meteorologist with the National Weather Service.
Posts on social media showed broken windows, debris scattered across roads, and damaged vehicles, some overturned.
Marianas delegate to the US Congress Gregorio Kilili Camacho Sablan on Twitter said that authorities were working to open more shelters, as existing ones were either full or had sustained damage.
He said it was likely that a team from the US Federal Emergency Management Agency would arrive today.
Northern Mariana Islands Governor Ralph Torres urged the public to stay safe and avoid taking risks, and said the islands would recover swiftly.
"While we have been battered by this disaster, we will be stronger because we are resilient," Torres said.
It was the second major typhoon to hit the territory after Mangkhut struck last month, bringing strong winds and rains that caused damage in Hong Kong and Macau, and triggered landslides that killed dozens in the Philippines.
Yutu yesterday was moving slowly toward Taiwan and the northern Philippines, but reducing in intensity.
At 6pm last night, the Central Weather Bureau marked Typhoon Yutu moving west-northwest at 16kph on a course to the south of Taiwan. Its center was still about 2,300km away.
Additional reporting by staff writer
Comments will be moderated. Keep comments relevant to the article. Remarks containing abusive and obscene language, personal attacks of any kind or promotion will be removed and the user banned. Final decision will be at the discretion of the Taipei Times.