Trump assures Pentagon boss his job is safe: Mattis
IN-FLIGHT PHONE CALL: Quesions have been raised by comments the US president made about his defense secretary in an television interview broadcast on Sunday
Amid speculation that he might soon be replaced, US Secretary of Defense James Mattis said US President Donald Trump told him he supports the retired general "100 percent."
The assertion comes just days after Trump mused on national television about Mattis leaving his post.
Mattis said Trump gave him this assurance during a telephone call yesterday while Mattis was flying from Washington to Ho Chi Minh City. A few hours earlier, Mattis told reporters traveling with him that he and Trump had never discussed the possibility of him leaving the Pentagon job.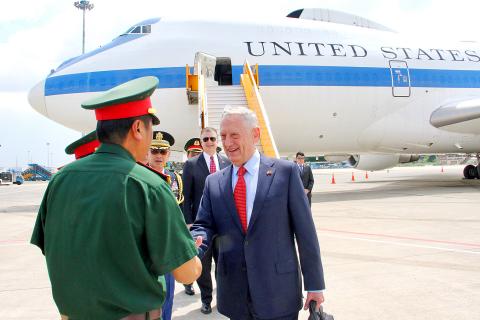 US Secretary of Defence James Mattis, right, yesterday shakes hands with a Vietnamese military officer after arriving in Ho Chi Minh City.
Photo: AFP
Mattis initially was responding to reporters' questions about Trump's comments on CBS' 60 Minutes on Sunday that Mattis "may leave" his administration and that he thinks the retired US Marine Corps general is "sort of a Democrat."
Asked what he made of Trump's comments, in which the president also said he likes Mattis and that eventually all appointees move on, Mattis said, "Nothing at all," adding: "We have never talked about me leaving." Later, Mattis approached reporters traveling with him to say he had just spoken to Trump.
He said he called the president aboard Air Force One to discuss damage to military bases caused by Hurricane Michael.
During that conversation, Trump asked Mattis whether he had seen the 60 Minutes interview. Mattis said he had not. Trump then expressed his full support for Mattis and suggested Mattis let the press know this.
By telling 60 Minutes that he suspected Mattis is "sort of a Democrat," Trump seemed to suggest that he thinks Mattis is too moderate in his politics, although he did not say so directly or cite any area of disagreement with Mattis.
Whereas Trump has made a hardline policy on immigration a centerpiece of his agenda, Mattis has publicly cited the valuable contributions that non-citizen members of the military have made over the years.
Mattis also is a staunch supporter of NATO, whereas Trump has questioned its value to the US.
Mattis told reporters he has sought to carry out and reinforce Trump's military and national security policies without regard to partisanship.
Those policies are now "reaping significant bipartisan support," he said.
Asked directly whether he is a Democrat, Mattis said: "We're all built on our formative experiences. When I was 18 I joined the Marine Corps, and in the US military we are proudly apolitical."
Asked if that meant he was not a registered member of either major political party, he said: "I've never registered for any political party."
Presidents in recent decades have sometimes picked a member of the opposite party to head the Pentagon.
Then-president Bill Clinton's second-term defense secretary was William Cohen, a prominent Republican senator, and Barack Obama's first Pentagon chief was Robert Gates, a Republican who had served as CIA director and defense secretary in Republican administrations.
The post of defense secretary is typically the least political in a president's Cabinet. That is because of the non-political tradition of the military and long-standing bipartisan support for US military alliances such as NATO.
Mattis flew to Vietnam for his second visit this year. He told reporters the violent history between the two countries is a thing of the past.
"The legacy of the war has turned into actually a basis for defense cooperation," he said.
An example of this is a US-funded US$390 million project to clean up war-era chemical contamination of the ground at an air base near Ho Chi Minh City.
Mattis planned to visit the base at Bien Hoa today to see the area firsthand.
Comments will be moderated. Keep comments relevant to the article. Remarks containing abusive and obscene language, personal attacks of any kind or promotion will be removed and the user banned. Final decision will be at the discretion of the Taipei Times.