FEATURE: Bulgaria urged to protect communist 'masterpiece'
Perched like a vast flying saucer on a central Bulgarian mountainside, Buzludzha is a brutalist concrete monument that was built to glorify communism nearly 40 years ago.
The striking circular building has been left to fall victim to vandalism and decay, as Bulgaria has been eager to forget its communist past, but now Western experts want to preserve it as a heritage site.
The 70m high structure — made of 70,000 tonnes of concrete, 3,000 tonnes of reinforced steel and 40 tonnes of glass — looks like it is hovering at about 1,400m above sea level.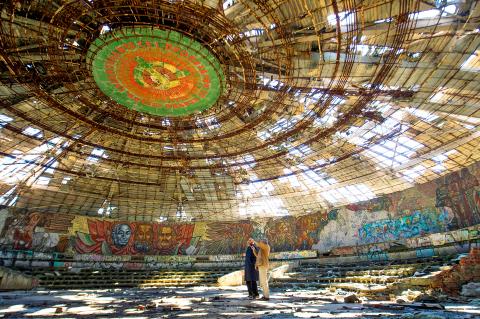 Experts from Europa Nostra inspect the crumbling oval skeleton of the House of the Bulgarian Communist Party on Mount Buzludzha in Bulgaria on Sept. 27.
Photo: AFP
It has a 40m-wide ceremonial hall with room for 400 people and was covered from floor to ceiling in mosaics depicting the history of the Bulgarian Communist Party.
Inaugurated in 1981, it fell into disrepair following the collapse of the Iron Curtain in 1989, and now lies empty and crumbling.
In recent years, only the most adventurous foreign tourists have visited the isolated spot, prompting local authorities to lock it up to prevent any accidents.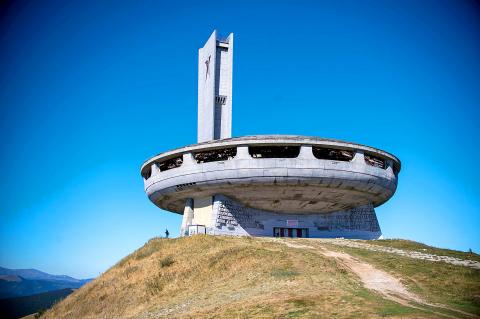 The crumbling oval skeleton of the House of the Bulgarian Communist Party is pictured on Mount Buzludzha in Bulgaria on Sept. 27.
Photo: AFP
Nevertheless, experts from cultural heritage organization Europa Nostra visited the site last month and have urged the Bulgarian authorities to rescue what they believe is "a masterpiece of architecture, engineering and art."
Europa Nostra listed it as one of the most endangered heritage sites in Europe this year.
During the Cold War era, the communist party claimed that the red glass stars on top of a tower that is part of the complex could be seen as far as Romania to the north and Greece to the south.
"With its brutalist style, it is a genuine architectural achievement of the 20th century," said Laurent Levi-Strauss of Europa Nostra, a former deputy chief of UNESCO's Cultural Heritage division.
For British architect Graham Bell, Buzludzha is "an unbelievable building, unbelievably impressive and unbelievably sad in the way it is deteriorating."
"This monument is part of European cultural heritage, but most of Europe doesn't know it exists," Bell said.
The experts are convinced that what remains of the building could — and should — be saved.
Following their visit, they called for "urgent action" to stop the decay and they proposed giving the site national protected status, which would allow EU funds to be used for its rescue.
"It is good that Europe cares about it as Bulgaria doesn't," Buzludzha's 89-year-old architect Georgy Stoilov said.
Indeed, the cash-strapped local authorities never regarded Buzludzha as much of a priority and saw little point in the upkeep of a site that had such bad connotations.
It was Bulgarian architect, Dora Ivanova, born a year after the fall of the regime, who has been responsible for the revival in interest in Buzludzha.
Ivanova came across the monument on the Internet while she was studying at university in Germany and started a campaign for its conservation four years ago.
"It's not possible that such an amazing piece of architecture is in such bad condition. It is a part of Bulgarian history, whether we like it or not," Ivanova said.
She said her aim was to conserve the building, rather than restore it, "as restoring it would be to glorify communism."
"I just want to explain history," she added.
Part of her project would use three-dimensional projection mapping to show what the missing parts of the mosaics might have looked like and she also suggests offering augmented reality self-guided tours.
Levi-Strauss conceded that it would be very difficult to restore Buzludzha to its former glory given the controversy surrounding its past, but that should not prevent the authorities from making use of it for "educational purposes, for conferences and concerts," he said.
Tourism expert Rumen Draganov suggested that Buzludzha could also help boost tourism to a region already known for its Thracian tombs and famous rose gardens.
Comments will be moderated. Keep comments relevant to the article. Remarks containing abusive and obscene language, personal attacks of any kind or promotion will be removed and the user banned. Final decision will be at the discretion of the Taipei Times.